Quant (QNT), an Ethereum-based token, has experienced a 15.15% increase in its price over the past seven days. QNT plays a vital role in Quant Network's Overledger, a suite of enterprise software solutions designed to connect public blockchains and private networks seamlessly. By enabling the creation of multi-chain decentralized applications (mDapps), Quant Network empowers developers to build and operate applications that span across multiple blockchains simultaneously.
With its focus on interoperability, Quant Network's Overledger solution provides a framework for bridging different blockchain networks, fostering connectivity and facilitating efficient data exchange between disparate systems. The use of QNT within the Overledger ecosystem not only powers these interoperability capabilities but also plays a crucial role in securing and incentivizing participants within the network.

As the price of Quant (QNT) continues its upward trajectory, the growing interest in the token reflects the recognition of its importance in enabling the seamless operation of mDapps and facilitating cross-chain communication. With Quant Network's innovative approach to interoperability, the future holds promising possibilities for enhanced collaboration and integration across various blockchain platforms.
Related Reading: Injective Protocol (INJ) Tallies 23% Price Surge In Past 7 Days – Here's Why
Why's There A Strong Bullish Sentiment For QNT? 
The recent price surge of Quant (QNT) can be attributed to the transformative power of distributed ledger technology (DLT) and the unique features offered by the Quant platform. DLT, surpassing the limitations of traditional blockchain, provides solutions to unanswered questions, enabling secure and cost-effective asset exchange while driving value, opening new markets, and increasing efficiency for enterprises, governments, and individuals worldwide.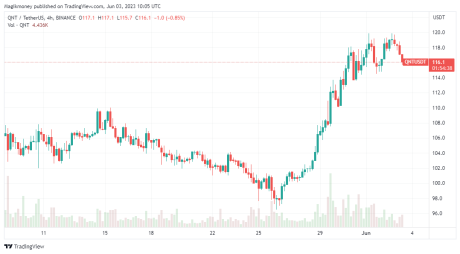 Founded in 2015 by Gilbert Verdian, Quant emerged as a pioneer in harnessing the potential of DLT to empower and expedite people's lives. As the genesis of Quant, DLT addresses scalability issues by ensuring faster and more affordable transactions, offering a promising alternative to traditional blockchain networks.
The unique utility of Quant (QNT) makes it a very interesting project. And, since utility is one of the major factors that affect the growth of a crypto project, it's no surprise that investors are turning toward QNT.
What's Next For Quant?
Quant has caught the attention of investors with its impressive market capitalization of $1,408,329,718 and a notable trading volume of $25,330,831. While it may have been considered the slowest in terms of price movement, Quant has consistently demonstrated growth in the cryptocurrency market. 
Related Reading: Floki Inu Gains Momentum As Chinese E-Commerce Giant Recognizes Its Utility
The optimistic founders of Quant believe that as a leader in the industry, the mass adoption of Quant holds great promise for its supporters. Currently priced at $116, there is anticipation for Quant's value to soar even higher in response to the increasing demand projected in the future. Based on bullish scenarios and analysis of historical data, the price of Quant is expected to experience a significant rise.
-Featured image from iStock.com, charts from TradingView