XRP has struggled to regain bullish price momentum this month, with the crypto going on six days of red candle close last week. The XRP community appears to be feeling the effects of this lack of momentum, as speculations have begun to circulate about a potential catalyst for the next XRP price surge.
Word on the street now is that Ripple plans to burn the 41.9 billion XRP tokens they have locked up in escrow. Although this hasn't been confirmed yet, some say this move could send the value of XRP skyrocketing.
The Potential Impact Of A Full Escrow Token Burn
Ripple, the company behind the XRP cryptocurrency, currently holds billions of XRP in escrow. As of the time of writing, Ripple has 41.9 billion XRP locked up, with 1 billion XRP released from escrow each month. This huge stockpile of XRP has led to criticism that Ripple could flood the market at any time and crash the price. 
However, rumors are swirling that Ripple may burn all of the XRP in escrow, potentially spiking up the price of XRP. If Ripple eliminated all of the escrowed XRP, it would significantly decrease the total supply of XRP and could positively impact the market price. 
The rumor was started on social media X by the account @realXRPwhale and has elicited a response from community members. Although unverified, the account posted the update of Ripple, burning the "50 BILLION $XRP." 
While some have shown enthusiasm regarding the price effect if this happens, others have dismissed it as just a baseless rumor.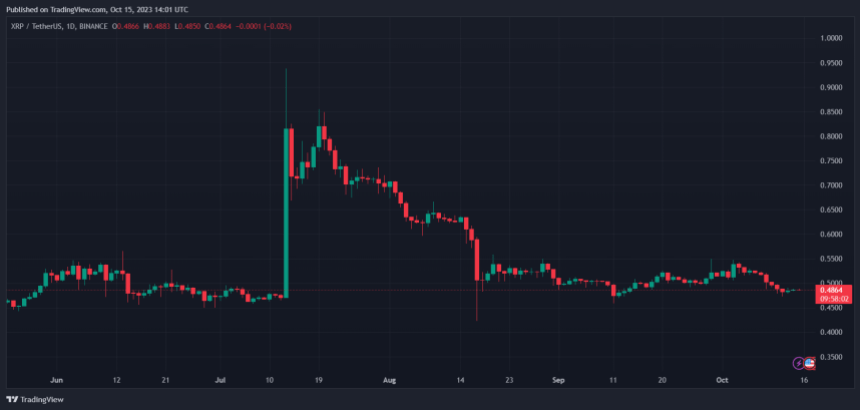 What's Next For XRP?
Ripple has never acknowledged or refuted rumors that it will destroy all of its tokens held in escrow, but this is not the first time that such a rumor has emerged suggesting that the technology company will do so. But the possibility of this happening is not completely out of the question, as Ripple CEO Brad Garlinghouse mentioned in a 2021 interview.
Other factors that could drive up XRP prices include major partnerships by Ripple and a clear outcome of the ongoing case with the US Security and Exchange Commission. However, one thing that's going so well is the increased recognition of XRP after a US judge declared that the token isn't a security. 
At the time of writing, XRP is trading at $0.4863 and is within a range as it looks to break above $0.5. According to an analyst, the price of XRP could get a boost from a blooming altcoin season if Bitcoin's dominance continues to decline. Research has shown that October has historically seen more losses than gains for XRP.
Cover image from Unsplash, chart from Tradingview