The broader crypto market had shown positive progress in price within the last week, including meme coins like Dogecoin and SHIB. However, its performance over the past 24 hours speaks otherwise. The market recorded a 3.30% downward price trend within 24 hours. While several other tokens are displaying negative moves due to the sudden change, SHIB has made a hit with the dip.
One of the top Ethereum whales has pitched up to the leading meme tokens, Shiba Inu, to buy the dip. Reports from Whalestats revealed that an ETH Whale address known as BlueWhale0113 purchased over 321 billion of the token in one transaction. The value of the Shiba Inu he brought is about $3.72 million.
? ETH whale "BlueWhale0113" just bought 312,285,225,685 $shib ($3,722,439 USD).

Ranked #395 on WhaleStats: https://t.co/98iwkzfSal

Transaction: https://t.co/JFEIRwpAGv#SHIB #ShibArmy

— WhaleStats (free data on crypto whales) (@WhaleStats) August 9, 2022
The whale's wallet currently holds SHIB coins worth up to $2.49 million. This constitutes about 7.45% of their total crypto portfolio. Also, the whale account's most significant held token is Polygon (MATIC), having approximately 11.49% of the entire wallet holding.
Further, in its report, Whalestats noted that the largest of the 500 ETH whales hold Shiba Inu tokens worth over $652 million. Regarding the leading 100 Ethereum Whales, SHIB tokens remain their wallets' most significant held crypto coins. These SHIB holdings are worth more than $510 million.
Trading Volumes Of SHIB And Other Meme Coins Surge
Though prices have dropped within the global crypto market, meme tokens' trading volume is gradually skyrocketing. Coin98Insight indicates that the total value for the 24-hour trading volume for meme tokens is climbing upward. It recorded that the total value has crossed the $1.2 billion level. This signifies a 60% increase in the trading volume within the past 24 hours.
At the same time, data for the cumulative market cap for meme tokens indicates a plunge. The tokens drop about 5% of their overall value within 24 hours. The current cumulative market cap for the meme tokens is $16.18 billion.
For Dogecoin (DOGE), the 24-hour trading volume as the most significant meme token is not as impressive as SHIB. DOGE recorded about $394 million as its 24-hour trading volume from the cumulative value. However, a report from Coin98Insight showed that Shiba Inu has up to $872 million from the cumulative trading volume.
Metrics show that SHIB recorded an immense hike in its trading volume within the last 24 hours. At the time of writing, SHIB is trading at $0.00001242. This indicates a dip of about 3.12% within the last 24 hours.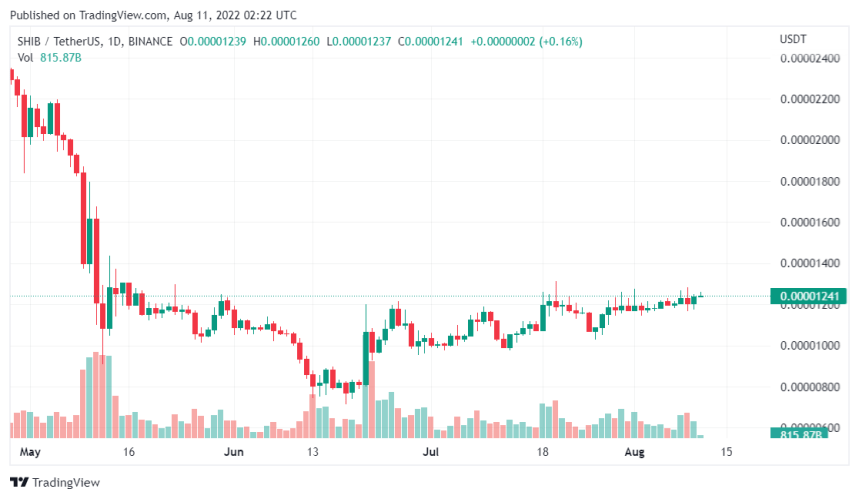 For Dogecoin, the token is trading at $0.0686 during writing. Dogecoin has plummeted by over 4.30% over the past 24 hours.
Featured image from Pexels, chart from TradingView.com