The meme coin currently under the spotlight for its token-burning campaign hit a new burn rate high this Monday. Shiba Inu, the dog crypto, burned close to 200 million coins within the last 24 hours. According to SHIB Burn data, the burn rate of Shib tokens has spiked by about 3000% in the space of 1 day. 
Furthermore, most of the tokens sent to Shiba Inu's burn wallet are from individual whale accounts. This burn initiative has taken off big since the beginning of this month. More than 500 million tokens went out of circulation in the first week. At this rate, it is possible the burn rate might hit 5000% in a few days. 
Related Reading: Solana (SOL) Heats Up 7% In Last 24 Hours As Helium Eyes Merge
Whale Accounts Invest Massively In Shiba Inu
Even as the Shiba Inu tokens burn rate skyrockets, the token is drawing massive investments from individual whale accounts. Last weekend, two whales took up positions worth millions in the Shiba Inu ecosystem.
The first one bought 702 billion SHIB coins costing close to a whopping $8.7 million. Another whale, in a first-time transaction, purchased 541 billion tokens worth almost $7 million, according to Ethescan.io data. Nonetheless, the newest whale on Shiba Inu continues to be anonymous, one of the benefits of decentralized finance.
Will The Increased Burn Rate Have Any Effect On SHIB Price?
As the number of tokens burned on the Shiba Inu protocol spikes, will it positively affect the price of SHIB tokens? This question remains on many minds as millions of SHIB tokens continue to go out of circulation.
SHIB is currently trading at $0.00001233 after briefly dipping to 0.00001198 yesterday. The coin is doing quite well for itself amid the general crypto bear market, up about 93% in 1 year. It had hit an unprecedented all-time high of $0.00004217 close to the end of October 2021. However, it continued to drop amid general market volatility coming to rest at its current price. It is unclear if the increase in token burning will push the token any closer to its October 2021 peak.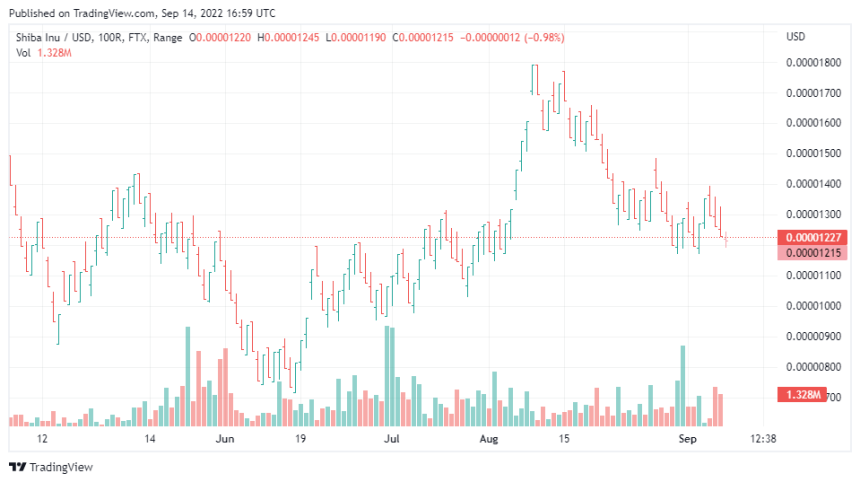 Shiba Inu Grows Closer to Its Trillion Token Burn Benchmark
This recent burn benchmark brings the meme coin protocol closer to its goal of burning trillions of tokens. It will be an integral part of the launch of ShibaSwap 2.0 and the anticipated Shibarium Layer 2. As it stands, Shiba Inu devs are continually seeking innovative options to burn the tokens. 
Related Reading: NEAR Bulls Charge Their Way Past $4.7 Amid Lack Of Spike In Volume
Finally, the dog token still has a lot of challenges to overcome in the coming days if its price is to climb. The soaring inflation, coupled with the scheduled CPI report release and next week's FOMC meeting, is also part of it. In fact, SHIB's price may plateau or even dip in the coming days despite the massive amount of coins burned.
Featured image from Pixabay and chart from TradingView.com