The Shiba Inu ecosystem is currently facing numerous rumors and claims that are dismissed as FUD by lead developer Shytoshi Kusama. As Bitcoin reported earlier today, a member of the SHIB Growth team noticed that Shibarium shares the same chain ID with the lesser-known blockchain Rinia.
As a result, accusations of plagiarism have been leveled against Shiba Inu and its chief developer Kusama. While both KRYPSTEIN (@MrDonGG), the Rinia testnet developer and SHIB developer Kaaldhairya clarified that it is not a case of plagiarism but a stupid mistake, yet the Shiba Inu community is not coming to rest.
— KRYPTSTEIN (🍩DONASWAP🍩 / 🔥FIRECHAIN🔗) (@MrDonGG) March 16, 2023
Shiba Inu Community Sinks Into Chaos
One of the SHIB metaverse developers and defense team co-lead "Trophias" explained that the entire metaverse team is unaware of what the SHIB army is seeing on the shib.io website and in the metaverse video shown at the SXSW festival. As Trophias details, the Metaverse team consisted of Baysed, Milkshake, UB, Stix, Firstword, and him – none of whom are said to have known anything about the developments.
The reason Trophias and the team supposedly don't know is that Kusama fired the entire team, while Metaverse consultant Marcie Jastrow said that the entire team was not fired:
We were left 'pending' and that 'she's going to handle it after sxsw'. She told us that 'we were not fired or removed' yet our access got pulled and then all of the other weird shit started happening. They will not be transparent with us, they refuse to communicate.
Furthermore, Trophias threatens that "there's a lot you all don't know that is being silenced. I can't go into it all right now, but I'm sure some of it will come to light soon." Kusama reportedly turned the entire team against him with "slanderous lies and manipulations."
Kusama has responded to the allegations with detailed explanations, calling it all FUD. "Half the people in this room have spent the last weeks trying to call me names, dox my real name on socials, call me a scammer, discredit while trying to pump their bags on projects," Kusama said.
Furthermore, Shiba Inu's chief developer also clarified that there is a new team responsible for the progress that was seen at SXSW Festival, among other things. "Amazing products and services, fueled by a momentum that drives us forward. We build against ALL FUD," replied Kusama, who also emphasized:
You've seen the quality of the stuff we're now releasing and the new Shibarium design will be no different. There is much to be done and things are moving, scaling, and we are being agile and learning in the process. Please, watch closely how we upgrade all things visually.
Adding to the chaos within the SHIB community, one of the biggest crypto YouTubers Ben Armstrong aka BitBoy is threatening to reveal Kusama's identity. Armstrong said he could reveal the identity as soon as tomorrow and hinted that the person has been working with FTX founder Sam Bankman-Fried.
Sam was involved early on once the two co-founders split. One left and made his own chain. The main founder worked with Sam as the project got off the ground.

— Ben Armstrong (@Bitboy_Crypto) March 16, 2023
BONE Falls 16%, SHIB Down 5%
While the Shiba Inu Token (SHIB) is weathering the chaos and allegations relatively well, Bone ShibaSwap (BONE) has fallen from $1.53 to $1.12 at one point, down more than 26%. As of press time, BONE is seeing a slight recovery and was trading at $1.27, but that still leaves BONE down 16% over the past 24 hours.
BONE seems to be hit particularly hard by the allegations, as the token is considered to play a major role in the SHIB Metaverse. On top of that, $5 million in BONE tokens were removed from the staking contract after the rumors emerged.
For the moment, the 200-day Exponential Moving Average (EMA) seems to provide support. If BONE breaks below, the price level around $1 could provide major support.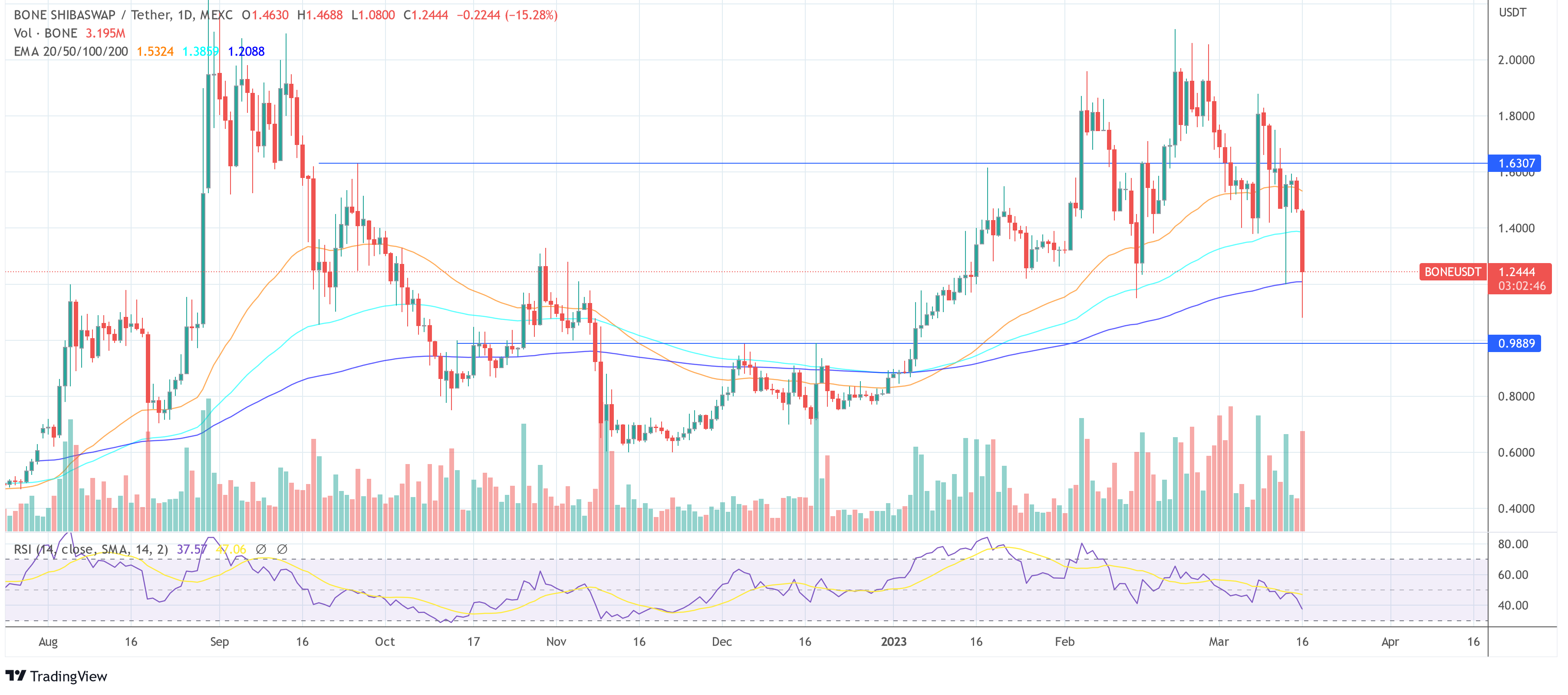 Featured image from MEXC Blog, chart from TradingView.com