The B2Broker team is excited to announce the addition of ten new cryptocurrency pairs to our lineup: SUSHI, CRV, ONE, LRC, 1INCH, NEAR, ATOM, XTZ, and AXS. This expansion is in response to rising demand and gives our customers even more cryptocurrency options. We're always looking to add new offerings and provide the best possible service to our clients.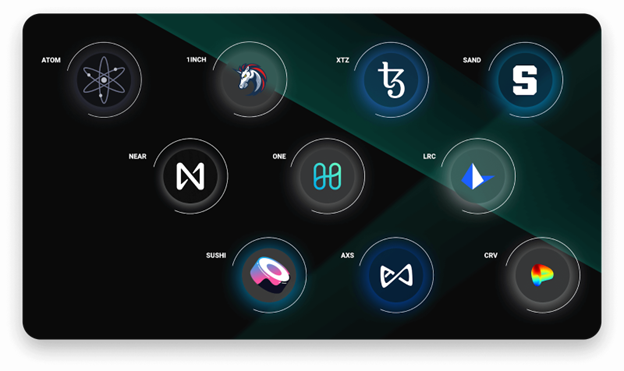 We're also excited to announce that we've increased the liquidity pool for all crypto symbols! This change brings our clients tighter spreads and new order book depth. We're proud to be able to offer such competitive rates, and we'll continue striving to provide the best possible service to our customers. Thus, we've been able to achieve spreads of less than three dollars on BTCUSD and 0.4 dollars on ETHUSD thanks to the recent improvements. We're looking to make certain that all of your trade needs are satisfied, regardless of what they are!
B2Broker is one of the most reliable and trustworthy crypto CFD liquidity providers in the market. If you're looking for a LP that you can rely on, look no further than B2Broker.
Since there are so many liquidity providers on the market, how can you be sure that B2Broker is the best choice for you?
As a leading and largest crypto CFD liquidity provider, we offer over 124 unique pairs today. With our extensive experience and unmatched expertise, we provide our clients with the best possible opportunity for success in the market. We are constantly expanding our list of symbols, with a goal of having 150 pairs by the end of the year. This gives our clients even more ways to succeed. Brokers, cryptocurrency exchanges, and a variety of other businesses use our crypto liquidity. With our deep understanding of the market, we are able to provide them with the tools they need to achieve their goals.
OneZero/PXM and Marksman Hub distribute B2Broker's Crypto CFD liquidity. This provides clients with a lot of freedom in their trading operations, as they can connect to OneZero/PXM via hub-to-hub, the FIX API, or any MT4/5 Bridge/Gateway.
The Marksman Hub is a great choice for those looking to stream pricing into their custom development platform for their margin crypto exchange, as more than 100 levels in the order book on each side (per leg) are available. Clients can get a unique trading experience with the use of OneZero for execution purposes and Marksman for pricing streaming. For more information on Marksman liquidity, be sure to check out our latest webinar:
At B2Broker, we understand that margin requirements can be a major barrier to entry for many institutional and retail customers. That's why we offer some of the most competitive margin requirements in the crypto CFD space. For example, our BTC/USD margin requirement is only 10%.
We take pride in delivering our clients with quick and dependable execution. Our cutting-edge execution engines are spread across LD4 and other tier-one data centers, allowing our clients to do business with confidence.
At B2Broker, we understand how important customer support is. That's why we provide global assistance that is available 24 hours a day, 7 days a week, in ten different languages: English, Farsi, Arabic, Chinese Traditional, Chinese Simplified, Hindi, Spanish, Urdu, and Russian. We are here to help you with any concerns or questions, regardless of where you reside or what language you speak. We want to make sure that all of our customers have a positive experience, so if you ever need anything, don't hesitate to reach out to us!
If you're looking for a hassle-free way to manage your cryptocurrency-related finances, our products are perfect for you. Our funds management and position control procedures are designed to offer a convenient workflow that covers all the practical needs of crypto enthusiasts. With our products, you can easily keep track of your finances and processes, making it easy to manage your crypto-related business.
We operate on a pure agency model, avoiding any potential conflicts of interest as a Prime of Prime. This enables us to give our customers the greatest possible service and offer only the most beneficial deals.
In addition to providing crypto liquidity, B2Broker also offers liquidity for single stocks (803 pairs), Metals (13 pairs), CFDs on Indices & Commodities (16 pairs), and FX (103 pairs), all under one margin account. You can trade over 1000 different products with B2Broker, which has institutional-level liquidity and ultra-competitive margin requirements along with the tightest spreads. So whether you're interested in crypto or traditional markets, B2Broker has the offerings and prices that you're looking for.
We're always searching for new ways to improve our service and make your time with us more enjoyable. If you have any questions about our crypto offer, feel free to contact us. We're always happy to help!
About B2Broker
B2Broker is a firm that focuses on liquidity and technology solutions for the cryptocurrency and Forex markets. We understand that brokers, exchanges, and other financial institutions need cutting-edge solutions to stay competitive in today's markets. That's why we offer a wide range of B2B services and products that cater to different types of clients. Whether you're a crypto exchange, hedge fund, Forex broker, licensed broker, or professional money manager, we have the tools and resources you need to succeed.
B2Broker is a global company with offices in over 9 countries, including Dubai (headquarters), Limassol, London, Hong Kong, and Tallinn. The company holds a virtual currency service provider license from the Ministry of Finance of Estonia and a license for investment services from CySec. In addition, the B2Broker group has other 7 licenses, including an AEMI provider license from the FCA and an investment dealer license from the FSC.