Ultron poses as a layer-1 blockchain founded by a Dubai-based Ultron Foundation in June 2022. The crypto project claims to be the future of DeFi, Farming, offering NFTs, liquidity staking, swap services, and much more. Its native cryptocurrency is Ultron token (ULX), which is currently not supported by major cryptocurrency exchanges like Coinbase and Binance.
Ultron is relatively new and lacks popularity, but its founders promised investors nearly impossible returns. Ultron runs on an affiliate marketing and MLM model. The project promises to compensate its affiliates with daily returns on investment for five years if they invest or recruit people to invest in Ultron tokens (ULX).
Ultron's Compensation Plan
According to Ultron's business model, Affiliates can exchange ULX for USDT across nine packages. These packages include:
Basic (100 USDT)
Light (300 USDT)
Light plus (500 USDT)
Standard (1500 USDT)
Standard plus (5000 USDT)
Premium (12,500 USDT)
Premium plus (30,000 USDT)
Supreme (100,000 USDT)
Supreme Plus (300,000 USDT)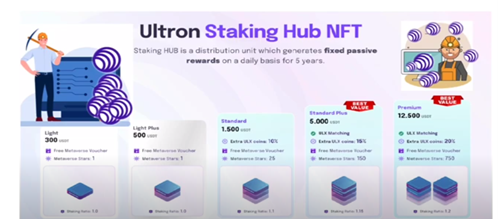 Source: Youtube
According to Ultron's business model, affiliates gain discounts according to the number of funds invested with an ROI based on how long they hold their investments. In the MLM model, affiliates earn commissions according to their ranks, which they acquire by recruiting affiliates. Aside from these, Ultron affiliates receive a 10% commission on token packages purchased by their direct recruits and a residual commission through a binary compensation plan.
These business models lead one to believe that Ultron is one of those crypto Ponzi schemes on the market. The business model allows the project to dump ULX tokens on affiliates per USDT market price. There is no limit to how deep the binary team can grow, raising eyebrows on how attainable these compensations can be.
For instance, according to Ultron's business model, Ultron caps (an affiliate rank) can earn up to 5000 USDT, while Sapphires earn up to 8000 USDT weekly. The list goes on to GOATs (Greatest Affiliate of All Time), which earns up to 500,000 USDT a week.
Mavie/Ultron Compensation Plan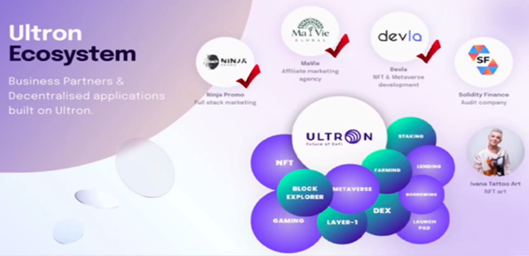 Source: Youtube
Ultron is a partner with Mavie global, an affiliate marketing platform. A recent update shows the project launched on March 13. According to Mavie/Ultron's compensation plan is banking on Ultron's newly introduced NFTs worth 30,000 USDT, according to a Youtube presentation.
Customers with the highest NFT staking capital will receive higher weekly returns. For instance, customers who stake $100 weekly earn $100, while those who invest $500 in the staking hub will receive $1,000 weekly, a nearly impossible compensation plan.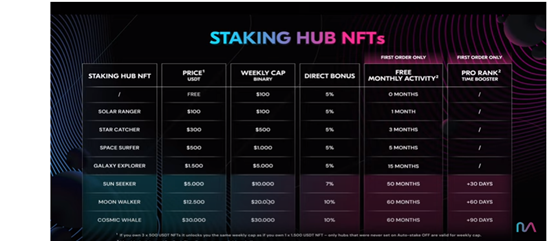 Source: Youtube
Mavie also offers matching bonuses and pool incentives like cars, houses, watches, etcetera. The question is where the money would come from since Ultron has no revenue-generating product besides the ULX and NFT staking.
The compensation plans appear overpaid. And the project must pay commissions, which only come by recruiting new investors. That is the most notable characteristic of a Ponzi scheme, which will eventually shatter when new customers stop coming.
How's Ultron Connected to Givvo?
However, there appears to be a shady deal behind Ultron. Mavie/Ultron project has a link to Givvo, a failed e-commerce Ponzi scheme. Givvo was an e-commerce Ponzi scheme that presented itself as a donation platform for an undisclosed humanitarian organization.
Givvo raised money for an undisclosed humanitarian organization through one of its donation campaigns. It claims to channel cash back from customer e-shopping purchases to donations, which they supervise with blockchain technology. In return for donations, customers can win rewards such as cars, houses, and more. Nevertheless, Givvo couldn't sustain its business model as it is now history. Sadly, there isn't much information on the Givvo Ponzi scheme.
The Mavie/Ultron project appears shady because one of its pioneers, Tobias Sukenik's profile, confirmed his connection with Givvo. Tobias Sukenik, with two others, Michal Prazenica and Michal Kyselica, cofounded TBF International, a European-based direct-selling company, in 2019. However, the trio sold TBF to Kannaway in 2020. Michal Prazenica identified himself as the CEO of Givvo and a crypto enthusiast via his LinkedIn profile.
What's Fishy About Ultron?
The fact that both Tobias Sukenik and Prazenica are based in Dubai, with Sukenik directly involved in the latest Ultron project, further raises an eyebrow on the project's legitimacy. Given the limited criminal extradition treaties and lack of oversight over MLM-related securities fraud, Dubai has become a haven for scammers. This further raises red flags on Givvo and Ultron's business operations.
According to BehindMLM, an MLM review site, the Ultron.foundation domain was privately registered on February 19, 2023. That is around the time when Givvon's Ultron reboot started.
Aside from the ridiculously unattainable compensation plan that may eventually lead to a rug pull, Ultron's crypto developmental plans and aspirations are not yet in existence. Ultron Affiliates can only signup, invest, and stake ULX with the company and collect passive returns as commissions and discounts. That is a securities offering that requires registration with relevant financial regulators.
Given that Ultron has no specific product through which it generates revenue, returns on investment would like to rely on subsequent investment funds. A project that relies on new investments to compensate existing investors is probably a Ponzi. Such a project would sooner or later dump on investors once it gathers enough funds. Therefore, claiming that Ultron is an EVM-compatible protocol might be another way of saying ULX is an ERC20 shit coin.
Why You Must Flee From The Mavie/Ultron Project
Unrealistic Compensation Plans
Image Source: Youtube
The compensation plans are too good to be true. Ultron claims to offer a 20% bonus on its NFT staking hub, including an additional 300% extra coins when users auto-stake. It is typical of scam tokens that promise investors attractive yields, luring them into investing their funds. The creators of rug pull tokens often run away with users' funds after dumping shit tokens on them.
Unregistered Securities Offering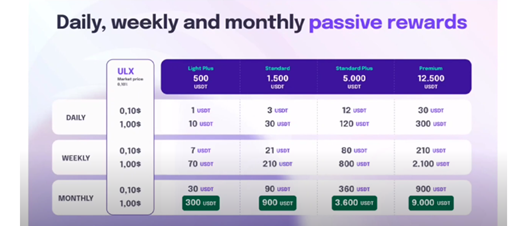 Source: Youtube
Ultron claims to offer users daily, weekly, and monthly passive rewards in hundreds and thousands of USDT according to their NFT staking and affiliate recruiting activities. This offering is probably an unregistered security that might attract regulatory actions similar to Slotie's ordeal with the SEC and other regulators in 2022. Seeing Ultron has no auditioned financial report filed with regulators, the chances of the project attracting crackdown action from regulators are high.
Shady background
Besides the compensation plans and potentially unregistered securities offerings, Ultron and Mavie share a complex background that appears shady. Facts from a recent report tied Tobias Sukenik (one of Ultron/Mavie's top contributors) to the 2018 BeReal Estate Ponzi Scheme. Ultron's base is Dubai, where there is little or no regulatory oversight on MLM and crypto, presenting an easy way out for the founders should the project flop.