Shiba turned out to have the most watchlist among the 3.  Shiba Inu / SHIB is watchlisted by 1.539million people. As we probably know, Shiba has been trending in the world of cryptocurrency these past few days, reaching its new ATH and passing DOGE as the new Top Dog Coin.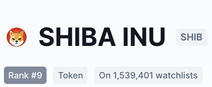 Following Shib / Shiba Inu footsteps, we can also see RichQUACK / QUACK on the rise. RichQUACK / QUACK Turns out to have more watchlists than DOGE. QUACK is watchlisted by 1.332 million people, beating DOGE's watchlist, which is currently only watchlisted by 1.257 million people.
What is RichQUACK? And How does QUACK Have more watchlists than DOGE?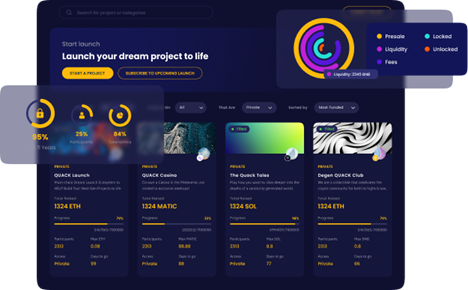 RichQUACK, born on June 9, 2021, has been trending countlessly on CoinMarketCap, CoinGecko, and Poocoin. Aims to pay out rewards to holders by "frictionless yield generation". Holders do not need to stake or wait for fees to be delivered. Fees are awarded by the smart contract and are immediately reflected in the holder's balance.
Rich Quack's goal is to provide its holders with a chance to make money, by investing, building, holding and winning. To do so, building a community of people that are ready to work hard and contribute towards that goal is a priority. The project aims to become the future of a safe and secure investing and fundraising platform, where you can also win a jackpot raffle for holding, and play lotto that pays out every hour, day, week and month.
The unique feature of Rich Quack appears to be in its launchpad, which they claim will be the future of safe and secure investment. The platform is scheduled for release in End of Q4 2021. This would give QUACK a distinguishing feature compared to other meme coins and could drive price appreciation in the future. Quack also announced working with a company that has 60+ developers and has successfully launched more than 250+ projects. To be eligible for Guaranteed Allocation of QUACKPad projects, QUACK holders would be required to stake at least 3.5 Trillion $QUACK. RichQUACK will have a Tiers system where the more $QUACK you have, the more you can invest in new projects.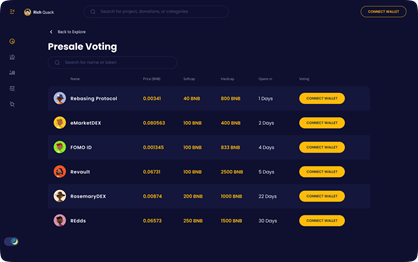 QUACK community members that Stake at least 1 T QUACK will be eligible to vote "Yes" or "No" on whether a project will proceed to the Presale. Projects who only want to use the Launchpad part without prior seed funding and incubation can do so by applying and winning the community votes.
QUACK token holders can Stake their tokens on QUACK Staking to gain access to the platform and earn rewards. Staking higher amounts of QUACK gives holders increased access and even greater rewards.
Many people believe that the RichQUACK token is still undervalued right now, and once their product is ready, $QUACK will explode. We can see it from the activity level of their community and also their social media. It's crazy how a small market cap token can have that high level of engagement.
The difference why RichQUACK is preferred by people over $Shib and $Doge is it's Small Market Cap compared to Shib and Doge which have reached billions of dollars in Market Cap. Small Market Cap means there is so much more room to grow, so many zeroes to conquer, so many new millionaires to be born.
Here is the current growth of RichQUACK: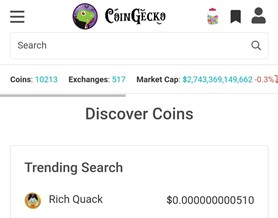 Have you seen other Tokens out there with this many activities going on at the same time? Me neither! Here are the lists of other Richquack Ongoing Community Event (DY
1. 55Trillion $QUACK CMC Airdrop Campaign ($50k Value Airdrop Just ENDED)
2. 10 Trillion $QUACK Raffle (Current Value $10,000 for holders, simple rules to join, just need to buy $QUACK and no sell order for a week)
3. Top 10 Most active users on Telegram get 10Billion $QUACK Each DAILY
4. Top 10 Most invites on Discord get 10Billion $QUACK Each DAILY
5. Poker Tournament 31st October. 1Trillion $QUACK Prize, Winner Takes All. FREE TO JOIN FOR HOLDERS (ENDED)
6. Tesla Model 3 Giveaway! Join their Telegram Group and ask there to know-how
Here are some more infos about QUACK / Richquack.com
Website: RichQUACK.com
Join RichQUACK telegram group: https://t.me/richquack
telegram channel: https://t.me/getrichquack
RichQUACK Discord: https://discord.gg/richquack
RichQUACK Reddit: https://www.reddit.com/r/RichQuack_Quack
RichQUACK Medium: https://medium.com/@richquack
Follow RichQUACK IG: https://instagram.com/richquackofficial
Follow RichQUACK FB: https://facebook.com/richquackofficial