Yield App has come out with its latest version of its platform, V2, which offers best-in-class features and rewards to users. This latest version brings the capability of staking and locking tokens for a higher APY, as well as a more secure platform where users can feel safe investing in their digital assets.
Yield App has a proven track record of impeccable service, growing to more than 70,000 active users and over $450 million under management in less than a year. Its second version combines the best features of the Yield App V1 with a new suite of features that users can take advantage of to earn more.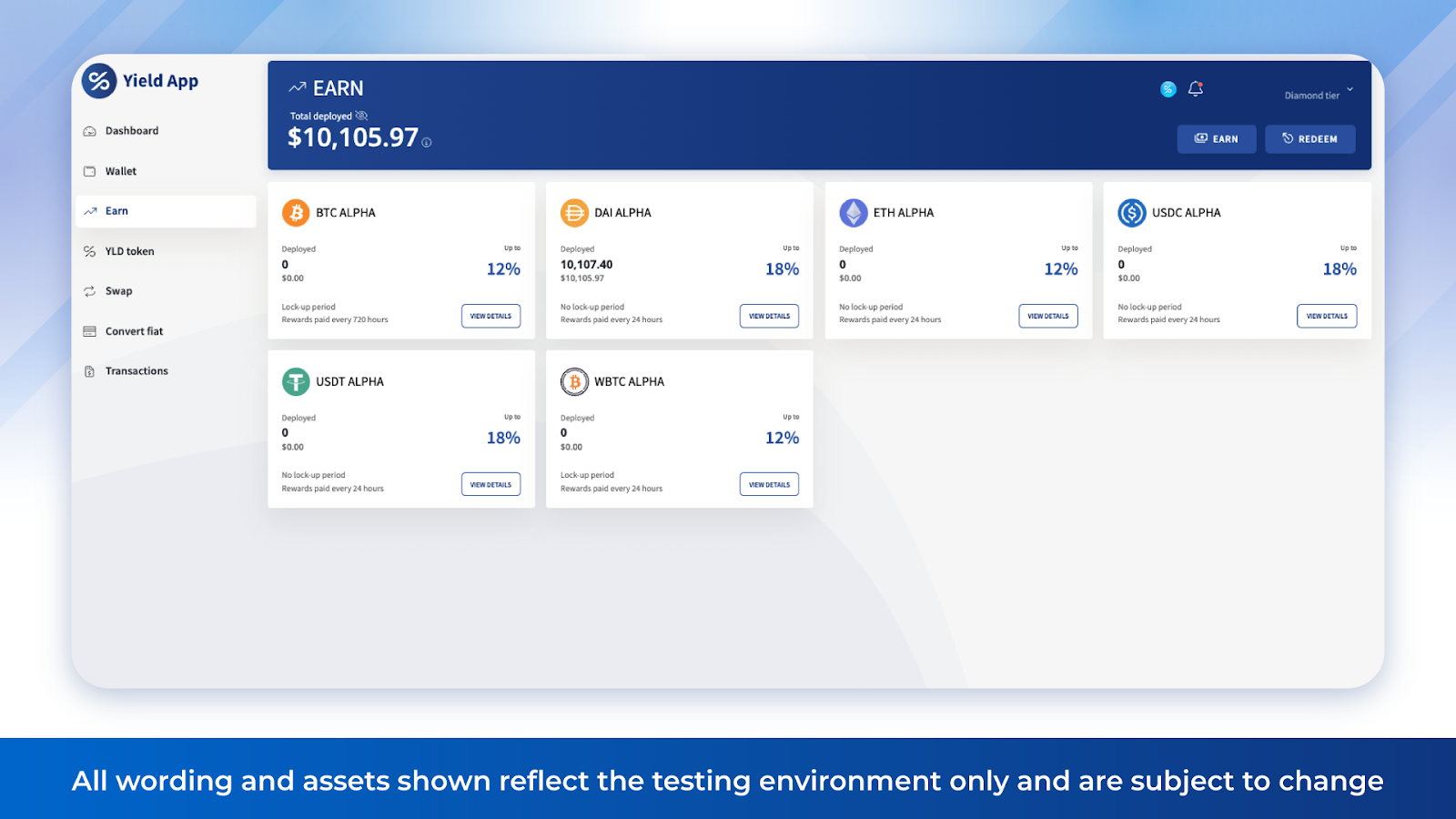 What To Expect With Yield App V2
Yield App's V2 is designed to give the users more control over the platform. Alongside offering market-leading rates on its products, it also added security features to secure user funds from mistakes they could make, as well as external actors.
V2 introduces 2FA, the ability to whitelist trusted addresses, and an automatic logout feature that requires users to re-enter login information to access their accounts.
In V2, users are able to stake their YLD tokens to earn an APY of 4% to 6%. For locked YLD tokens, users earn at a flat rate of 12% annualized returns. These returns are among the highest offered in the space.
Yield App has proven itself in the market which is evidenced by how fast the project has grown. In September 2021, Yield App was announced as the official digital asset wealth management partner for the popular European club West Ham.
Putting Users In Control
One major upgrade in the Yield App V2 launch has been the ability for users to have complete control over their compounding and earning options. Users did not have the option to directly reinvest their earnings back into their portfolios for compounded earnings. However, with the V2, Yield App users are able to directly reinvest their digital assets with the click of a button.
Rewards for YLD are even higher with the second version. In this iteration, users who choose to receive their earnings in Yield App's native token YLD, get 2% higher rewards rates than those who choose to earn in their base assets.
The introduction of full-cycle swaps will enable users to quickly swap digital assets to other assets that are on the platform. An example would be swapping an existing digital asset to Bitcoin, Ethereum, USDT, USDC, and DAI, which was recently added.
Rewards are now calculated based on a tier mechanism separated into four categories. Users can either be in the Bronze, Silver, Gold, or Diamond tiers and will have their variable returns structured according to how they rank.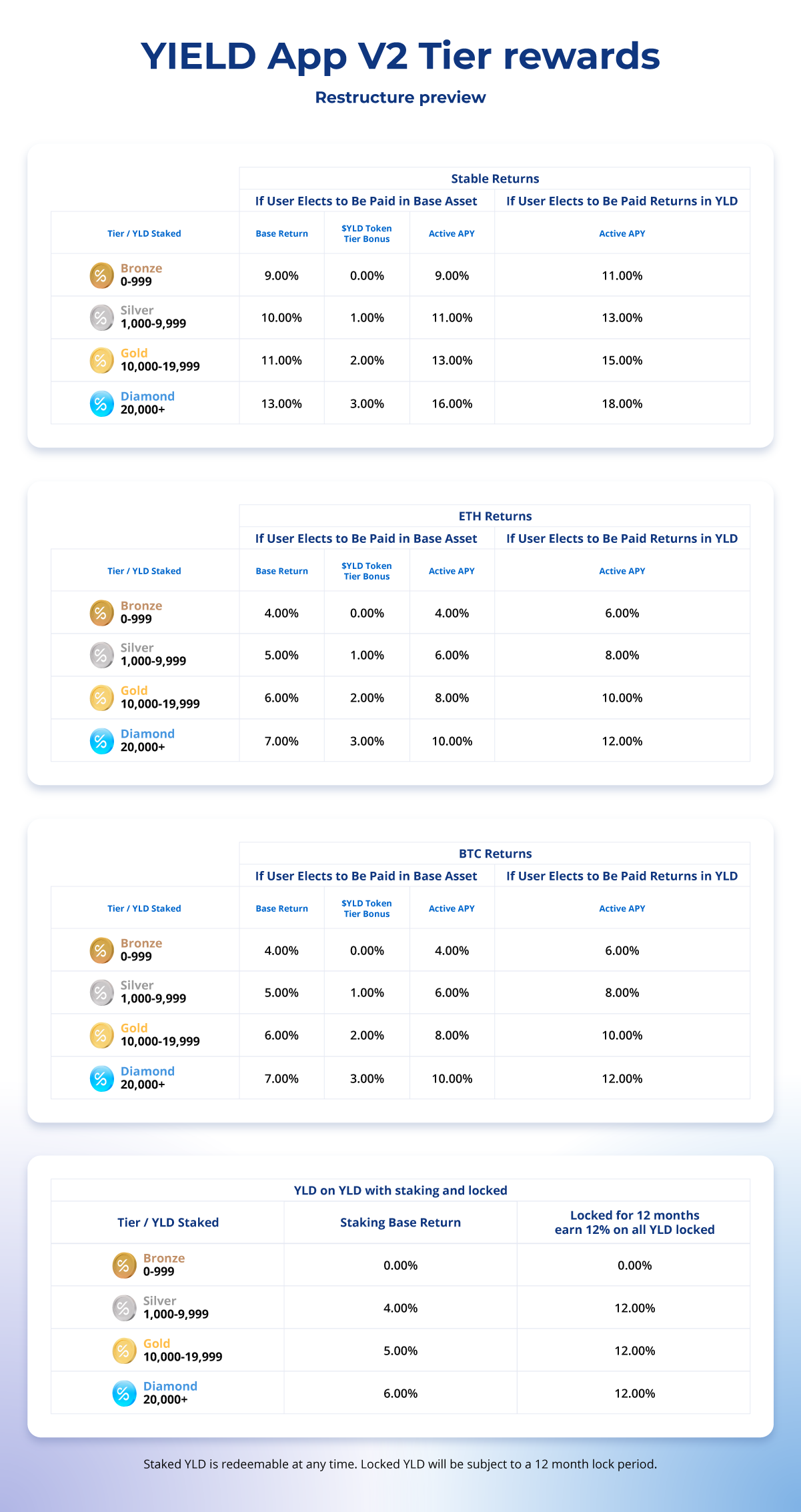 Last but not least, Yield App users are can access all of their transactions with its advanced monitoring and reporting services. Users can download a report that outlines their transactions, including the time of the transaction, IP address, and location of the transactions, all with a single click.
The release of Yield App's V2 has been positively received by the community and this has translated to an uptrend in the value of its token. It clearly states the platform's intention to become a long-term leader in digital wealth and establishes the project as a force to be reckoned with in the space.
Here's a detailed overview of all the new and exciting features of Yield App V2:
To learn more about Yield App, visit its website.
Find Yield App on: