On Thursday, investors awoke to a promising sight — a $300 candle that brought Bitcoin's price off a $6,150 low — so some thought that the worse for over for the market. But, as some investors were lured into a false sense of security, the market fell even further to establish new year-to-date lows.
There's Blood In The Streets!
As some like to describe the current state of the cryptocurrency market, "there's blood on the streets!" Taking a glance at cryptocurrency prices as it stands, it becomes quickly evident that blood of may as well be on the streets of this nascent industry.
On Friday afternoon, Bitcoin unexpectedly fell by over $350 dollars, from $6,425 to a low of $6,025 on the back of an influx of selling volume. This bearish movement quickly cascaded throughout the whole market, with altcoins experiencing a similar decline. With this move, the valuation of all cryptocurrencies has established a new year-to-date low at $209 billion.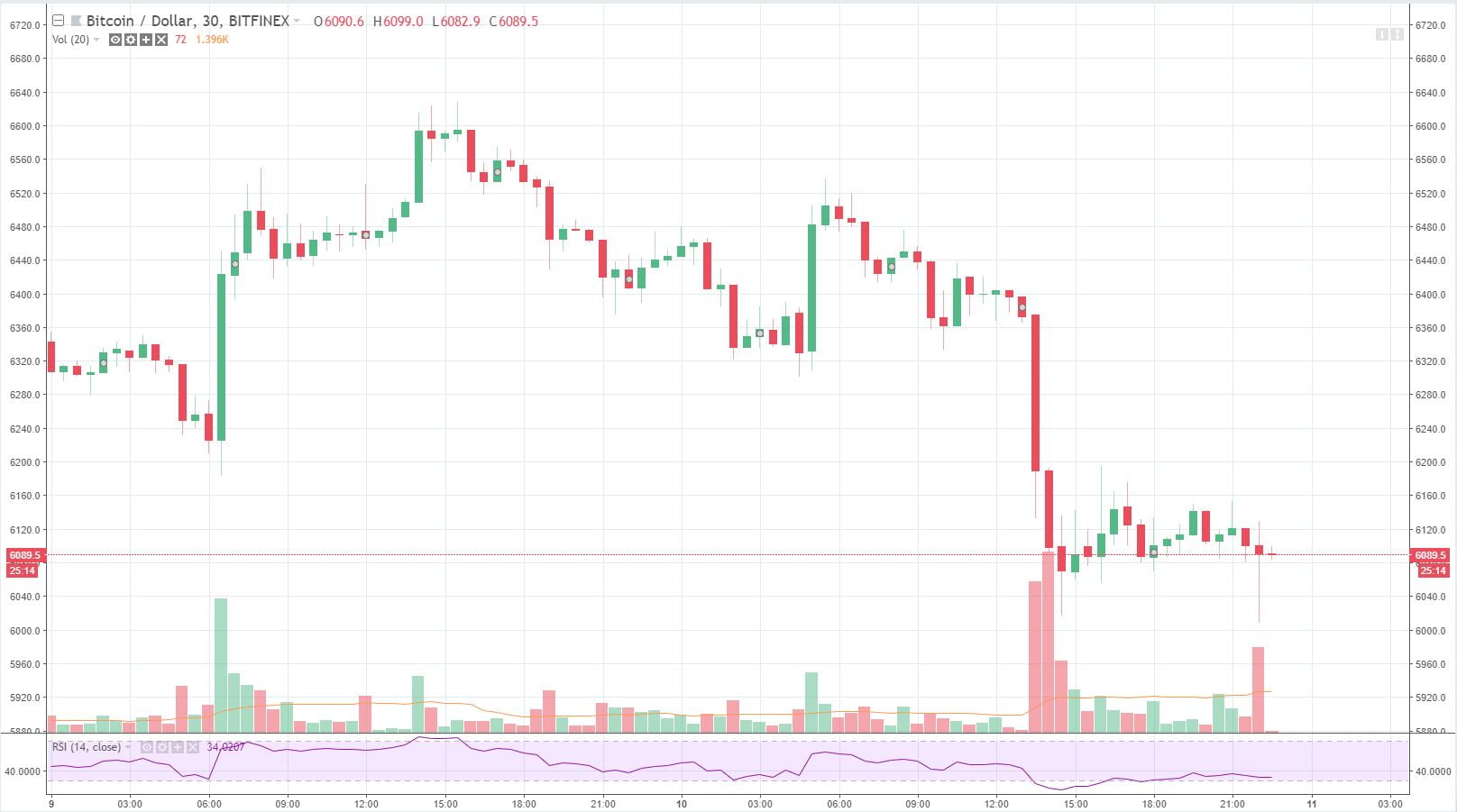 As is a common theme in any market, investors did their best to draw connections to announcements and this price drop. Some speculated that this was a direct result of the SEC's recent verdict to delay a final decision on the fate of the VanEck and SolidX ETF. Many saw this ETF as a long time coming, as cryptocurrency industry leaders have been trying their hand at creating this form of an investment vehicle for years now.
Stepping back, one could note that this move is likely courtesy of an extended downtrend off Bitcoin's most recent peak at $8,500. As NewsBTC editor and crypto analyst Joseph Young noted in a recent tweet, why should an announcement expected by many lead the market to tank on such a drastic scale?
https://twitter.com/iamjosephyoung/status/1027239450873479168
Joseph noted that this pullback can be largely attributed to stronger downtrend or a substantial over-the-counter sell-off, which may push crypto prices lower for the time being. But as is the multi-faceted nature of this market, this drop off could also be a result of any combination of technical and fundamental factors.
Many technicians see $5,800 as the next vital stop for Bitcoin, as this specific level has proven to have been a strong line of support in prior bouts of downward price action.
'The Flip Has Occurred"
It has become apparent that traders have been doing their best to take advantage of this downtrend, with Nick Cote pointing out that the value of open short positions has eclipsed the value of long positions. While the difference may be of a small margin, this event goes to show that investor sentiment is quickly turning bearish.
The flip has occurred.
Shorts surpass longs once again.#bitcoin $btcusd pic.twitter.com/4wSIqCguHi

— Nick Cote (@mBTCPiz) August 10, 2018
But, while investors have been making bank off short positions, CryptOrca noted that "(a) trap is about to be set and all profits (will get) smoked."
Shorts making serious $ … confidence growing … positions getting bigger … trap about to be set and all profits smoked.

— CryptOrca (@CryptOrca) August 9, 2018
For now, it remains to be seen whether CryptOrca's call for a bear trap is in motion. But, while the Rothschild family name may make decentralized activists quiver in rage, as Baron Rothschild once said, "the time to buy is when there's blood in the streets."
Featured Image From Shutterstock