Cryptocurrency mining profits are on the way down, resulting in declining demand for hardware, such as high-end graphics cards. Sources suggest that GPUs could drop by as much as 20% within the upcoming month. 
Mining Hardware Manufacturers Experience Declining Demand
DigiTimes, a premier Asia-based technology news source, has suggested that there has been a large decrease in interest for mining hardware.
Cryptocurrency mining was unarguably one of the largest trends last year, with mining hashrates growing at an exponential rate. Ethereum, one of the most popular mined currencies, had its hashrate grow by over 25 times last year. Additionally, prices for mining hardware rapidly increased, reaching unsustainable prices that were often unaffordable for common consumers and gamers. However, due to waning cryptocurrency prices, coupled with a large increase in mining difficulty, mining growth has ground to a near halt.
Take the example of Ethereum's hashrate, which shows an eerie correlation between price action and mining interest, in the form of hashrate growth.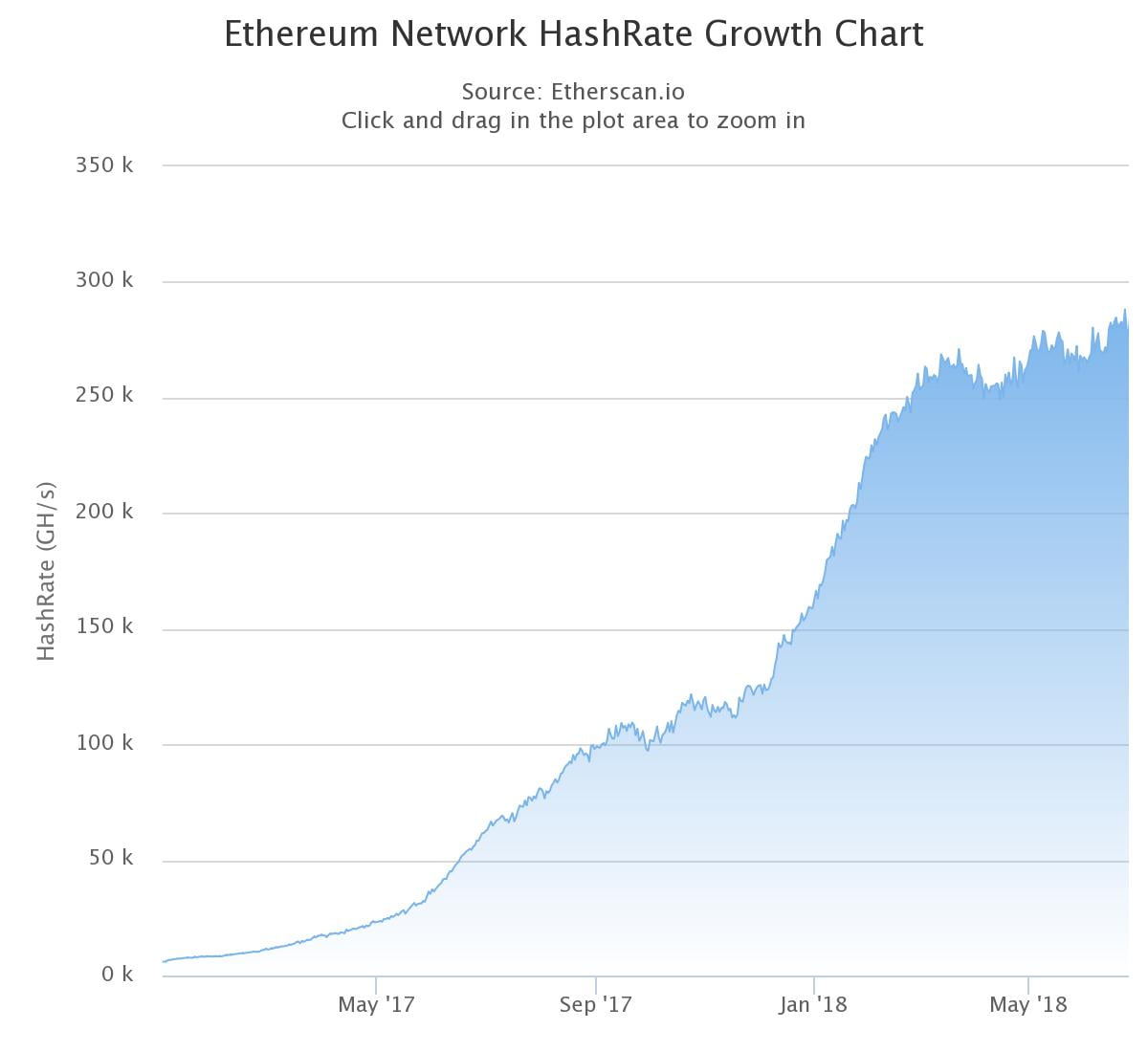 Many hardware manufacturers, like Nvidia and AMD, overestimated future demand for graphics cards, leading to an overstock in hardware. Nvidia, the most prominent GPU manufacturer, is reported to have a supply of over one million GPUs in its warehouses.
It would be advantageous for Nvidia to clear their overstock of 1000 series cards before announcing the rumored 1100 series. To clear out such large supplies of hardware, Nvidia will be required to implement major price cuts to entice consumers. Even if price cuts are put in place, sources expect Nvidia to delay their next-generation GPUs, which are expected to be a large improvement on the previous series, until late fourth quarter.
It is also expected for cryptocurrency miners to sell their used graphics cards as mining rigs bite the dust, only building the pressure on firms like Nvidia. As a result, DigiTimes has stated that GPU prices could drop by over 20% over July, bringing prices to figures that resemble the original MSRP.
Mining Profits Dip Due To Declining Crypto Prices And New ASICs
Bitmain, the largest ASIC manufacturer, has pushed out new mining machines for the Equihash and EthHash algorithms, which easily outperform GPU miners. ASICs provide an exponentially higher $/hash rate in comparison with graphics cards, making them an attractive option for miners.
GPU miners have begun to shut off their Equihash and EthHash farms as the first round of these new ASICs go online. This coupled with the 70% decline in crypto prices has led to an unsustainable mining environment, where many smaller farms have found it better to keep their machines offline.
Ran Neu Ner, the host of CNBC Africa's 'Crypto Trader' show, has said that miners have already begun to shut off their mining machines. He said:
"So what's going to happen is when the miners find that it is not viable for them to mine, what they are going to do is to switch off their machines. And there are going to be fewer machines in the ecosystem… We've received some notifications from some of the miners that they have already switched off their machines."
Despite declining profits, mining is still an essential part of the cryptocurrency ecosystem, bringing security and immutability to the multitude of POW-based blockchains.
Image from Shutterstock