Prospects for the cryptocurrency industry are beginning to look up, with prices marginally increasing throughout the week. But are the bulls really back?
Institutional Investment Sees Interest Continue
Discussion regarding institutional interest has continued, with this prior week seeing a variety of news pieces regarding the growing number of institutional entry points.
Coinbase Custody Sees Successful Launch
Coinbase has just launched its long-awaited custody service to institutional clients, bringing unique security features to more wary investors.
A Medium post from Sam Mcingvale, product lead at Coinbase Custody, wrote:
"Over the past six years, Coinbase has pioneered leading crypto storage techniques and is currently responsible for the custody of more than $20 billion in crypto assets. Coinbase Custody builds on this expertise to offer a brand new, independent solution for our institutional customers."
Bloomberg has reported that the service has already been met with success, accepting ten deposits from a mix of family offices and hedge funds in its first week. Due to the fact that the service only accepts a minimum of $10 million in crypto assets, these ten clients bring at least $100 million in institutionally-tied cryptocurrencies under Coinbase's control.
Coinbase's aspirations do not end there, with the firm hoping to manage cryptocurrencies with a collective value of $5 billion by the end of 2018. Many have high hopes for the success of the service, as many Coinbase Custody fills the growing gap in viable security options for wary institutional investors.
Growing Potential For A Crypto-Based ETF
Cryptocurrency Exchange-Traded Funds (ETFs) continue to be a topic of discussion in many cryptocurrency circles, with recent news indicating that crypto ETFs could be just around the corner.
In an unexpected move, Europe's largest trader of ETFs has made indications towards moving into the crypto industry. Despite disapproval from Dutch regulators, Flow Traders NV has begun making markets with Bitcoin and Ether backed exchange-traded notes.
The arrival of the Flow Traders into this industry may signal to the public and other financial institutions that cryptocurrencies are legitimate, bringing higher levels of credence and interest.
Once crypto secures capital form institutions, it is highly speculated that regulatory bodies will finally begin to ponder the addition of cryptocurrency ETFs onto trading platforms. Many see cryptocurrency ETFs as the perfect method of tying in retail and institutional money into the market, bringing adoption and interest levels to new highs.
BitMEX's CEO commented on crypto-based ETFs in a recent CNBC appearance, saying:
"We are one positive regulatory decision away, maybe an ETF approved by the SEC, to climbing through $20,000 or even $50,000 by the end of the year."
Gemini Hires Wall Street Executive In Move Towards Institutional Investors
Gemini, a well-known American-based exchange, has just hired Robert Cornish, who is now Gemini's first Chief Technology Officer (CTO). Cornish's experience is not something to scoff at, as he has worked as the Chief Information Officer at the NYSE.
Seeing such a talented individual move from the traditional assets space to cryptos has many excited, and may indicate that Cornish sees a real future in the industry.
Tyler Winklevoss, Gemini's CEO and co-founder, elaborated on the hire, giving the media the best of what Cornish has to offer:
"He will ensure that Gemini continues to deliver the best platform experience to our customers possible and set the standards of excellence for the cryptocurrency industry as a whole. Rob is globally recognised for his abilities in leading high-performing engineering teams, his expertise in exchange and matching-engine architecture, and running high-throughput platforms that are both secure and resilient."
It is clear that the new CTO will become an integral part of the Gemini team as the platform moves to join Coinbase, Circle, and Blockchain in offering institutional-focused services.
Market Sees Cautious Move Upwards Despite Declining Exchange Volume
The cryptocurrency market saw a brief resurgence last Friday, as exchanges saw an influx of buying volume, pushing up prices by over ten percent. But since then, the cryptocurrency market has quietened down, with exchange volumes moving from a high of $15 billion to $11 billion today.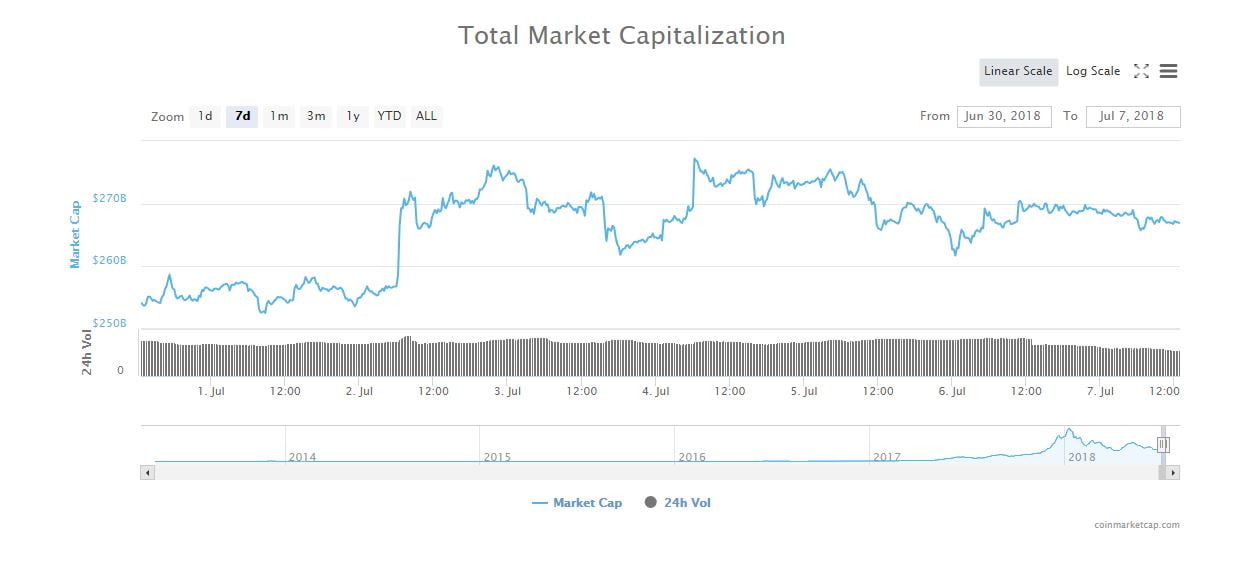 Low volume levels have historically been held as a negative sign for financial markets, as it can often indicate declining interest. Holding this economic ideal in mind, many were surprised to see a positive week for the cryptocurrency market, with the collective value of all crypto assets rising by five percent.
Some have begun to speculate that there are viable reasons for the declining volume figures. A few pessimists chalked it up to CoinMarketCap recently cracking down on questionable exchanges, which may have been reporting volume levels which are in no way representative of the current market state. While the optimists speculated that volume has moved to OTC exchange pools, due to the constant talk of institutional interest.
Despite posting declining volumes, the cryptocurrency market has taken a cautious move upwards, with Bitcoin and Ethereum seeing 4% gains over the past seven days. A majority of other crypto assets have followed, with many altcoins seeing similar moves to the upside. It is probably too early to say whether the bulls have returned, but if prices continue to rise moving into next week, a bull market might just be in sight.
Image from Shutterstock