The week did not leave much to be desired for, with the market seeing a variety of positive institutional news amidst volatile price movements.
Institutional Investment Dominates The News Cycle
The presence of traditional institutions has been an important topic of discussion in the cryptocurrency community. Many analysts expect that widespread institutional investment will usher in a new level of cryptocurrency adoption and innovation, quickly reaching and surpassing all-time highs.
Announcements made this week have shown the growth of the institutional environment around cryptocurrencies and related technologies.
Circle Sees 30% Growth in Investment On OTC Trading Service
Despite worrying prices, Circle has recently announced growth statistics for its OTC trading platform, meant for institutional investment.
The figures which Circle announced took many by surprise, with the Goldman-Sachs backed company seeing a 30% increase in institutional investors joining its platform in May alone. Due to this large influx of customers, Circle has been making moves to improve its service, offering support for high-frequency trades and larger orders.
Jeremy Allaire, The CEO of Circle, said:
"A lot of folks on the institutional side are on-boarding, and getting their ducks in the row."
Additionally, Circle has seen a 15 times increase in volume in comparison to one year ago, with the platform facilitating $2 billion worth of trades each and every month.
Blockchain Launches Versatile Platform Aimed At Institutional Investors
Blockchain, the popular cryptocurrency infrastructure provider, has just revealed the creation of Blockchain Principal Strategies (BPS). BPS, run by experienced analysts, managers, and traders from well-known financial establishments, is aimed at supporting firms joining the space. The platform is expected to offer research services, high-liquidity OTC trading, and early-access to ICOs.
Peter Smith, CEO at Blockchain, hopes that this new product will help to fill a growing gap in this "immature" institutional investment environment.
And many think it will, as BPS offers services that will become increasingly important as the market continues to expand, drawing the interest of Wall Street.
Andreessen Horowitz Launches $300 Million Crypto Fund
Andreessen Horowitz, a world-renowned venture capitalist firm, has just publicized that it has raised $300 million for investments in the cryptocurrency space.  The VC fund plans on investing in a variety of cryptocurrency projects, from large names like Ethereum to newer coins which have potential.
Charles Dixon, a general partner at AH, expressed the firm's hopes for the industry, stating:
"We've experienced ups and downs in the cryptocurrency market, and expect there will be many more, There's potential in the technology, and some of the downturns can be the best investments."
It is widely expected that this fund will be the first of many, with many other venture capital firms expected to follow suit, issuing similar investment strategies.
Market Sees Tumultuous Week Of Gutwrenching Price Action
Last week saw the $30 million hack of Bithumb, leading to a rapid move downwards, with Bitcoin quickly losing 3%. Although Bithumb recently announced the recovery of half of the lost funds, bearish sentiment has remained. 
Bitcoin has hit $5800 multiple times throughout the week, finding some resistance on those levels. Ran Neu Ner, the founder of OnChain Capital, has called for a further short-term downtrend, seeing $5350 as the next level on the way down.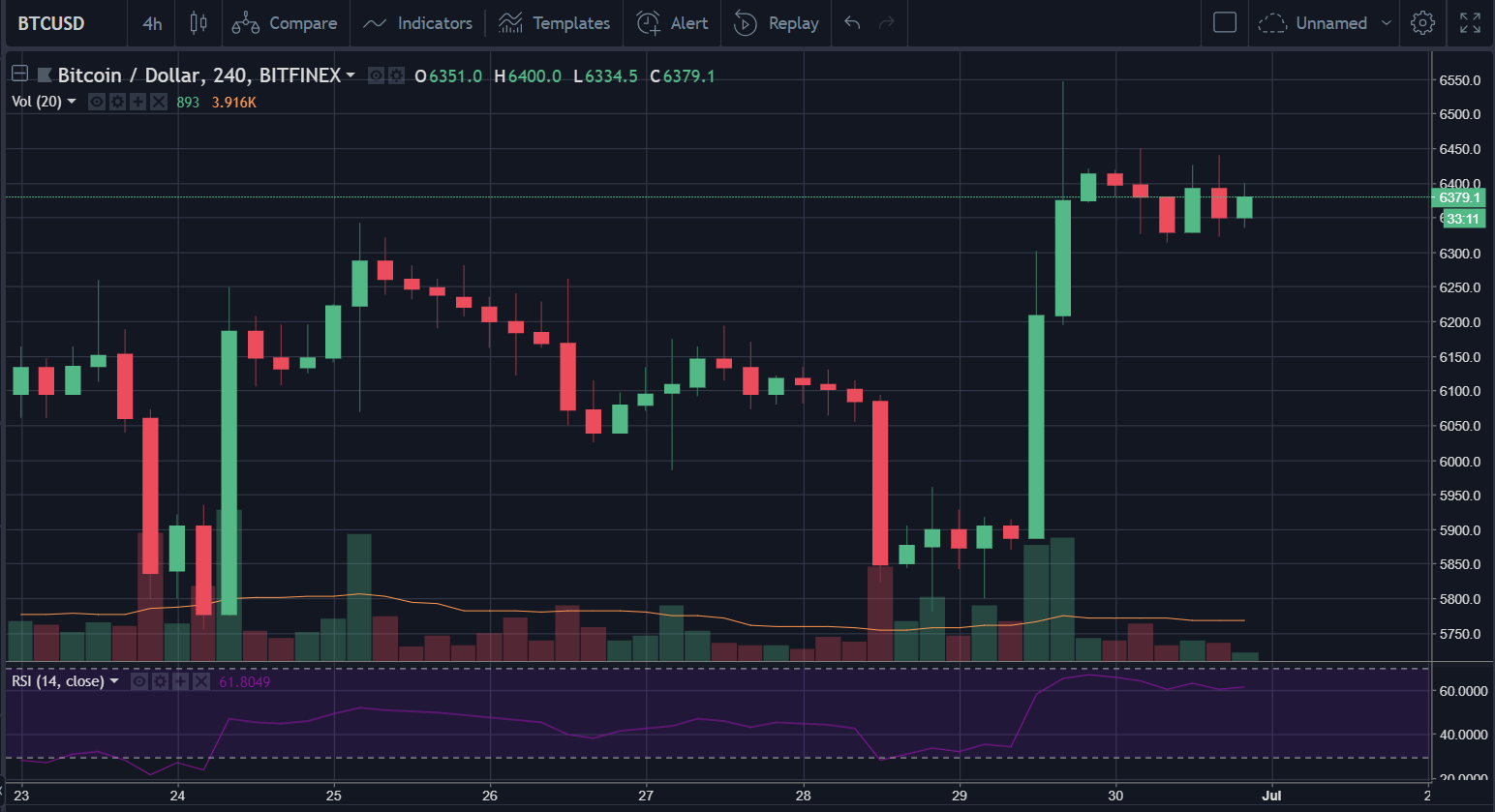 However, Bitcoin has recently bounced off the $5800 price level, seeing an unexpected $600 surge coupled with a bump in trading volume. At the time of writing, it is still unclear as to what caused such a price movement. Some think its the notorious 'Bart Simpson' pattern, where Bitcoin sees a quick move upwards, followed by a move down, 'emulating' the hair of the popular T.V. character.
However, others think that Bitcoin is beginning to break from bearish price movements, finding support at $5800 and bouncing off the lows.
Whether it be a reverse in technicals or an increase in positive fundamental news, things may be beginning to look up for the industry, which has been continually beaten down for months.
Featured Image from