The Bithumb situation has quickly developed over the past 24 hours, resulting in rampant speculation about what exactly happened.
Bithumb 'Suspiciously' Deletes Original Tweet
News of yesterday's hack quickly broke on Bithumb's official Twitter account, but oddly enough, Bithumb deleted the original message after only a few hours. The original message stated that all deposits and withdrawals would be locked due to the theft of over $30 million worth of cryptocurrencies from the exchange's wallets.
This seemingly random deletion led to a period of speculation and confusion for cryptocurrency community members. Some began to speculate that the hack was actually an 'inside' job, with a few drawing lines between a $28 million tax raise for Bithumb and the most recent hack.
WhalePanda, popular cryptocurrency personality, fueled the rumors by taking a light-hearted jab at Bithumb on Twitter.
Bithumb had to pay $28 million worth of back taxes and now lost $30 million less than 2 weeks later. ? https://t.co/spvFpzpb6X pic.twitter.com/DPq9kQG7Nm

— WhalePanda (@WhalePanda) June 20, 2018
It is likely that the matching figures are just an untimely coincidence, and that Bithumb had only the best intentions while posting the aforementioned tweet. As a matter of fact, Bithumb left up a post on the 'Bithumb Cafe' blog, further showing that the Asian-based exchange only meant well. 
The aforementioned blog post stated:
We sincerely apologize for any inconvenience you may have experienced. However, we will make every effort to reopen the service as soon as possible, with the ultimate goal of protecting your assets.
Despite the aforementioned post, it has become apparent that Bithumb will need to further address the issue to calm the cryptocurrency community. Firstly, ensuring its customers that all funds are safe, and secondly, notifying users that the funds lost will be fully reimbursed.
Bitcoin Fees Skyrocket: Was it Bithumb's Fault?
Once news of the hack was released, Bitcoin transaction fees took an abnormal turn to the upside, with average fees moving from 58 cents to $2.94. Although this was unexpected, CEO of BitRefill, Sergej Kotaliar, confirmed that this odd uptick in transaction fees was due to Bithumb moving Bitcoin out of their hotwallet.
Currently big backlogs and high fees on the Bitcoin network. Just confirmed that it is Bithumb, cleaning out their hotwallet.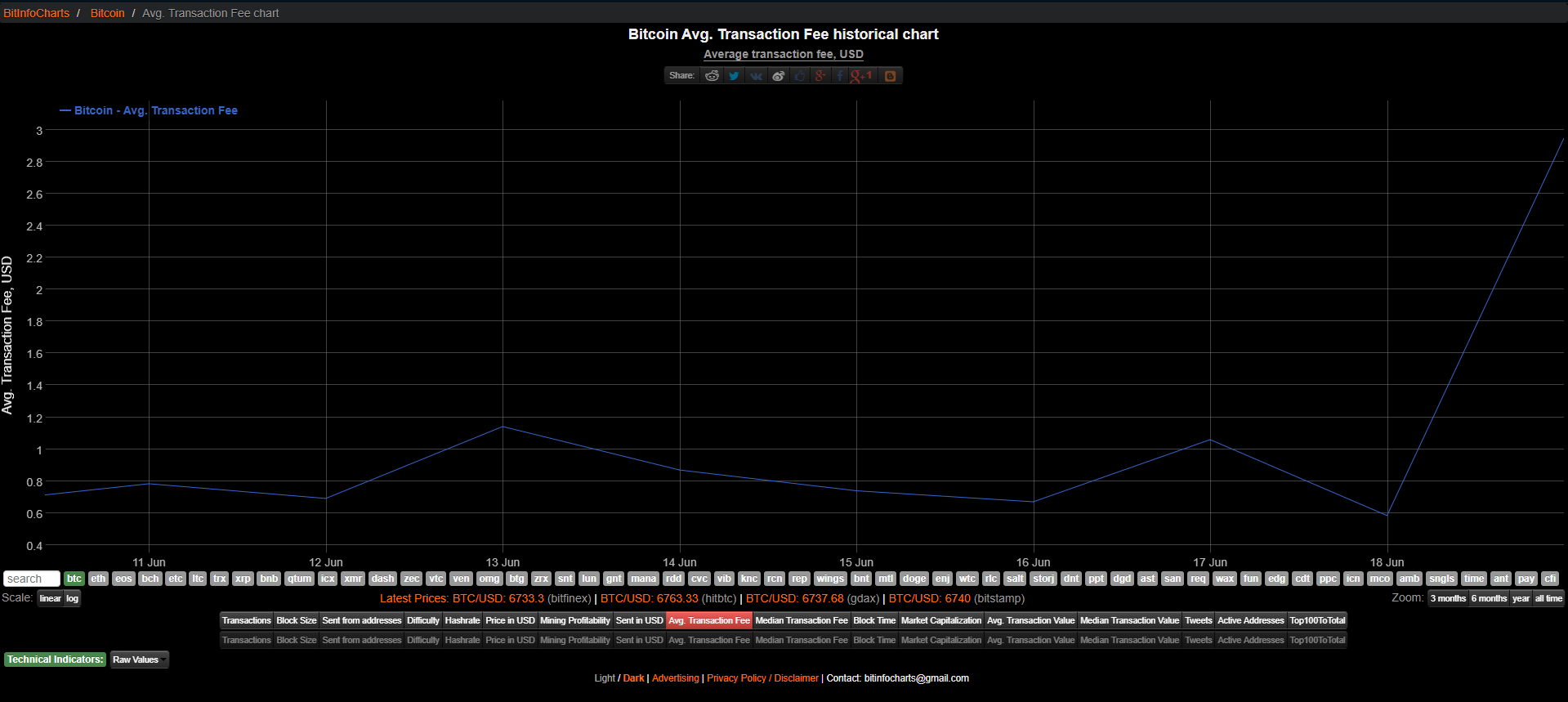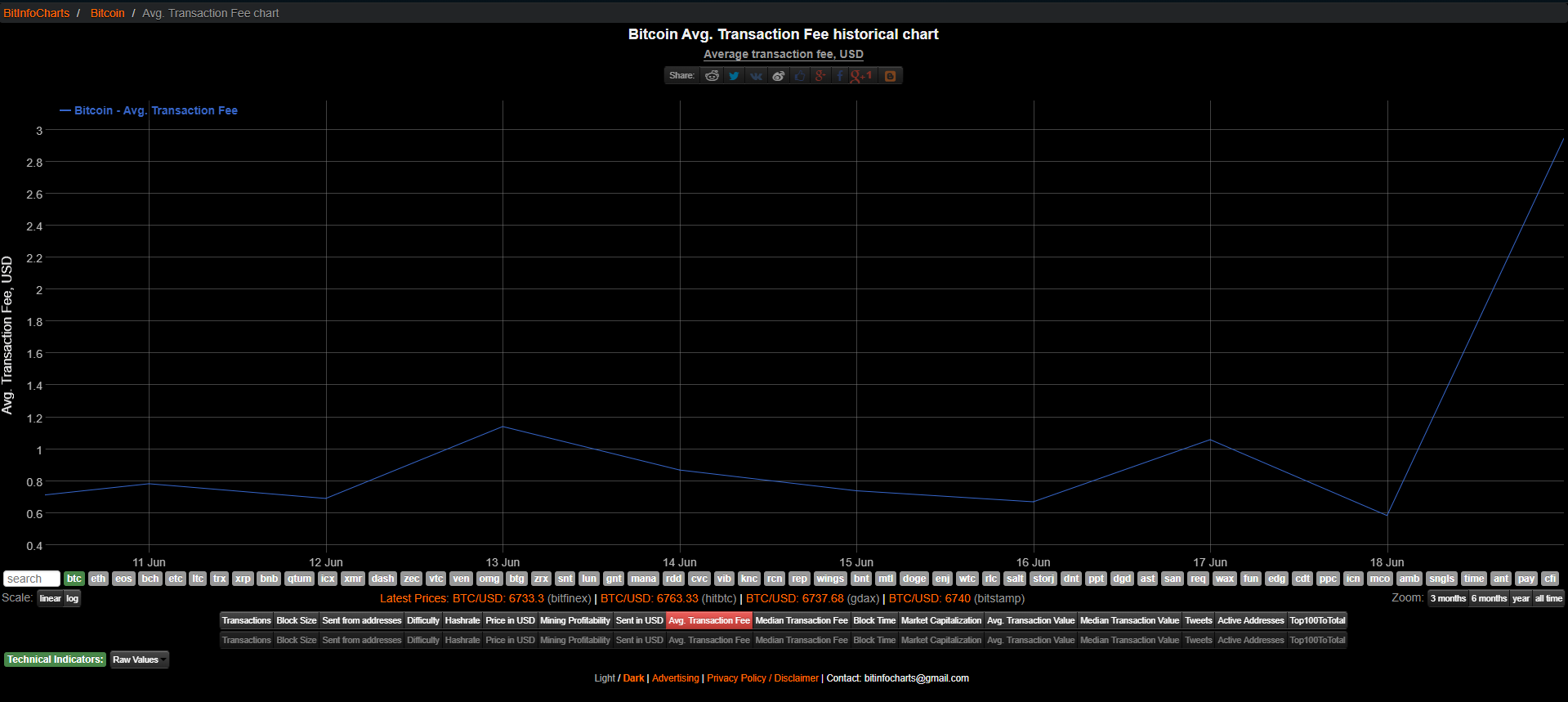 Bithumb had to issue their transactions with absurd fees to ensure that miners marked the outgoing transactions as a priority. Bithumb reportedly overpaid fees by 100 times, which really goes to show how desperate they were to get the hot wallet Bitcoin into cold storage. It is likely that this fee surge will only be temporary, as high fee transactions leave Bitcoin's mempool over the upcoming days. 
Market Stays Strong Even After $30 Million Hack
Despite taking a 3% tumble minutes after the attack, the market quickly bounced back, as price levels have now re-approached the levels seen prior to the apparent hack. Bitcoin is now stable at $6750, and Ethereum has re-approached $540. Other popular altcoins have followed this trend, with prices moving up slowly towards a collective $300 billion market cap.
Charlie Lee, founder of Litecoin and well-known cryptocurrency personality went on CNBC's Fast Money segment to address the hack.
He said:
"Whenever there is an exchange hack, people get scared and the price drops. It happens all the time. But it doesn't really change the fundamentals of Bitcoin, Litecoin or other cryptocurrencies because it's like, if a bank gets broken in and gold is stolen, does that affect the price of gold? It shouldn't."

With this statement, Charlie Lee alludes that Bitcoin, along with the rest of the cryptocurrency market, should not tank after the announcement of an exchange hack. Fast Money host, Melissa Lee, also questioned Charlie about the current price action seen with cryptocurrencies, to which Charlie replied:
"I believe we are kind of in a bear market right now. But I believe that the prices will rebound, and prices will come back up shortly."
Image from Shutterstock