As covered by NewsBTC just a few hours ago, the SEC has just released a 92-page report highlighting major reasons supporting its rejection of the revised proposal of the Winklevoss Bitcoin ETF.
The Community Reacts To The News
At first glance, many cryptocurrency community members saw this announcement as another bout of rehashed news, misreported by mainstream media sources. Some even called it unwarranted "FUD" (Fear, Uncertainty, and Doubt) that was being pushed from proponents of legacy markets, like CNBC.
Charlie Shrem, one of the leading Bitcoin pioneers and the founder of the Bitcoin Foundation, took to Twitter stating that this announcement was actually "old news."
This is old news, While I think Cameron and Tyler would have run one of the better ETF's, The new ETF excitement came from the fact that CBOE filed their own Bitcoin ETF. The SEC would rather grant an ETF to an existing institution over a new one. https://t.co/xLHZDLo9O5

— Charlie Shrem (@CharlieShrem) July 26, 2018
However, as specified by Bitcoin investor extraordinaire DJ Thistle, the SEC's rejection of the Winklevoss Bitcoin ETF did occur on July 26, pointing out that the Winklevoss Twins refiled the proposal with revisions. According to the analysis of DJ Thistle, who currently has an audience of over 28,000 individuals, the rejection of this specific ETF motion was due to the business practices of Winklevii (Winklevoss Twins) and the exchange under their possession. Putting it nicely, Thistle, who is also a fellow Canadian, wrote:
"There are many other ETF's waiting. They will have to word things better (next time)."
it is NOT old news

the ETF was refiled

it was for the way they/winkel's/gemini do business

the SEC still feels market manipulation can effect price too much and that is a danger to investors.

there are many other ETF's waiting. they will have to word things better.

— dj Thistle / Coin Street News (@DJThistle01) July 26, 2018
As the community went into a rightful rage regarding the outcome, SEC Commissioner Peirce released a statement "respectfully dissenting" the decision. In a powerful conclusion to her extensive statement rebutting the ruling, she wrote:
"If we were to approve the ETP at issue here, investors could choose whether to buy it or avoid it. The Commission's action today deprives investors of this choice. I reject the role of gatekeeper of innovation—a role very different from (and, indeed, inconsistent with) our mission of protecting investors, fostering capital formation, and facilitating fair, orderly, and efficient markets. Accordingly, I dissent."
With these declarations, it has become clear that she was the sole voice rooting for the ETF in the SEC boardroom, despite three of her associates voting against the controversial proposal.
Apparently, bitcoin is not ripe enough, respectable enough, or regulated enough to be worthy of our markets. I dissent: https://t.co/gH5zXaKtmj

— Hester Peirce (@HesterPeirce) July 26, 2018
Joseph Young, NewsBTC editor and long-time cryptocurrency analyst, later doubled-down on Peirce's sentiment regarding the verdict, reiterating her passionate disapproval of the verdict in a broadcast to his 82,000 Twitter followers.
https://twitter.com/iamjosephyoung/status/1022608517100797952
Brian Kelly, CNBC's in-house crypto analyst and CEO of the crypto-centric BKCM fund, called the SEC Commissioner's sentiment "noteworthy."
Noteworthy—> https://t.co/55jrtwzgbK

— Brian Kelly (@BKBrianKelly) July 26, 2018
Despite the near-universal backlash of the cryptocurrency community, @IAmNomad, as the cryptocurrency influencer is known on Twitter, took a U-turn as he brushed off the SEC's denial.
https://twitter.com/IamNomad/status/1022588447507312640
This statement references the seemingly countless other ETF proposals which Nomad and Thistle imply are better than the one pushed by the Winklevoss Twins.
As noted in many previous articles regarding institutional investment and crypto-backed ETFs, many see a Bitcoin ETF as the key to widespread adoption, retail and institutional alike.
However, Jameson Lopp, an outspoken cryptocurrency proponent with 171k followers reminded his followers that Bitcoin doesn't need an ETF, and a subsequent influx of institutional investors to succeed. Later implying that it would be in an institution's best interest to acquire Bitcoin before they miss the crypto gravy train.
Bitcoin doesn't need institutional investors. Institutional investors need Bitcoin.

— Jameson Lopp (@lopp) July 26, 2018
Cryptocurrency Market Takes A 4% Tumble Following The Announcement
In the subsequent hours following the SEC verdict, the market began a downturn, despite exchange volume figures taking a move upwards.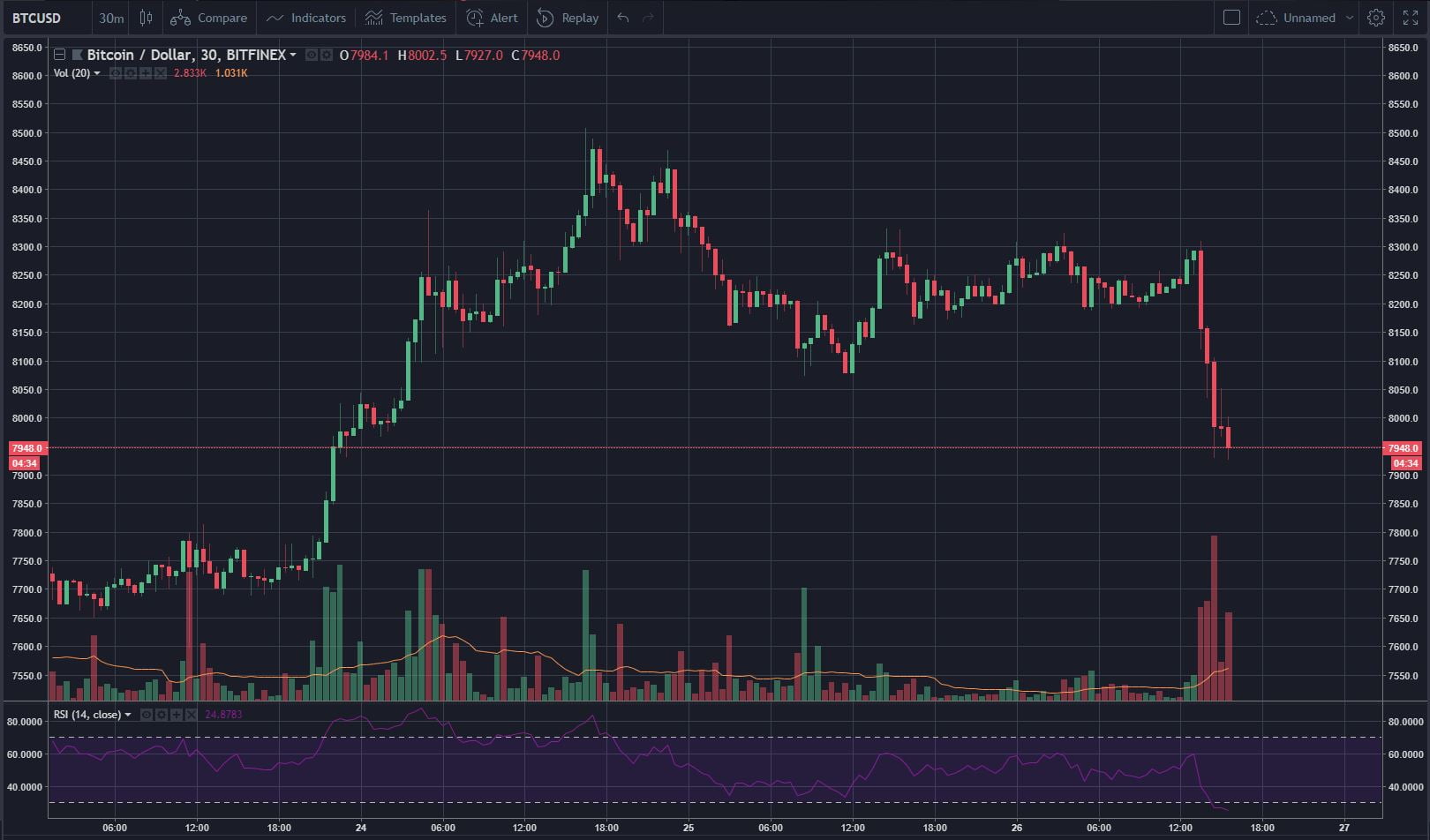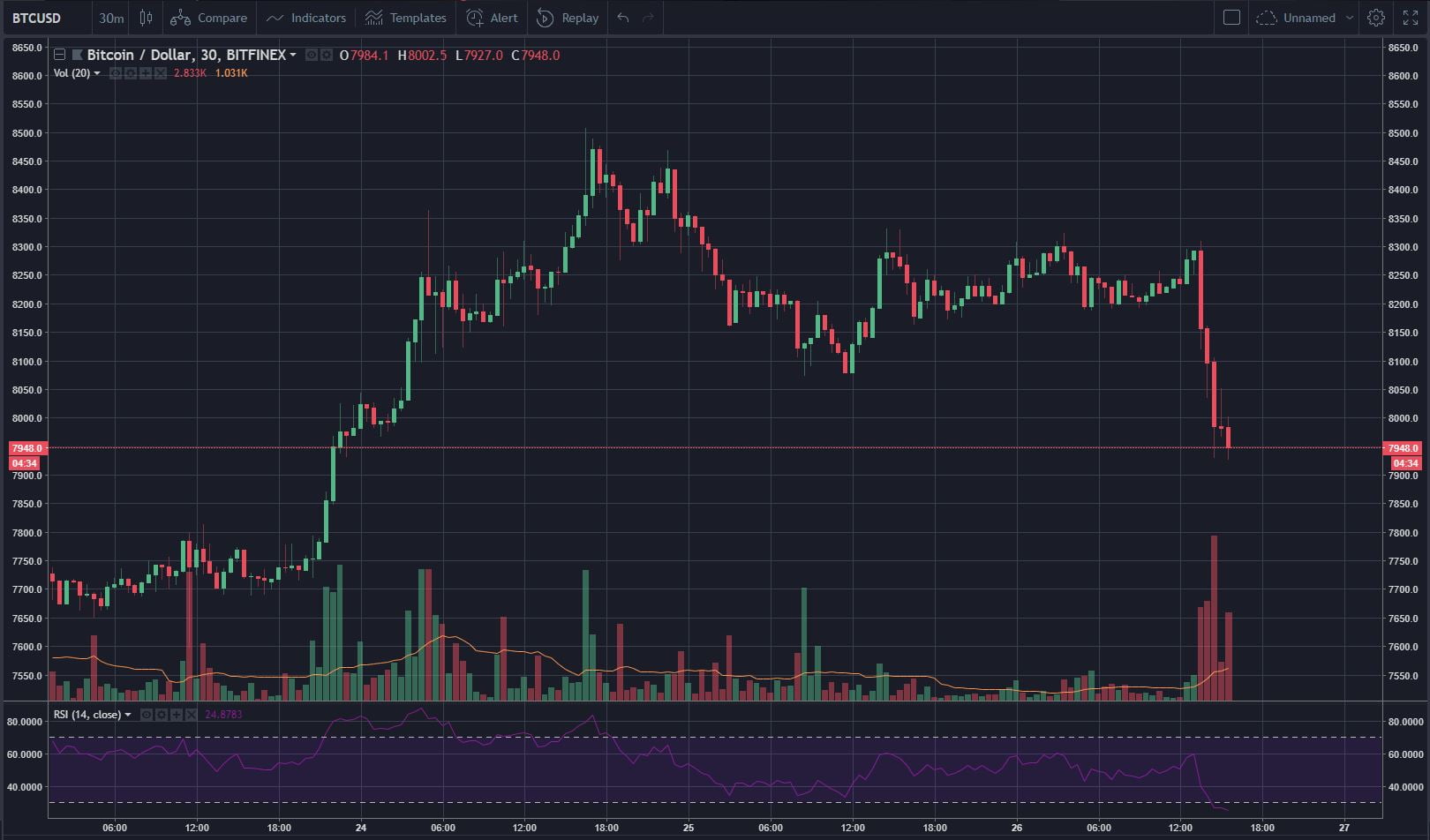 As of the time of writing, Bitcoin is currently at the $7,900 price level, down $500 from weekly highs. Despite the SEC ruling only applying to a Bitcoin ETF, altcoins followed "big daddy Bitcoin" downwards, posting similar percentage losses.
Taking to Twitter to express his thoughts regarding the market's reaction to the announcement, Young issued a fervent statement, drawing connections between the recent demise of Facebook's stock and the crypto selloff. Young wrote:
"Selling bitcoin because you expected Cboe ETF to be approved but Winklevoss ETF got rejected is like selling Twitter shares because Facebook plunged 22%. Those two are not the same!"
Well-known technical analyst and crypto influencer Parabolic Trav noted that if Bitcoin can quickly rebound off post-verdict levels, that "digital gold" could be set to move higher in the long-awaited "bull market."
https://twitter.com/parabolictrav/status/1022590611918995456
The Winklevoss Twins have not given up the fight for a Bitcoin ETF, with Cameron Winklevoss conveying his thoughts on the result. Seeming unfazed, he noted:
"Despite today's ruling, we look forward to continuing to work with the SEC and remain deeply committed to bringing a regulated bitcoin ETF to market and building the future of money."
Featured Image from Shutterstock