The Terra Classic LUNC has been putting more effort into resuscitation its new position in the crypto space. Unfortunately, the algorithmic stablecoin Terra and LUNA collapse in May caused a massive loss in the industry. The crisis intensified the crypto winter of the year, leading to the loss of billions of dollars.
However, the new Terra ecosystem is gradually building against its previous loss. One of its distinctive approaches is the protocol's burning mechanism. This action brought about the 1.2% tax burn for on-chain LUNC transactions, as proposed by one of the Terra community members.
Burning LUNC Tokens And New Tax Burn
The Terra community has embraced the burning mechanism in line with its plans. According to a recent report, the district has burned almost 25 billion Terra Classic till now.
Also, a report noted that the crypto exchange giant, Binance, has tremendously moved in LUNC burns. Recently, Binance announced burning over 1.34 billion Terra Classic in the fourth batch of its weekly burns. It quoted 2.68 million coins as the transaction for the burn.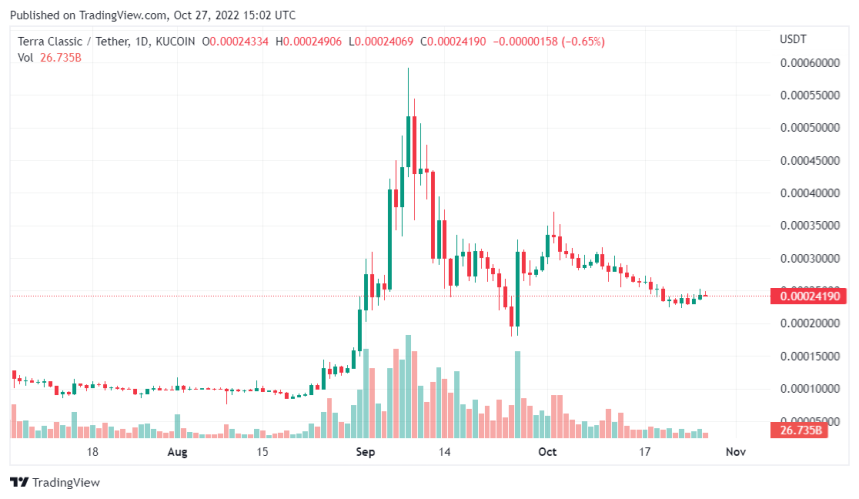 Binance pledged its support for Terra's burning mechanism. So far, the exchange has burned almost 12.5 billion LUNC tokens through its trading fees on spot and margin trading pairs.
But Binance noticed a drop in its weekly burning of LUNC tokens. This made its CEO CZ suggest a reduction in the burning tax to increase both on-chain and off-chain transactions.
Recently, the Terra Luna Classic community voted for a change in the tax burning of tokens. The change was from 1.2% to 0.2%, as contained in Proposal 5234. The community expressed its enthusiasm over the new tax burn resulting in its massive voting.
Terra community has adopted the tax burn as a process that facilitates the growth of LUNC price. The mechanism will destroy 10 billion LUNC from the token's total supply. The new tax burn change took effect on October 19.
Terra Classic Price Performance
It has not been quite easy for LUNC amid the bearish trend in the crypto market. But the token is showing a formidable strength during the drastic period.
Today's reclaiming in the crypto market gave the token another great price movement. At the time of writing, LUNC is trading at $0.00241, depicting an increase of 5.50% over the past 24 hours.
The token saw 13 out of 30 (43%) green days over the past 30 days, with a 9.86% price volatility. Using some technical indicators, the LUNC sentiment currently reads Neutral. LUNC has 15 indicators that show bullish signals and 14 that indicate bearish signals.
Featured image from Pixabay, Chart: TradingView.com