Hi Everyone,
Traditional finance types have been talking about it for a while, but lately, I'm seeing more and more crypto people speaking about bond yields and the fact that something is definitely out of whack with the markets lately.
Particularly, we can see the symptoms in the amount of bonds around the world that are giving their holders a negative yield. Well, maybe it's not the amount per se, but the rate of acceleration that's concerning.
Here we can see that over the last three months it's grown from $10 trillion to $15 trillion and that this number has grown more than 200% since last Halloween. Scary stuff!!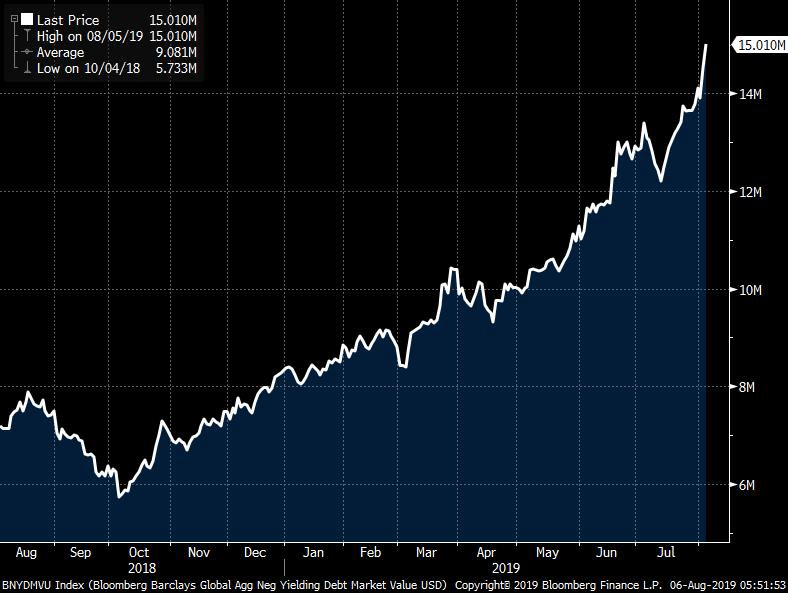 Now, you might be asking yourself… "what sane investor will want to buy a bond knowing full well that the investment will lose money?"
Of course, in a world where money is no longer backed by hard assets, the tendency then becomes to continue the creation of wealth for as long as you can. The central banks have been pumping so much liquidity into the markets that things like risk and valuation have very little meaning.
I mean, why would you sit and worry about a silly thing like yield when the money used to buy the asset was created from thin air to begin with?
Does this mean a crash is coming? Probably, eventually, maybe. In the meantime though let's keep an eye on this number because with global central banks slashing rates, the trend is likely to continue for some time… until it doesn't.
@MatiGreenspan – eToro, Senior Market Analyst
Today's Highlights
Watch for falling rates!!
Gold Breakout
Loose Connections
Please note: All data, figures & graphs are valid as of August 7th. All trading carries risk. Only risk capital you can afford to lose.
Traditional Markets
…and rates are being slashed. Just in the last 24 hours we've seen no less than three central banks surprise the markets with rate cuts that were more aggressive than anticipated.
Thailand just delivered an unexpected rate cut, their first once since 2015. The Reserve Bank of India was expected to cut by 0.25% but instead went with an unconventional 0.35% cut. The kicker is New Zealand though.
What's not surprising is the market's reaction as the Kiwi fell to its lowest level since early 2016. Hope they manage to sell enough dairy products to justify this blatant devaluation of their own currency.
The Philippines is expected to deliver a cut of 0.25% tomorrow, so we'll see how that goes.
Gold breakout
With little yield to go around, precious metals are starting to look a lot more attractive. Most investors tend to prefer assets that pay a dividend or a yield but in times like these any asset with a limited supply can start to look like a valid store of value.
Not to mention that if the massive amount of liquidity in the market does ever translate into higher inflation, those exposed to solid assets like gold will already be hedged against it. With some countries even deliberately devaluing their currency, it's easy to see why people are finding safety in something solid.
Over the last 48 hours, gold has made a strong break above resistance and is now giving a believable test to $1,500.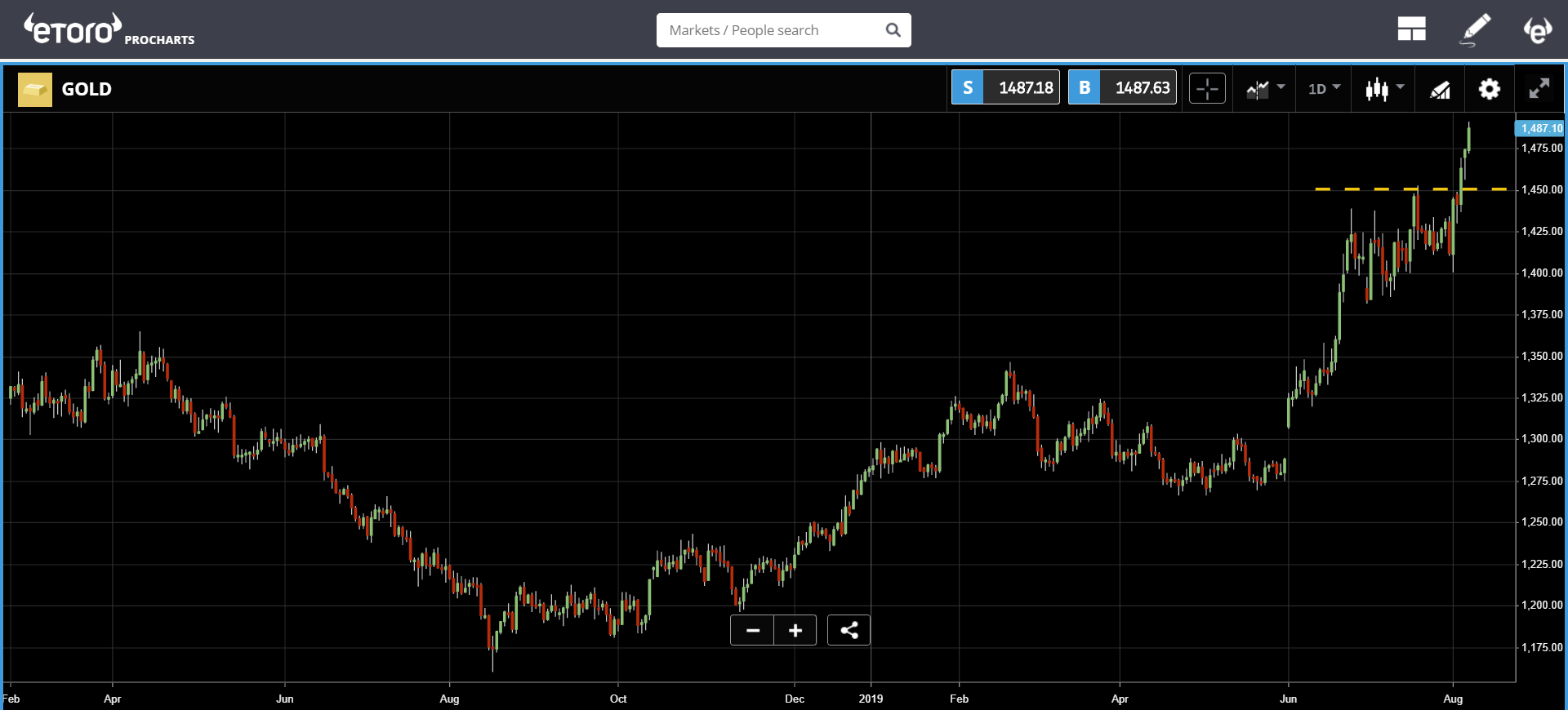 Digital Gold
With everything above, one might expect bitcoin to come in as a hedge and react to things like trade wars and or rate cuts, but the data suggests otherwise.
Here we can see bitcoin's 90-day correlation with gold (blue), the stock market (grey) and the US Dollar (red). As you can see, connections between BTC and the rest of the markets are pretty loose here. For all three assets measured against bitcoin, the 90-day correlation factor is less than 0.2, meaning it's virtually nonexistent.
Still, this data doesn't seem to be stopping anybody from speculating on which particular narrative is driving bitcoin higher at the moment. Not that it matters much anyway, these narratives have a way of turning into a self-fulfilling prophecy.
Have a wonderful day ahead!
About the Author: Mati Greenspan is a Senior Market Analyst at eToro

Connect with Mati on….

eToro: http://etoro.tw/Mati
Twitter: https://twitter.com/matigreenspan
LinkedIn: https://www.linkedin.com/in/matisyahu/
Telegram: https://t.me/MatiGreenspan
Office Phone: +44-203-1500308 (ext:311)


Disclaimer: The opinions expressed in this article do not represent the views of NewsBTC 
or any of its team members. NewsBTC is neither responsible nor liable for the accuracy of 
any of the information supplied in Sponsored Stories/Press Releases such as this one.