Losses are deep and as price action trend below key support levels, altcoin recovery is a tall order. The only coin that could register gains assuming investors' expectations are met is XLM. From candlestick arrangements, there seem to be underlying support because XLM/USD sellers are yet to drive prices below 15 cents triggering further draw downs. As this print, EOS/USD and XMR/USD pairs are trading below main supports. We expect to see more declines to $1.5 and $50 respectively.
Let's have a look at these charts:
EOS/USD Price Analysis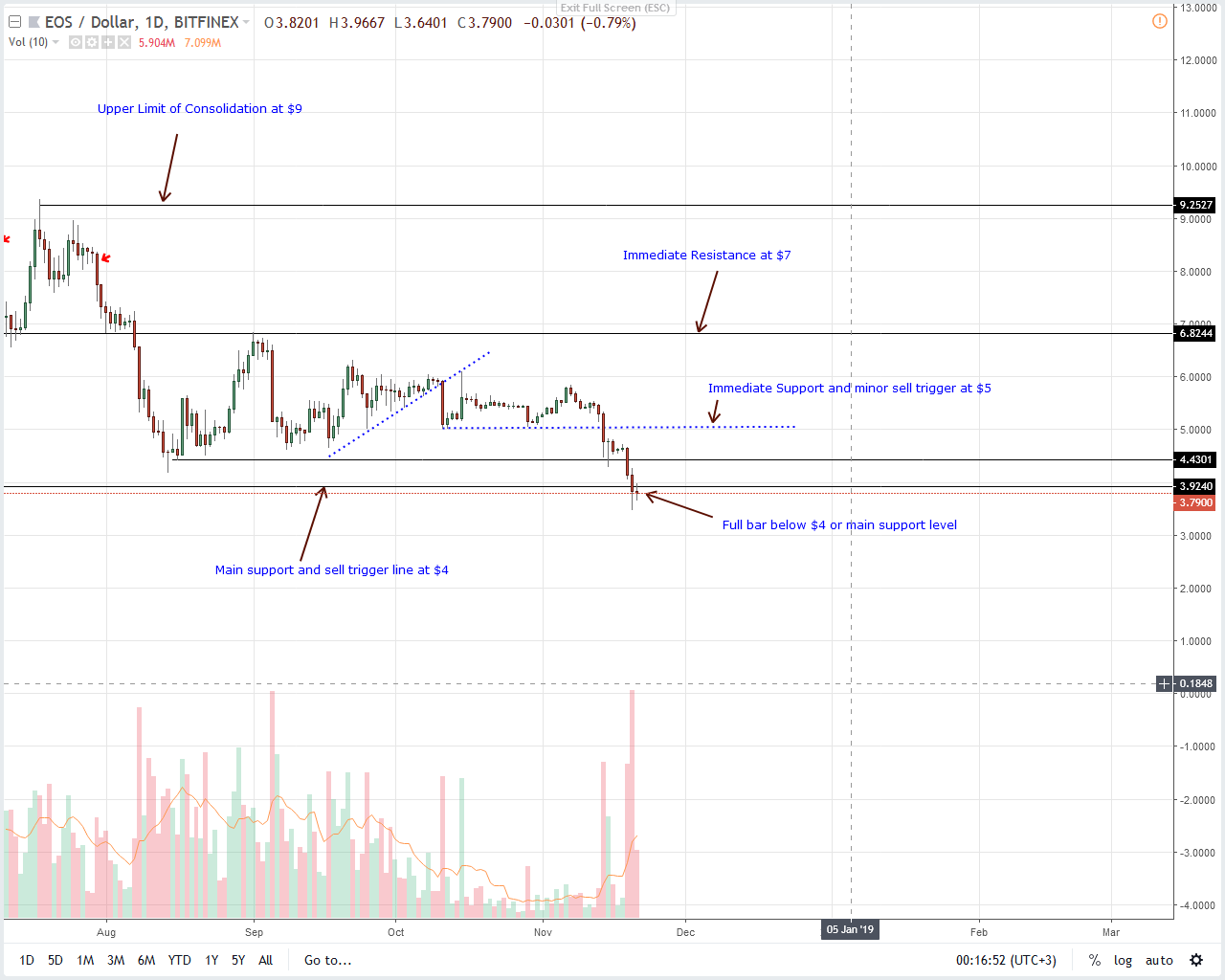 Even though EOS appears stable in the last day, the coin is technically bearish when we take a top down preview. Not only are we seeing double digit losses driving prices below important support—now resistance—levels but the volumes accompanying these breakouts are high. This means there is support from strong hands and the coin could print losses in days to come.
Now, since our last EOS/USD trade plan is live thanks to yesterday's full bar closing below the main support level of our trade range at $4, both set of traders can begin unloading at spot prices. As such, we recommend selling at spot prices with stops at Nov 20 highs at around $4.2 and first targets at $1.5 in line with our previous EOS/USD price analysis.
LTC/USD Price Analysis
After days of reds, bears did slow down yesterday allowing LTC prices to expand adding 0.2 percent at the time of press. But as per our last iterations, every high is technically a selling opportunity unless otherwise there are strong surges above $150—our immediate resistance and previous sell trigger line.
Read: CoinBase Chief Policy Officer Calls It Quits, Is Crypto at Risk of Losing Talents?
From the way candlesticks are arranged, it is likely that LTC/USD prices will further drop obliterating $30 and perhaps print $20 more so if the prices of BTC continue to fall. In our case, hodlers should look to unload LTC around Nov 19 highs of $40 but ideally, the best level of exiting is $50.
XLM/USD Price Analysis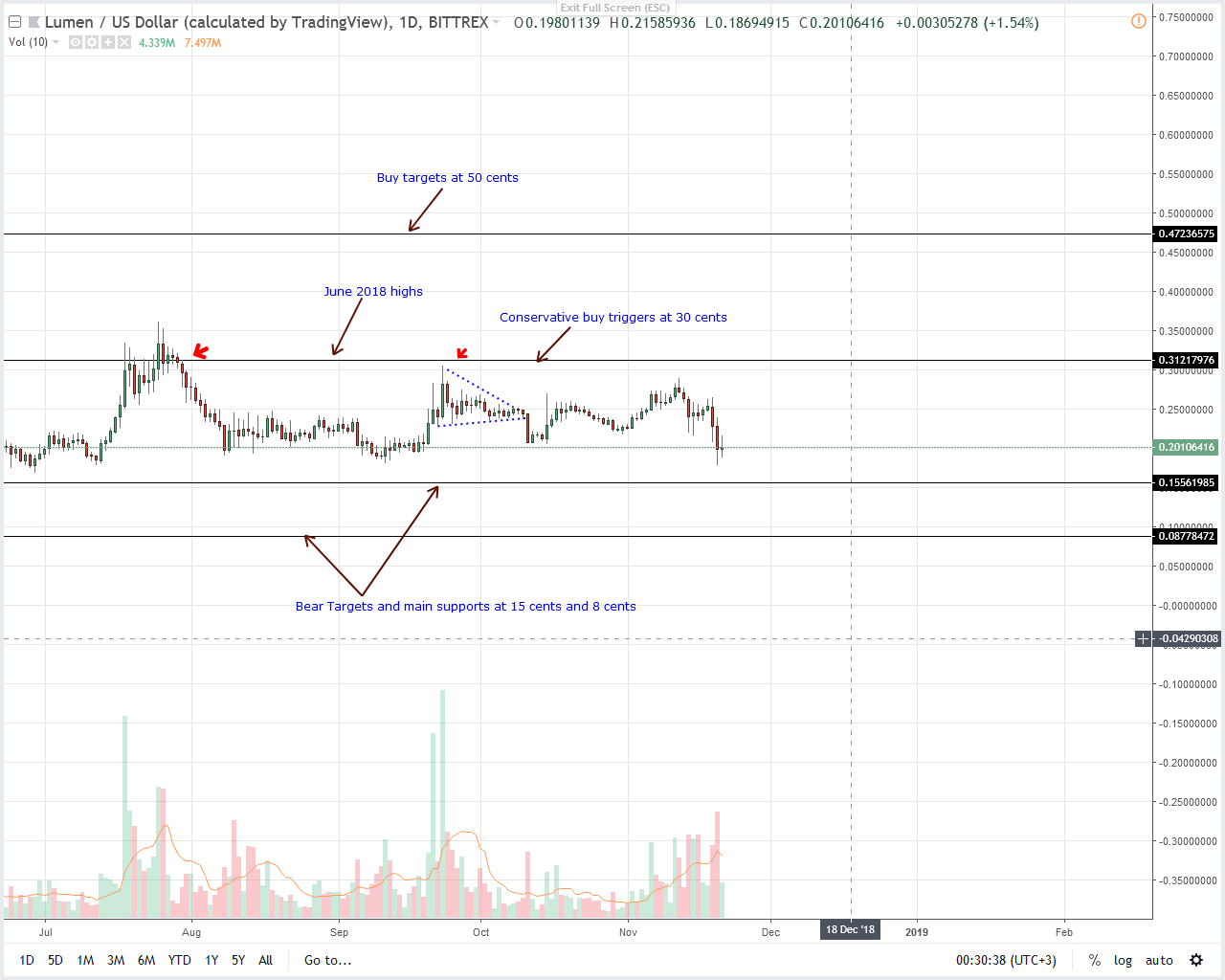 Thing is, XLM just like XRP, is resilient and soaking market wide shocks as investors expect CoinBase to offer support. Though XLM might be down 24 percent in the last week but the mere fact that it is up two percent in the last 24 hours and trading above 15 cents—our support level hints of underlying bull momentum.
Read: Sole Survivors; Fintech Cryptos Ripple (XRP) and Stellar (XLM) Defy Market Massacre
Unless otherwise there are gains above 30 cents or losses below 15 cents, our last XLM/USD trade plan is valid. Before then—and aware that the market is generally volatile, we suggest taking a wait-and-see approach until there is a breakout in either direction.
ADA/USD Price Analysis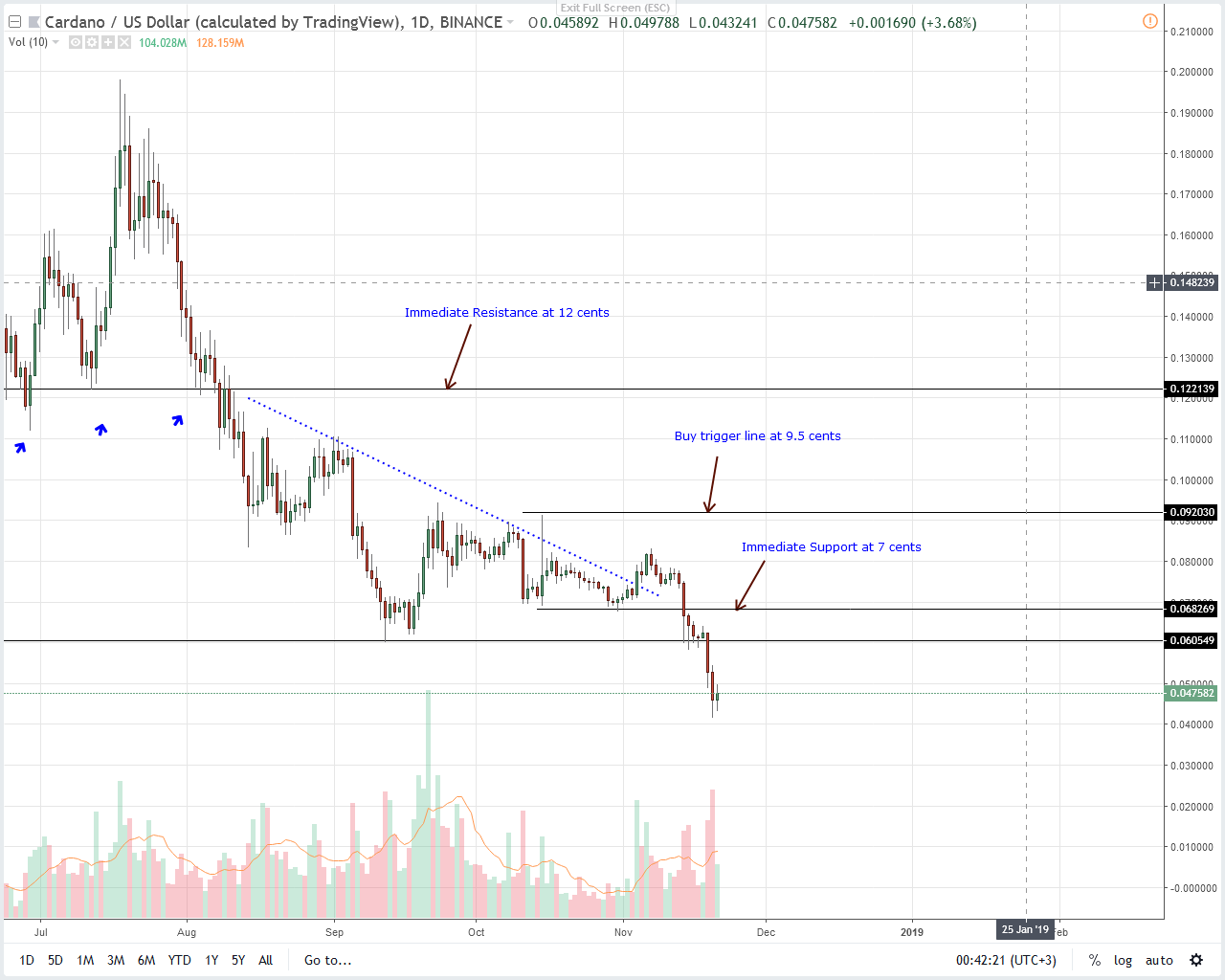 At the Malta Blockchain Summit, Charles Hoskinson said IOHK plan to register as a US company in Wyoming. While it is exciting, ADA/USD prices are unconvincing. It's stable in lower time frames but losses are huge in the weekly time frame.
Besides, ADA prices are trading at new lows following Nov 19 drops. Because our last ADA/USD trade plan is live, sellers should refrain from exiting at spot prices. Instead a potential correction—thanks to yesterday's doji bar—could lead to price expansion towards 5.3 cents—6 cents zone. At those price levels, traders can exit their longs as we expect sell momentum to resume from that level as prices drop to new levels.
XMR/USD Price Analysis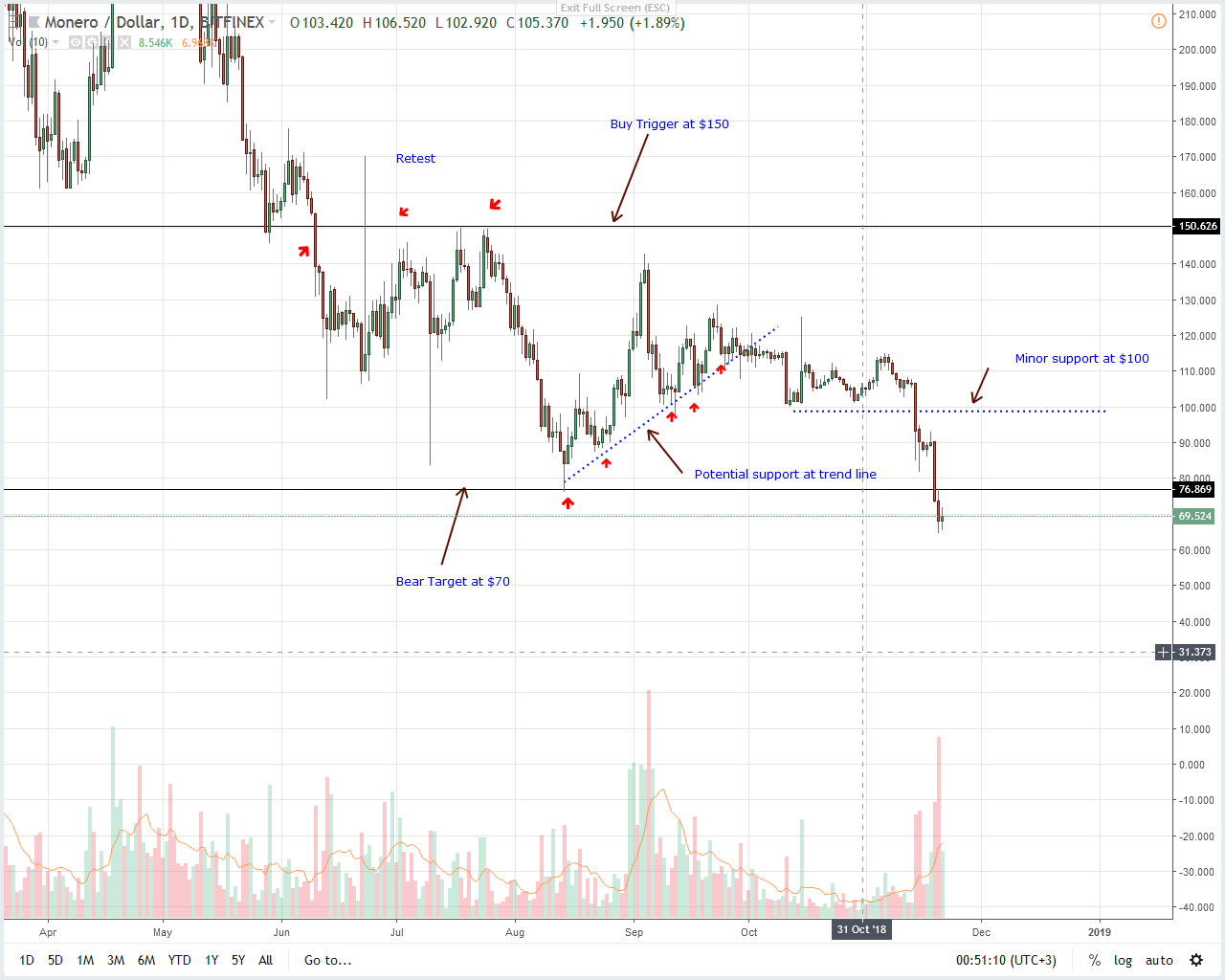 Like most coins, Monero is a straight sell. From the way candlesticks are arranged, we could see further drops now that we have a whole bear candlestick printing below the lower limit of our $80 trade range.
Since this is a bear breakout pattern confirming June 10 losses, we suggest selling at spot prices even if we expect prices to bounce back and retest $70 before sliding back towards $50 in a trend resumption phase. The only satisfying move is if there is a recovery that will lift XMR/USD prices back to consolidation hitting stops at $80.
All Charts Courtesy of Trading View
Disclaimer: Views and opinions expressed are those of the author and aren't investment advice. Trading of any form involves risk and so do your due diligence before making a trading decision.