Binance Coin (BNB) under pressure, down 4.2 percent
Changpeng Zhao calls for caution
After suffering an "expensive hack," Changpeng Zhao considers exchange security as inviolable. Already fixed, Firefox could turned out to be a weak link from where hackers would have exploited Coinbase, causing loss of funds. At the time of writing, BNB is down 4.2 percent in 24 hours.
Binance Coin Price Analysis
Fundamentals
Tagging full control and ownership, which is only possible in blockchain, is  responsibility. It is because of this sole reason that Changpeng Zhao, the CEO of Binance, is urging users to upgrade to the latest version of Firefox Web browser or boycott it altogether. Through the web browser, attackers were able to target Coinbase employees putting at risk the exchange's funds.
Reassuring clients, Coinbase's security lead, Philip Martin said:
"We've seen no evidence of exploitation targeting customers. We were not the only crypto org targeted in this campaign. We are working to notify other orgs we believe were also targeted. We're also releasing a set of IOCs that orgs can use to evaluate their potential exposure."
Although there are no reports of loss, it is still likely that these attackers had a free pass to Coinbase systems. Cybersecurity experts estimate that these malicious hackers did monitor their system for at least two weeks.
Whether the individual or the group made away with troves of data is also not confirmed. Nonetheless, the advice for caution from an industry leader shouldn't be taken lightly. That is despite account holders implementing extra security for their treasured digital assets. Firefox has since patched the loophole.
Candlestick Arrangement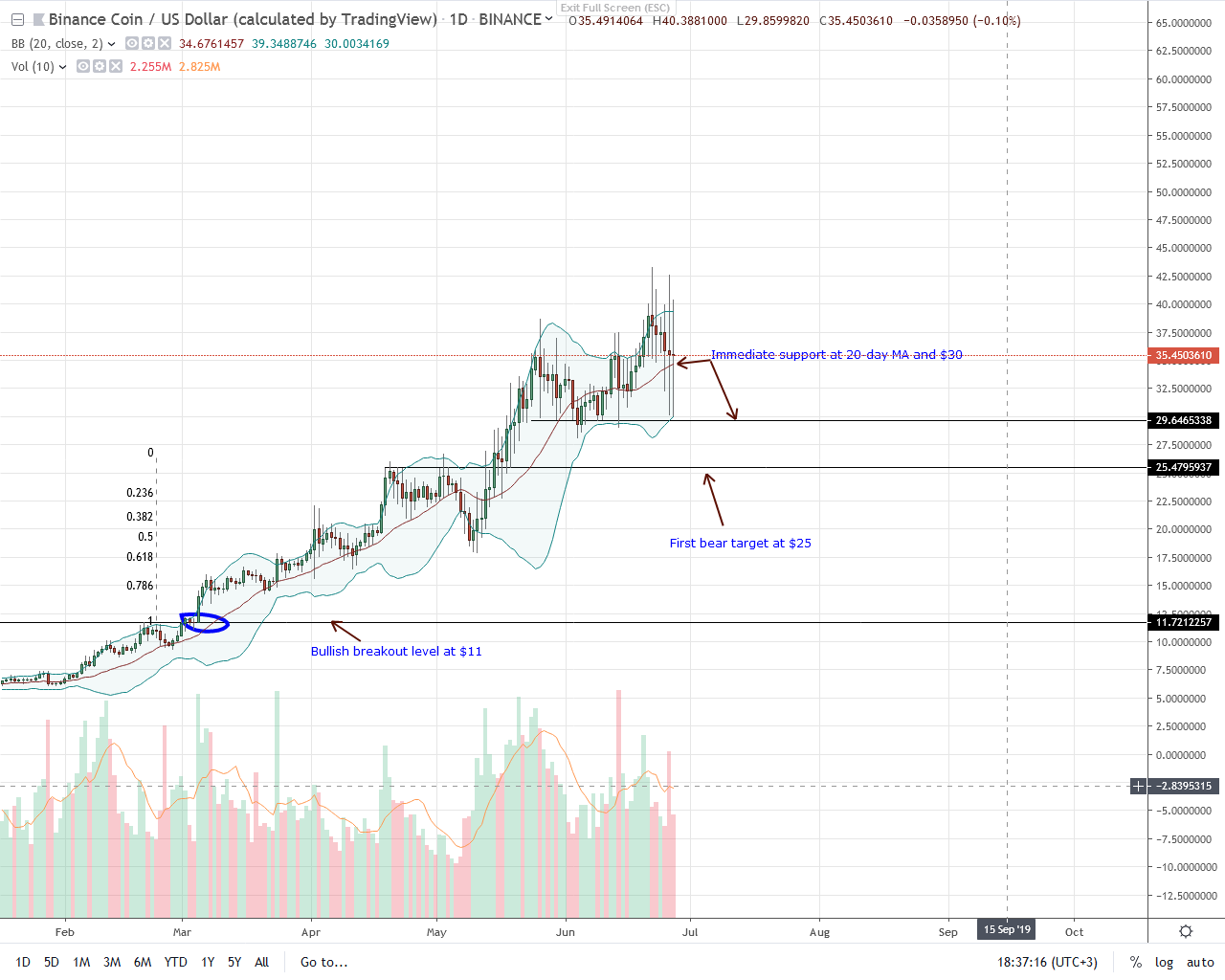 Price wise, BNB is under pressure. Fluctuating within wide ranges below $43, BNB is susceptible. While BTC profit taking could, in a way boost the coin's demand, external factors like the blocking of US investors is a major stumbling block for bulls.
Therefore, in line with previous BNB/USD trade plans, patience is paramount. Fundamentals are weak.
If prices sink below $30 confirming the losses from June 2nd, odds are sellers will have a window to wipe 2019 gains. In that case, participation will mark their entry, triggering liquidation as bears aim at $25 and later $11.
Technical Indicator
Following a bear divergence, June 14 bear candlestick reference this trade plan. At spot rates, the bar is distinct thanks to its level of participation. Any loss below $30 as aforementioned ought to register a spike in trading volumes preferably exceeding 4.9 million. Conversely, gains above $43 or June high must be with similar buy pressure opening a window for $70 or better.
Chart courtesy of Trading View. Image Courtesy of Shutterstock