Bitcoin has been consolidating between $10,000 and $11,000 over the past month, barely deviating from this relatively tight range. A crucial fractal analysis predicts that the cryptocurrency is primed to break out of this range in the coming days and weeks. Here's more on why.
Bitcoin Primed to Move Higher, Fractal Shows
Bitcoin is primed to move even higher in the coming days and weeks according to one fractal analysis shared by a cryptocurrency trader.
The fractal suggests that Bitcoin's recent price action is just a miniaturized version of the price action that transpired from the start of 2020 to May. This fractal suggests that BTC will soon gap higher, meaning it may soon retake $11,000.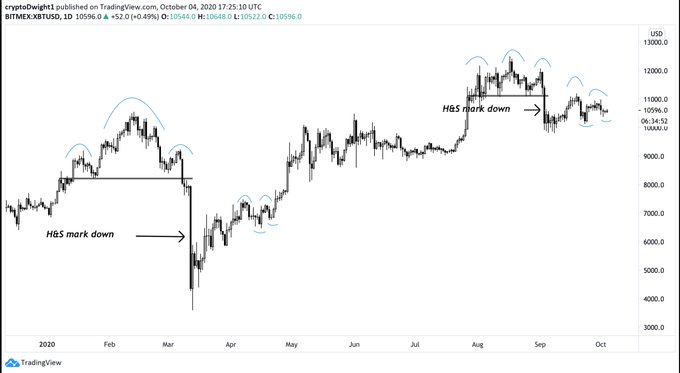 Chart of BTC's price action since the start of the year with analysis by crypto trader Dwight (@CryptoDwight1 on Twitter). Chart from TradingView.com
On-Chain Trends Agree With This
On-chain trends agree with the optimistic outlook depicted by the fractal mentioned above.
Willy Woo recently noted that Bitcoin adoption is currently in its early stages in the West:
"We're at the early adopter phase in Western countries, some higher inflation countries are now broaching early majority according to this chart from Statista. (And yes, the high monetary inflation the world is undergoing right now is growth steroids for BTC HODLer adoption.)"
He explained that if this adoption continues, there will be an even greater spike of new Bitcoin users than there has been in recent months. This influx of adoption will allow the cryptocurrency's price to diverge from legacy markets, which currently are holding BTC down.
Adding to this, Bitcoin's hash rate continues its ascent.
The metric, which tracks how much computational power is being allocated to mining the cryptocurrency, has been pushing all-time highs. Analysts see this as a sign of these miners' long-term commitment to the Bitcoin network.
Photo by Syuhei Inoue on Unsplash
Price tags: xbtusd, btcusd, btcusdt
Charts from TradingView.com
Bitcoin Fractal Predicts a Return to $11,000 Is Imminent