Undoubtedly, Cardano (ADA) sellers have been in charge in the past few days. Week over week, Cardano (ADA) is down 16 percent and in the last 24 hours, it lost five percent of its value. While we remain optimistic of recoveries in the coming sessions, we need Cardano bulls to push prices above the middle BB and May 7 highs at 35 cents. Afterwards, we can be in a better position to affirm a shift in momentum or not.
From the News
You don't need to sweat pitching especially if you have a superior product at your disposal. That's what Cardano is doing right now and as a cryptocurrency that promises merging technologies to blockchain, expect demand from payment providers. Emurgo, a Japanese start up incubator is one of them. By utilizing ADA, Emurgo plan to integrate Cardano's blockchain technology in Metaps Plus, a South Korean payment provider.
EMURGO announces Ada token acceptance on Metaps Plus which is one of the largest mobile payment platform in South Korea.

The first Asian cryptocurrency integration into mobile payment platformhttps://t.co/AAPOahZcd7 #ADA #EMURGO #Cardano

— EMURGO (@emurgo_io) May 9, 2018
That's massive on any scale considering that Metaps Plus has more than 10 million offline and mobile customers who shall now use ADA to settle bills in stores exceeding 40000 in South Korean alone. What this means is that customers shall be better placed to enjoy the benefits of blockchain and this case Cardano guarantees seamless if not immediate payments besides a fraud free transaction. Emurgo plans to complete this integration by Q3 2018.
Talking of partnership, Cardano markets herself as a platform that shall change the paradigms of smart contracts. The cool thing about is that Ethereum's ERC-20 tokens are backward compatible with Cardano smart contract platform. This might be the reason why the Ethiopian government sees value in forging a partnership with Cardano where the later shall be tasked with tracking the origin of their coffee inside their blockchain.
Just signed an MOU with the Ethiopian Ministry of Science and Technology to explore training blockchain developers and use Cardano in the Agritech Industry pic.twitter.com/r06W0RSZye

— Charles Hoskinson (@IOHK_Charles) May 3, 2018
In return, Cardano shall seal the deal by providing education on the workings on blockchain. With the MoU in place, Cardano shall now start exploring new ways in which Ethiopia's Agri-tech sector can benefit from using blockchain.
Cardano (ADAUSD) Technical Analysis
Weekly Chart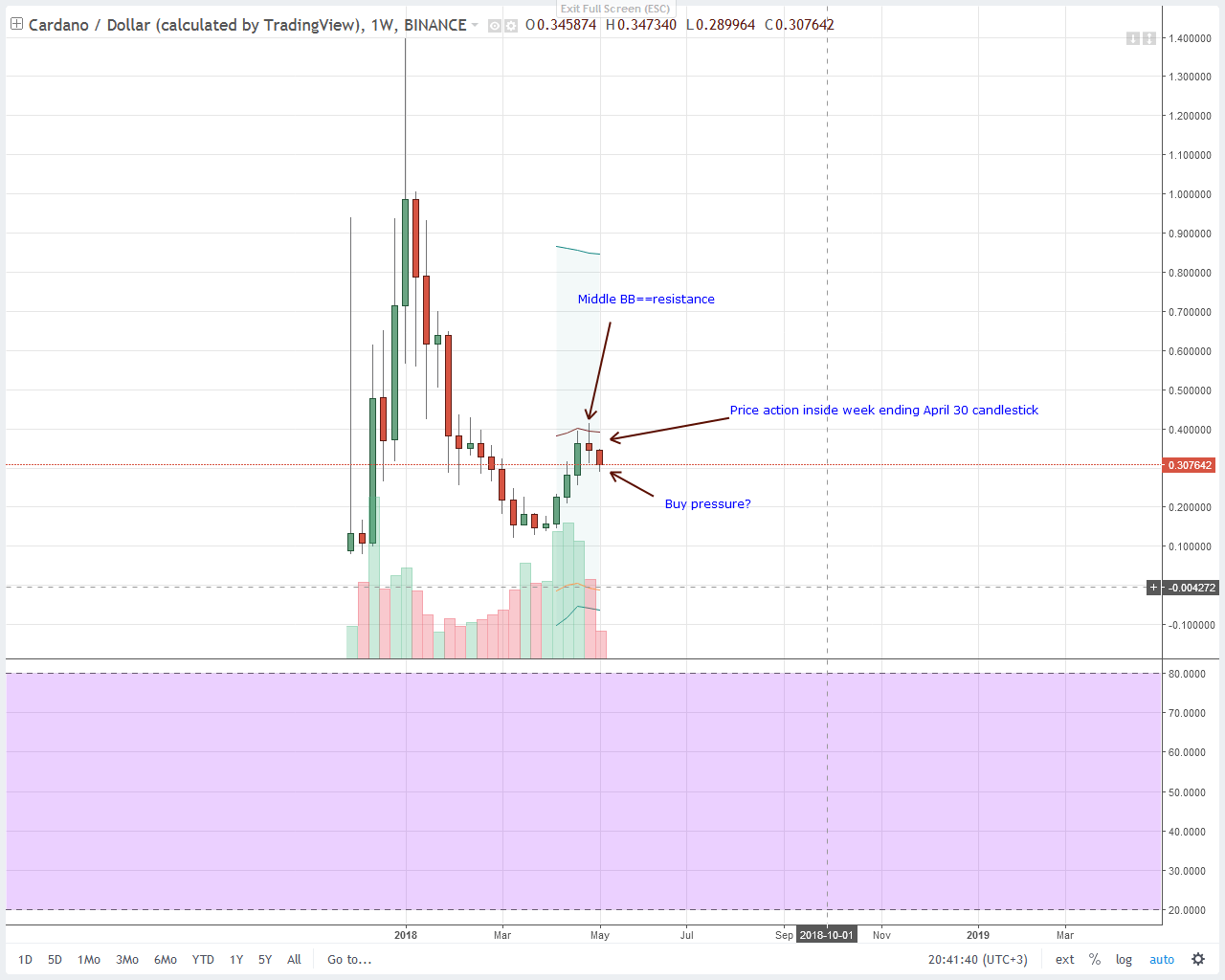 Even though we are seeing bearish moves when we take a top down approach, traders should be content with the fact that prices are still trending inside week ending April 30 candlestick. Remember, that candlestick was bullish and their high low at 38 cents and 25 cents shall be our immediate resistance and support. Because of this technical formation, it is likely that prices might sync and rebound back to bullish ways.
However, that is subject to how ADA bulls behave by end of this week. In that case, looking for under-valuations in lower time frames and waiting for proper bull triggers whenever higher highs prints can be a good trading strategy. Going forward, conservative buy entries should be at week ending May 7 at 40 cents. There, if buyers manage to push above 40 cents then it would mean prices would be oscillating above the middle BB and edging towards the ideal $1 ADA valuation many desire.
4HR Chart
It this time frame it is clear that ADA sellers are in charge. In fact, the thing is, they have been successful in pushing prices down in the last 24 hours. ADA is down five percent in the last 24 hours and approaching this week's support at 30 cents.
Advised by developments in the weekly chart, our trading strategy is simple: search for buy opportunities in lower time frames. Now, notice that visible long lower wick clear in the weekly chart? Those are bullish signals meaning buyers might be loading up at around these prices.
Now, our immediate resistance line in our entry chart is this middle BB and any spike above 35 cents should beckon buyers to jump in right away with stops at 30 cents. If not, then bears might continue with their relentless push and week over week erosion towards 25 cents. So, if today end up bearish, then sell and trade with the prevailing trend.