Latest Cardano News
Thing is Cardano is barely a year old but they are clear, sticking to their initial vision and mission statement. Believing that the platform is as good as the community behind it and no one should be an obstruction as the team sweat towards a superior, governable and community centric smart contracting platform, Charles Hoskinson and Ken Kodama of Emurgo led a campaign that saw Michael Parsons resign after a string of what they say was poor performance and wanting leadership. Paul Schmid is the chair of the Cardano Foundation on a temporary basis.
The Babylonian Capitivity of Cardano has Ended https://t.co/S0WeieC2TH pic.twitter.com/kJRLYsvbcN

— Charles Hoskinson (@IOHK_Charles) November 13, 2018
The campaign by Charles Hoskinson to oust Michael is a clear indication that the team is past mediocrity and centralization attempts. Besides, standards are high now that the project is fully funded by the community. As such accountability, transparency and full dedication is expected from the team despite a biting bear market discouraging many from participating or even channeling their money into blockchain projects.
Everything else constant, Cardano is promising. From a technological, risk-ward and adoption level metrics, Weiss Ratings is recommending buy-hold for ADA. This is mostly because of the active community around the project. At the same time, the expectation of future adoption is high as the project seeks to present a superior, peer-reviewed smart contracting system.
ADA/USD Price Analysis
Weekly Chart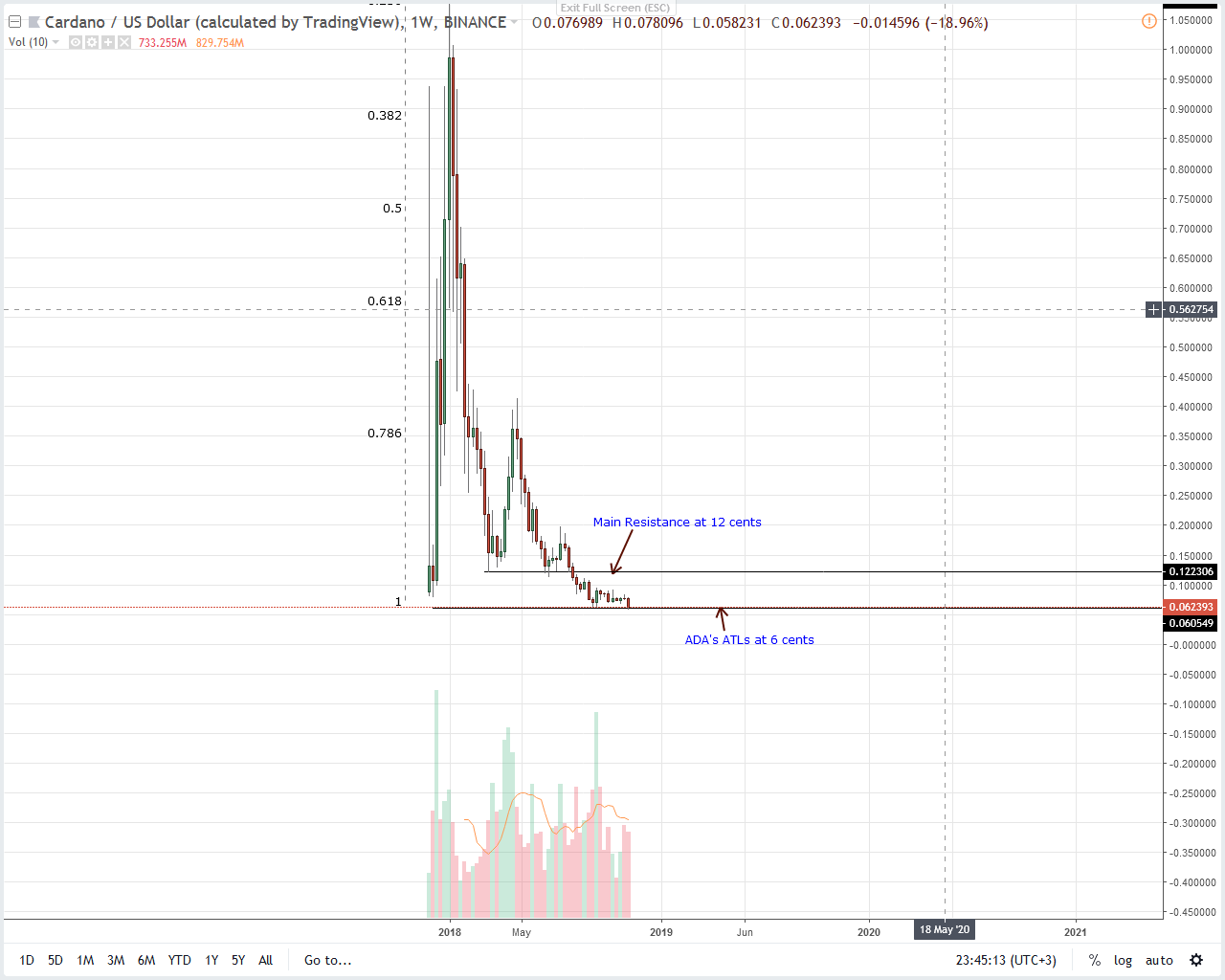 Losses are visible across the market and ADA/USD is no exception. Printing an 18 percent drop in the last week, ADA risks recording new lows if last week's declines continue through this week. Though technicals point to bears, prices are actually trending inside week ending Sep 23. The bar had superior trading volumes of around 1.75 billion compared to last week's 900 million.
For our trade conditions to go live then we need to see strong losses below 6 cents. Like in our previous ADA/USD such dips would print new ADA ATLs. As a result, risk-on traders should load at spot in lower time frames with stops at 6 cents and let the trade run.
On the flip side, rejection of lower lows could see prices recover above 7 cents towards 9.5 cents confirming week ending Sep 23 gains igniting buyers aiming at 12 cents just in line with our previous ADA/USD price analysis.
Daily Chart
Here, ADA/USD prices are stable but still bearish. As above, we suggest taking a neutral stand since risk-reward considerations isn't favorable to initiate trades at spot. However, once a whole bar prints below 6 cents then sellers can short at spot.
Alternatively, prices could print higher in response to last week's rapid losses. In that case, ideal sell zone is between 6.5 cents and 7 cents with stops at 7.5 cents.
All Charts Courtesy of Trading View
Disclaimer: Views and opinions expressed are those of the author and aren't investment advice. Trading of any form involves risk and so do your due diligence before making a trading decision.