Coinbase recently announced it was organizing the second Coinbase Bitcoin Hackathon, the Bithack V2. Along with this announcement, the Coinbase team also revealed the launch of the developer portal which provides information and documentation for all of Coinbase's APIs.
The Hackathon is a distributed, six-week competition, open to anyone who is willing to participate. This gives the chance for developers from around the world to build bitcoin-integrated applications and to submit them for consideration.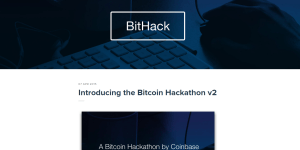 Developers will be able to access the Coinbase API to develop new applications to facilitate a wider audience. Individual developers or developer teams who have an idea for a Bitcoin app will be able to join the Hackathon and try to reach $70,000 worth of prizes offered by leading Bitcoin experts and investors.
The Coinbase API suite supports a wide variety of Bitcoin capabilities, to include creating bitcoin wallets, sending/receiving and buying/selling bitcoin, building bitcoin trading tools, and exploring raw blockchain data.
Coinbase is interested to see the development of apps that can highlight new layers for Bitcoin; so they are looking to find new app developments that can be bitcoin-focused, or it can use Bitcoin technology to power the user experience. Coinbase would like to move away from the most common type of Bitcoin applications and wants to see developers working on new functionalities like email, video, news, crowd funding, payouts, remittances, ecommerce, communication networks, and identity and attribution applications.
The submissions made by the teams joining the Hackathon will be evaluated based on the creativity, usefulness and execution of their projects by a Coinbase team of experts, venture capitalists and some of the Bitcoin industry's most prominent figures such as Adam Draper (BoostVC), Chris Dixon (Andreessen Horowitz), Fred Wilson (Union Square Ventures), and Gavin Andresen (Chief Scientist, Bitcoin Foundation).
With over 7000 developers now using Coinbase APIs, the company believes this Hackathon will greatly contribute to the introduction of a lot of new applications.
Link to source: 1, 2
Image