Safe IOTA and Tron, Litecoin and EOS were particularly slow yesterday. That's even at the backdrop of solid news of Peter Thiel investment at Block One, Moon Zebra launching new Litecoin supporting ATMs at Malta and Tron burning 92.4 billion ERC20 tokens. Overly though, we remain bullish and expect Q3 to be a spring board for Q1 and 2 bear reversals.
Let's have a look at these charts:
EOS Technical Analysis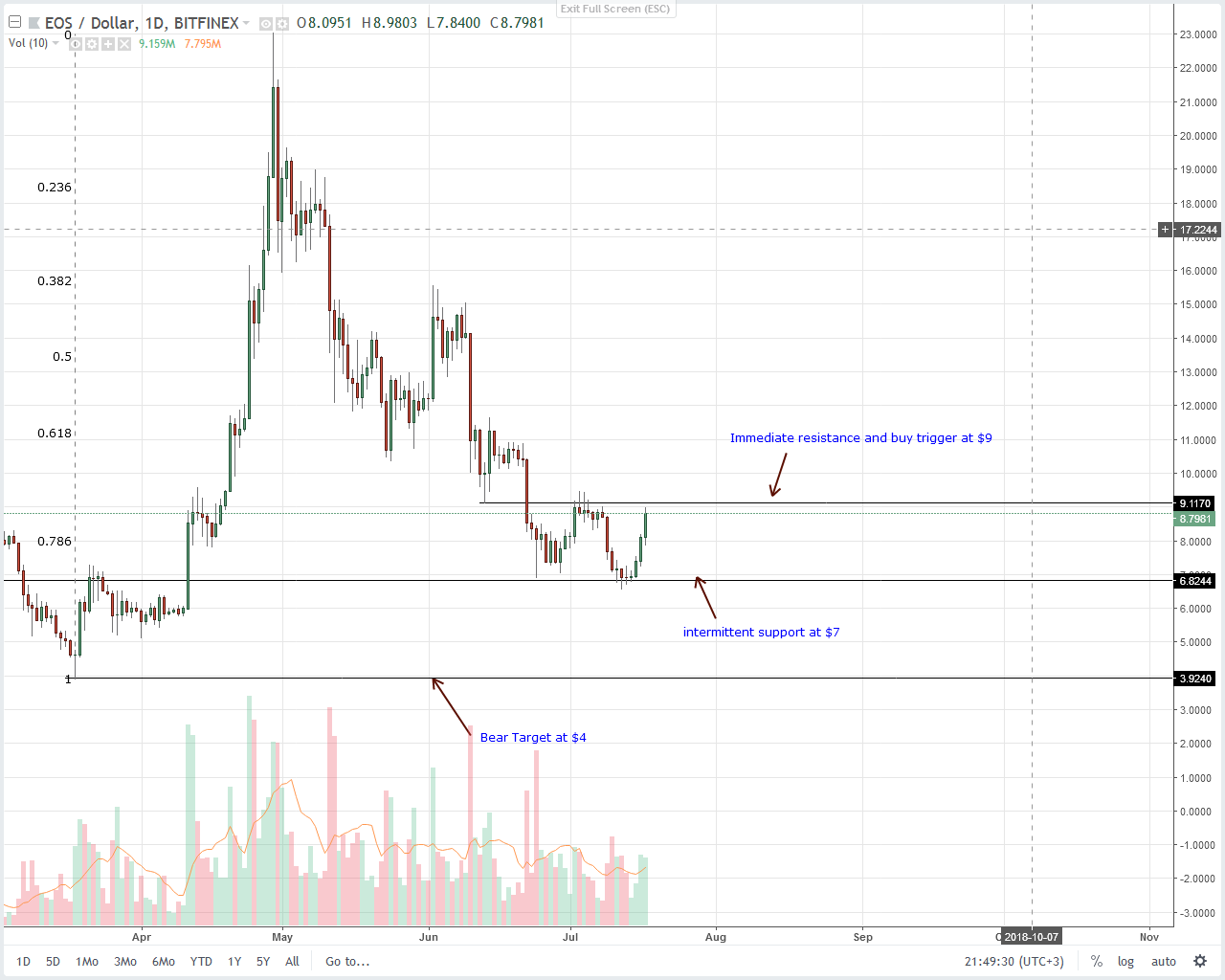 The announcement from Block one that is has received investment from Peter Thiel, the co-founder of PayPal and a member of board at Facebook was but timely. But that's not the point.
https://t.co/LgcclYjBIb Closes Strategic Investment Round Led by Peter Thiel and Bitmain https://t.co/aM7aFuwyDE

— block.one (@block_one_) July 16, 2018
The fact that Dan Larimer, the co-founder of EOS said that he was excited to receive funds from world-renowned investors as Jihan Wu of Bitmain and Hedge Fund managers as Alan Howard and Louis Bacon tells a lot of the future plans of EOS.
So far, not only does EOS register high transactional volumes as seen from Blocktivity but we are also seeing the network registering high through puts. At one point, for example, the network was processing 2351 TPS.
Price wise yesterday was pretty rapid and EOS bulls did follow through July 16 bulls. Because of this, traders out to ramp up their longs on every retracement in lower time frames and trend with this intermittent trend. As it is, everything is in line with our previous price projection and we shall hold the same preview with aggressive traders buying on dips with stops at July 13 lows at $13.
Litecoin (LTC) Technical Analysis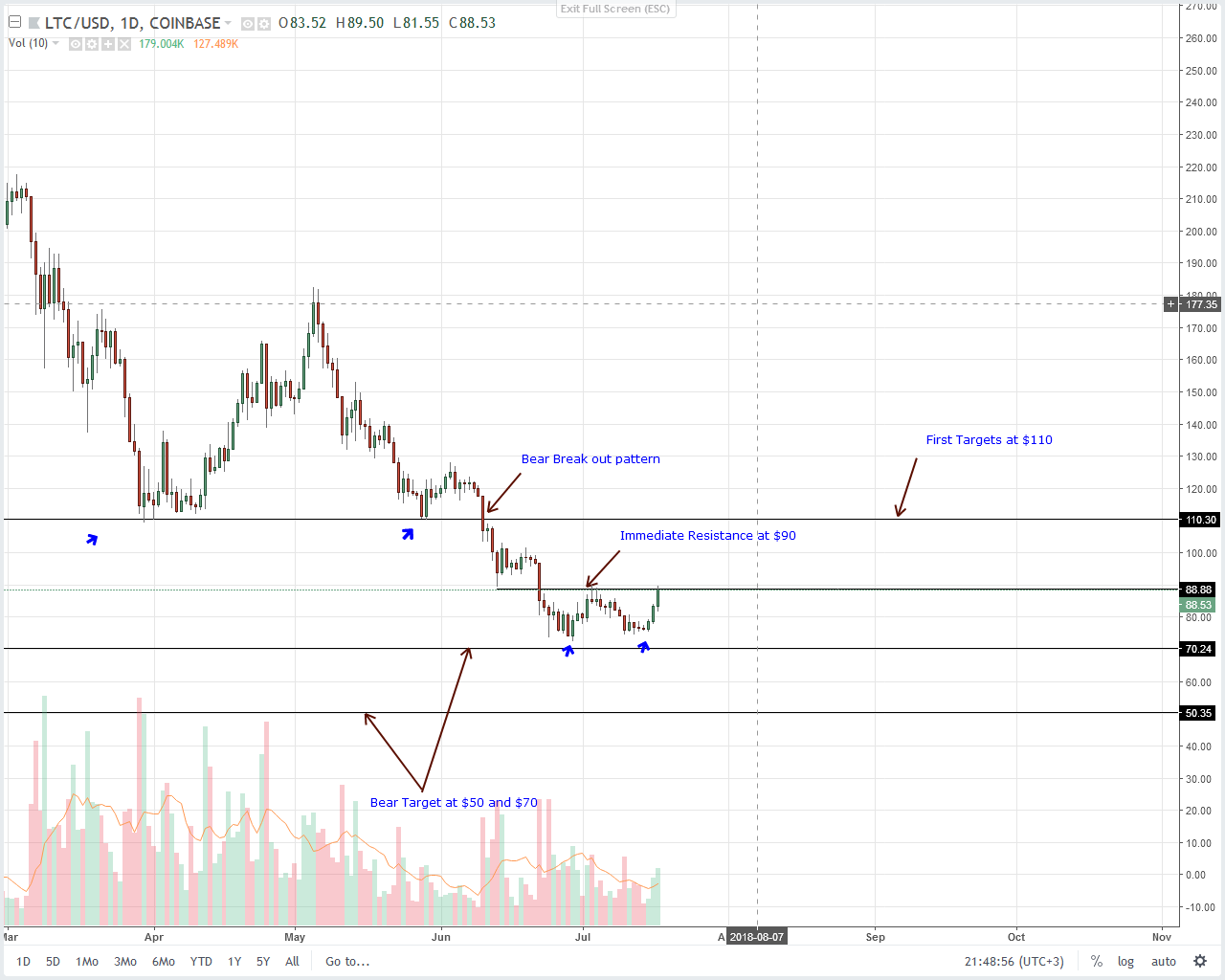 Malta and a couple of other Asia nations as Japan for example are proving to be the backbone of cryptocurrencies. Not only are their stock exchanges supportive of cryptocurrencies but their policies are pro blockchain development.
It's no wonder that a start up Moon Zebra is now launching General Bytes cryptocurrency ATMs in Sliema. This way, average users who don't find it easy to transact at exchanges as BitStamp can easily buy or sell Bitcoin and Litecoin for Euros.
https://twitter.com/Malta_Chamber/status/1016318006157348864
As the positivity permeates so are traders willing to exit their shorts and tune in with buyers aiming to lift prices back to $110. In line with that, traders can begin loading up with every correction in lower time frames even though trade volumes are low. Ideally-and this is a reiteration, we need to see pumps-with high volumes-above $90, the upper limit of this $20 trade range before conservative join in the party.
Stellar Lumens (XLM) Technical Analysis
Shortly after Tempo, we now have Stronghold USD, a stable coin, describing themselves as venture Capital backed and with ambitions of stabilizing the volatile cryptocurrency market.
It will launch on the Stellar platform and in collaboration with IBM, the financial company, will "explore" on how their stable coin shall be of use to blockchain based businesses mainly within the banking sector. Behind Stronghold is Prime Trust, a trust whose main aim is to liquidate cryptocurrencies for fiat.
Check out all the news buzz today with IBM's new exploration of USD-pegged stable coin from Stronghold on https://t.co/0PO9bMZFsj. Change is coming to banking and payments. This is just the beginning. Welcome to the revolution. https://t.co/4TGHMn0lH5

— Jesse Lund (@jesselund) July 17, 2018
Back to price action and our long trades are live following that break out above 22 cents on July 16. While we did see a strong follow through after that high volume candlestick, we expect to see further gains today and through this week.
As before, our first targets lie at 30 cents and in that regard buying on pull backs retesting 22 cents would be a perfect trading plan. Safe stops would be at 20 cents or July 15 lows.
Tron (TRX) Technical Analysis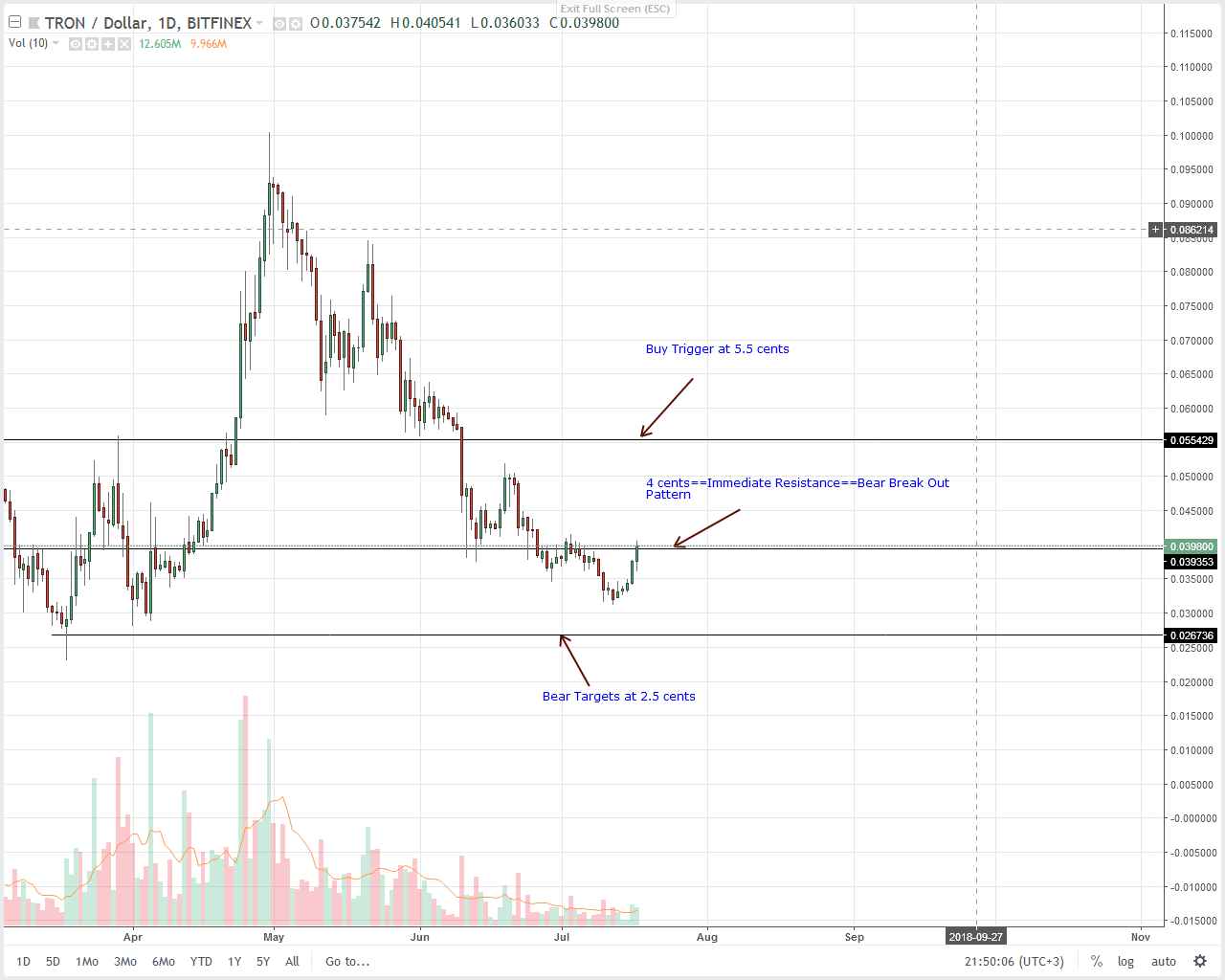 It's obvious that the team behind Tron want to see a fully functional blockchain with its own coins priming the network. Therefore, in that regard the Tron Foundation did destroy almost 92.4 billion TRX ERC20 tokens and you can actually track and see this figure from ETHScan.
92424664154.355837 #TRX ERC20 tokens were burnt by #TRON Foundation. $TRX https://t.co/o37vo9Z3Ej

— Justin Sun (@justinsuntron) July 17, 2018
These tokens are from Binance and other exchanges which have completed token migration and now support TRX coin withdrawal and deposit.
Yesterday's price action cements our trade plan. Notice the high volumes injecting momentum from July 16 bullish candlestick.
Now as before, we can begin buying on dips at current spot rates and go full throttle once buyers edge above 4 cents. Either way, our first targets would be at 8.5 cents with stops at July 16 lows at around 3.5 cents.
IOTA (IOT) Technical Analysis
Buyers are definitely in charge and even though prices are moving inside a trade range, it's possible that bulls would have enough momentum to break and close above $1.3, our buy trigger.
Nonetheless, we can open a small position today and try ride with the bulls loading with every pull back. Once our buy orders are filled at $1.3, my suggestion would be to go full throttle buying on dips with eyes on May and June highs at $2.5.
Disclaimer: Views and opinions expressed are those of the author and aren't investment advice. Trading of any form involves risk and so do your due diligence before making a trading decision.