Nick Szabo, who many believe to be Satoshi Nakamoto believe the combination of BTC future uncertainty, political opposition and a host of other crypto competitors precipitates recent volatility. However, as it is he thinks BTC prices would decline until we see stable growth. So, the underlying word here is decline and that's why we should be selling EOS, Litecoin, Stellar, Tron and IOTA until the effects of USDT wane out.
Volatility in Bitcoin from temporary uncertainty about its future (vs. both political opposition & crypto competitors), not from its supply limit. As these uncertainties decline its volatility will decline until it reflects more the uncertainty in fiat than its own.

— Nick Szabo ? (@NickSzabo4) June 21, 2018
Let's have a look at these charts:
EOS Technical Analysis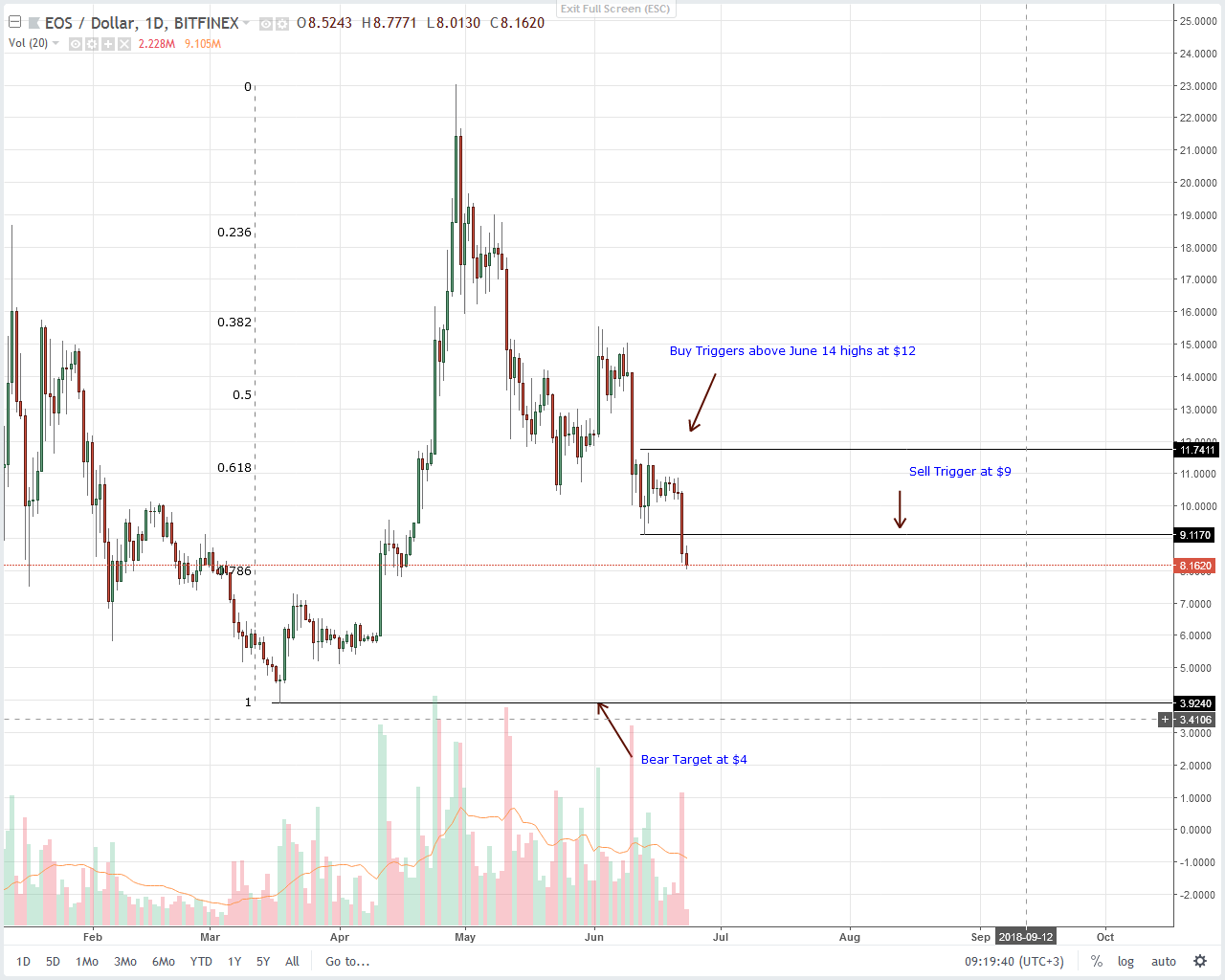 So in within five days, EOS Emergency Measure of Order protection and their Arbitration body the ECAF (EOS Core Arbitration Forum) led by one Sam Sapoznick who their stand in emergency arbitrator have since directed the network 21 block producers not to process transaction from 34 EOS public address until their individual cases are resolved.
https://twitter.com/ferdousbhai/status/1010206359688753154
The resulting outcry, condemnation and praise have been equal and why not? EOS is tagging with in new approach to governance and it's clear that EOS users have to contend with high network through put with a tinge of centralization courtesy of the new DPoS. This new arrangement means in-case an aggrieved party raise a concern and 15/21 block producers agree that there is irrefutable evidence and attestations supporting the complainant, account suspension would be automatic.
This new governance in combination with the market slide led to a 20 percent slide in the price of EOS in the last 24 hours. It's also means our sell trades are live following that strong bearish engulfing pattern pushing prices below the main trigger line at $8. As such, our buy projection anchoring on June 14 bullish candlestick is now null and void. The only logical thing to do is to trade with the trend and sell with ideal targets at $4 or $5 on the upper side.
Litecoin (LTC) Technical Analysis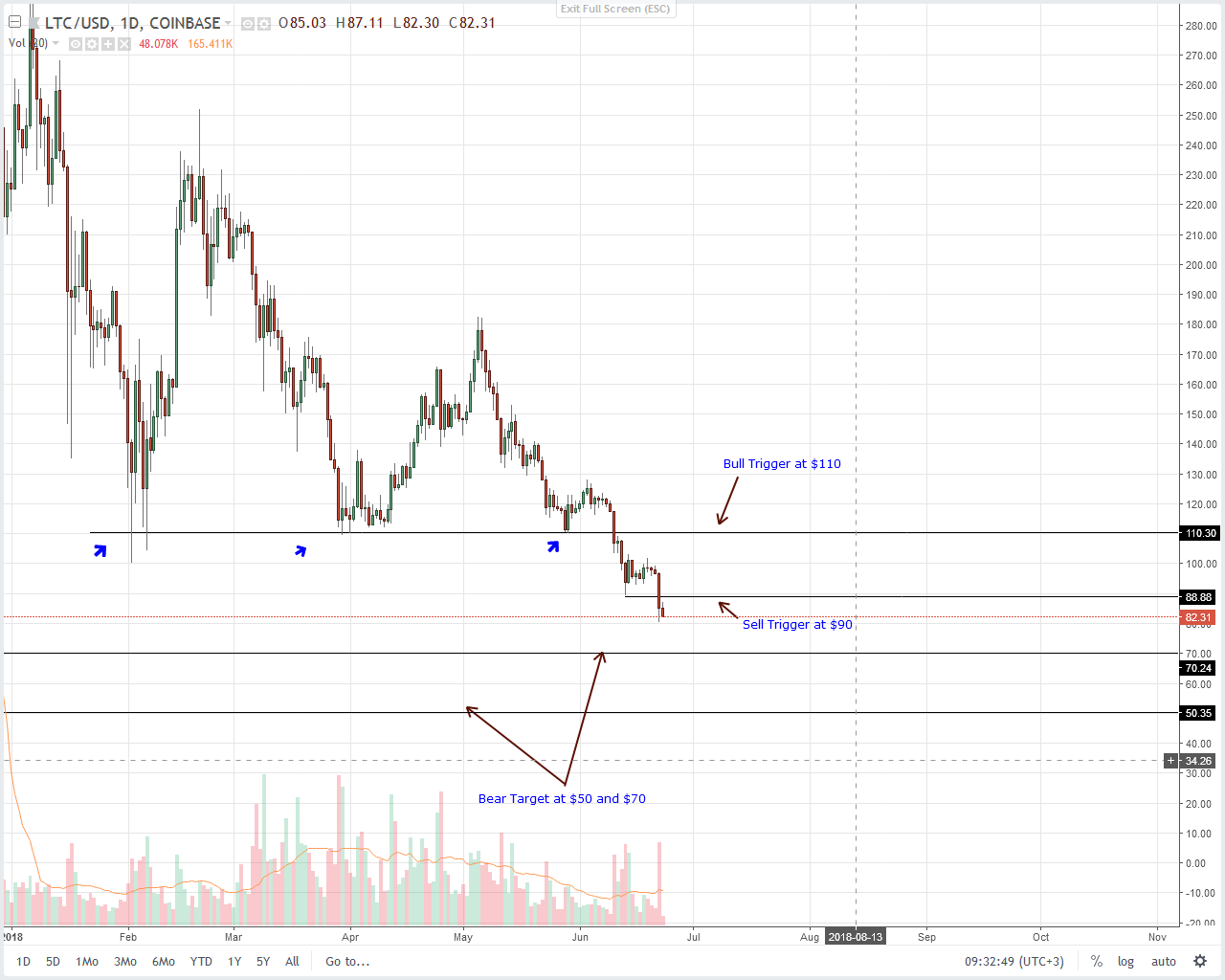 Even if there is more Litecoin listing at different trading platforms, LTC sellers seems unstoppable. Just for perspective, at current prices LTC is trading at its seven months lows and bears look like they won't stop pressing the gas pedal. At the moment though, those who want to profit from the bears going AWOL, you can now take your shorts at FXChoice.
#Litecoin is now available for deposit and withdrawal at #fxchoice. Happy trading! https://t.co/C8VJM1TeOr pic.twitter.com/ekn9noP5Cq

— FXChoice (@FXChoice_Eng) June 21, 2018
While at it, know that the FED Reserve of St Louis would be tracking the prices of Litecoin and three other high liquid coins on their research database, Federal Reserve Economic Data (FRED). Database update will be daily and it will be reliant on data streams from CoinBase.
Prices of four cryptocurrencies are now in FRED: Bitcoin, Bitcoin Cash, Ethereum and Litecoin https://t.co/sK3vSxKY3P pic.twitter.com/W7f0ZIrHMI

— St. Louis Fed (@stlouisfed) June 22, 2018
Back to the charts now and our sell triggers at $90 have been hit. As it stands, prices are down 12 percent in the last day and judging from momentum, there is room for further downside. I recommend shorting on every high with targets first at $70 and later $50.
Stellar Lumens (XLM) Technical Analysis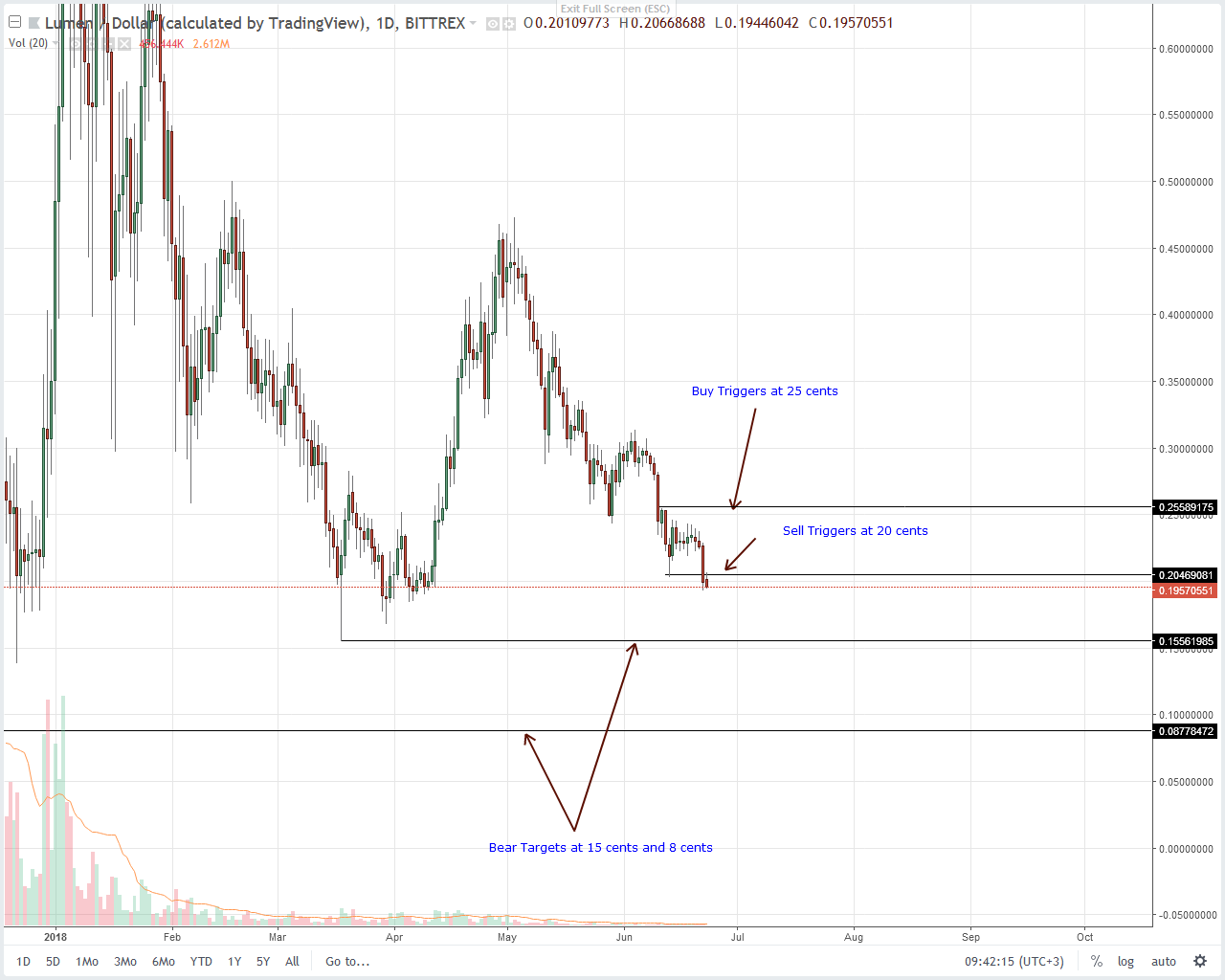 Early this month, the New York State Department of Financial Services issued a license to Stellar allowing it to be listed at ItBit. Now, this looked to have been a trigger for more business for Jed McCaleb, the founder of Stellar following their acquisition of Chain in a $500 million deal.
Stellar in talks to acquire blockchain startup Chain https://t.co/ENloEWLAKz

— FORTUNE (@FortuneMagazine) June 20, 2018
Everything would be settled in Lumens, Stellar's native tokens. Chain is a US company that by design wants to offer Ledger-as-a-Service that different financial institutions can leverage on when creating their products and /services. Visa had used their services sometimes back.
Like the rest of the markets, the slide is across the board. Printing a 13 percent loss in the last 24 hours, sellers are firmly in control. In fact, as it stands, our Stellar Lumens sells are live after that depreciation below 20 cents. Because there is an across the board weakness, selling on pull backs in lower time frames with targets at 15 cents and later 8 cents looks like a solid trade plan.
Tron (TRX) Technical Analysis
Justin Sun and Tron Foundation are active updating their supporters on the progress of their planned mainnet launch. As it stands, already their mainnet launch preview is successful and there is another one on the cards in the next couple of hours. That's just for a formality and is basically a "walk through". At the same time, there is a list of exchanges supporting Tron mainnet launch come June 25 and it's available at the Tron Foundation site.
Exchanges supporting the #TRON Token Migration as of June 22(UTC+8) #TRX $TRX https://t.co/8pb0qZwCmI pic.twitter.com/wRaFtd3K5U

— Justin Sun (@justinsuntron) June 22, 2018
Tron is up one spot to position nine in the liquidity table but is still down 10 percent at the time of press. While it's clear that TRX prices are still trading within previous trading ranges, sellers are clearly in charge. Unless otherwise, I recommend selling at current prices all thanks to yesterdays bearish engulfing candlestick with targets at 2.5 cents or Q1 2018 lows. Alternatively, conservatives can wait for prices to dip below 4 cents before selling and aligning themselves with the main trend.
IOTA (IOT) Technical Analysis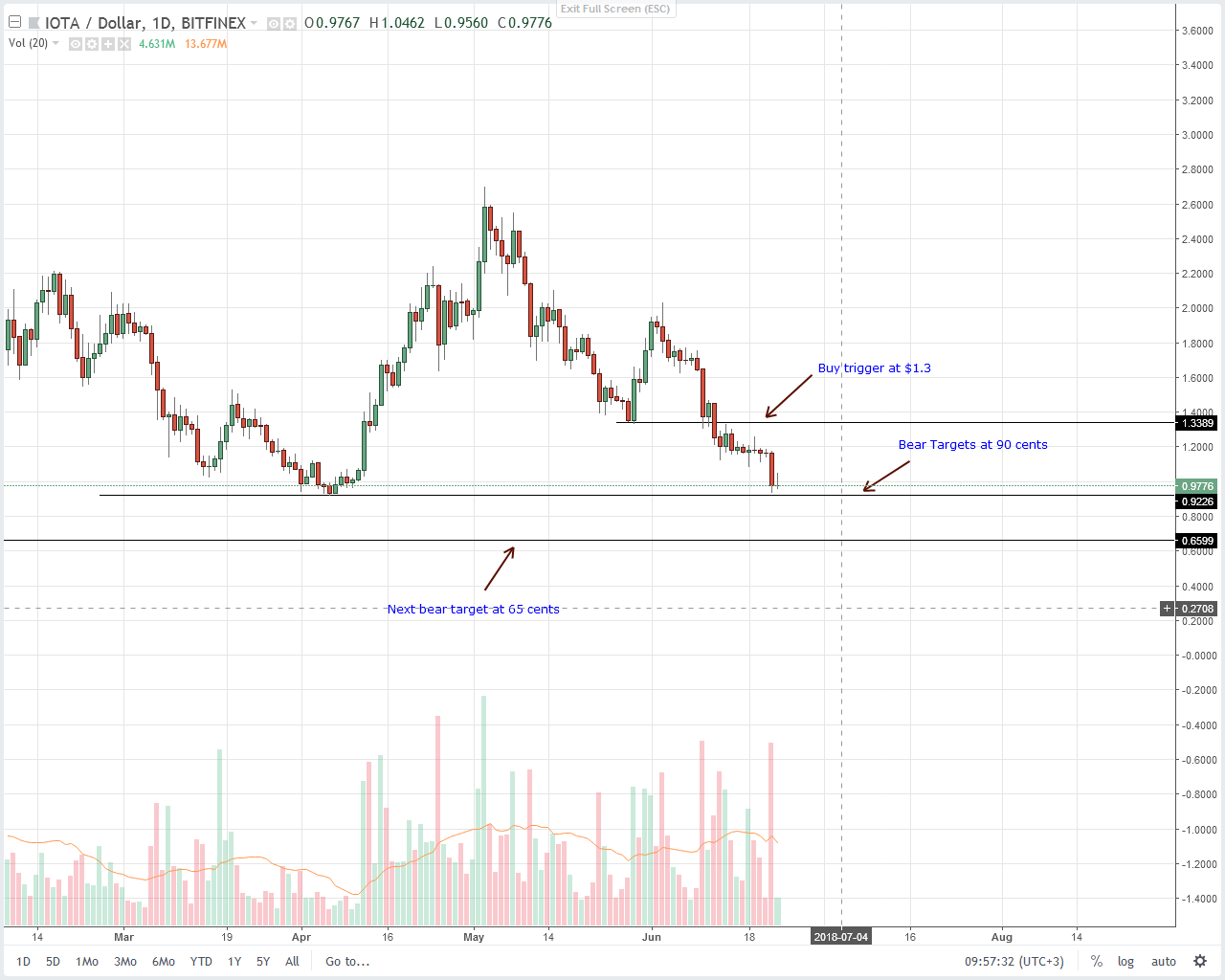 Straight from our previous previews, IOT is down 14 percent, triggering and simultaneously inching closer to our bear targets at 90 cents. I recommend selling in days to come and more so if there break below 90 cents. In that case, IOTA prices would have broken below 90 cents, the main support line and this year's lows. As such, sellers should be angling for 65 cents or even Q4 lows of 30 cents.
Disclaimer: Views and opinions expressed are those of the author and aren't investment advice. Trading of any form involves risk and so do your due diligence before making a trading decision.