After yesterday's reds, altcoins are facing the sword and as long as sellers are in control, trading within a bear breakout pattern, it is likely that Tron, Monero, EOS, Stellar Lumens and Litecoin would print new 2018 lows retesting early 2017 price tags.
Let's have a look at these charts:
EOS Price Analysis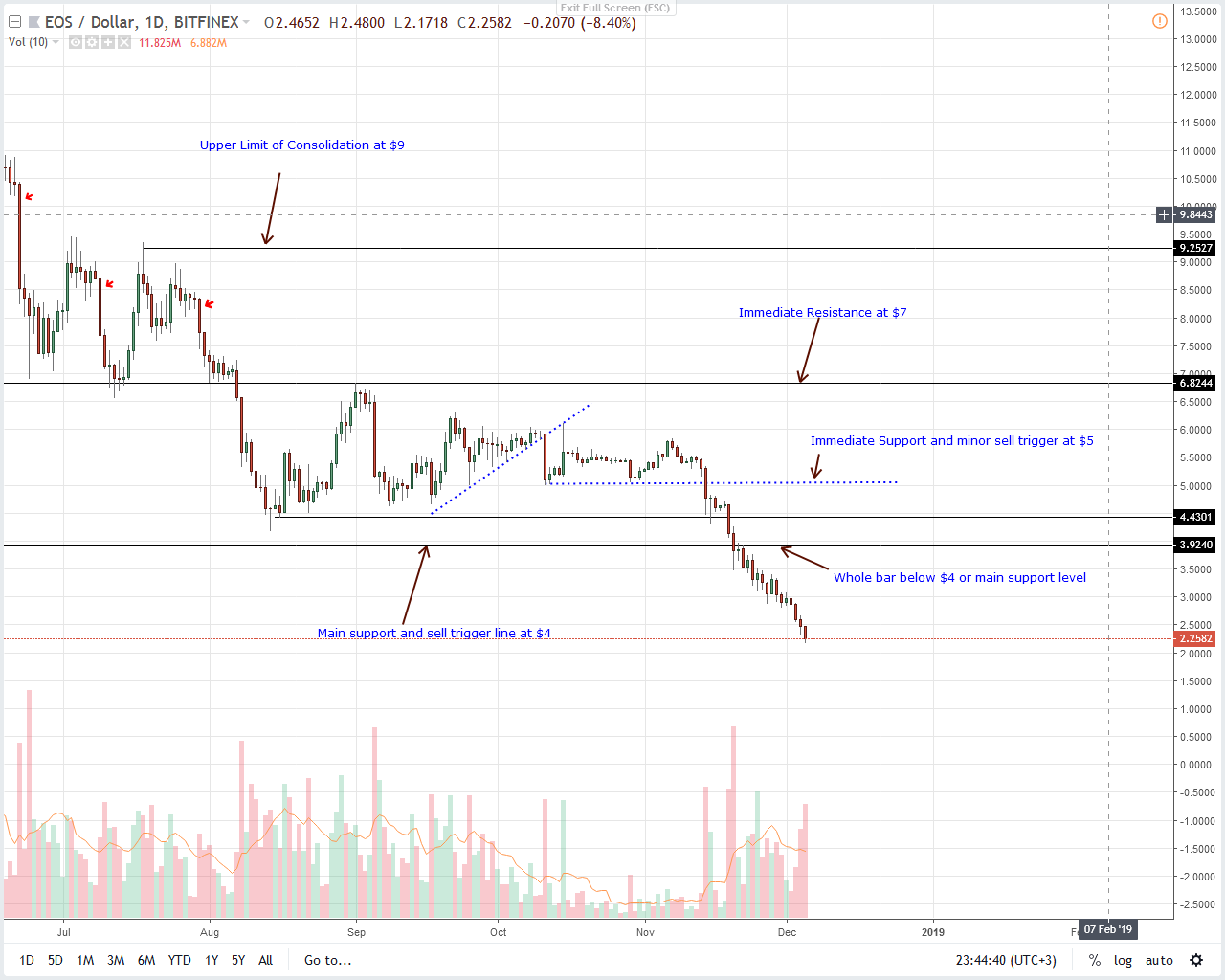 Unfortunately for EOS holders, prices are free falling. In the last week alone, EOS is down 25 percent and further worsening the situation is yesterday's eight percent drop.
Read: Binance Posts Video Demo of Its Decentralized Exchange Featuring Binance Chain
As far as price action is concerned, our last EOS/USD trade plan is valid and as prices trend within a bear breakout pattern with clear resistance at $4 and minor buy triggers as $3.5, it is likely that EOS would fall towards our main support at $1.5 before finding support.
That means another flip may happen as Tether climb up to sixth as the demand for a liquid and reliable stable coin increases.
Litecoin (LTC) Price Analysis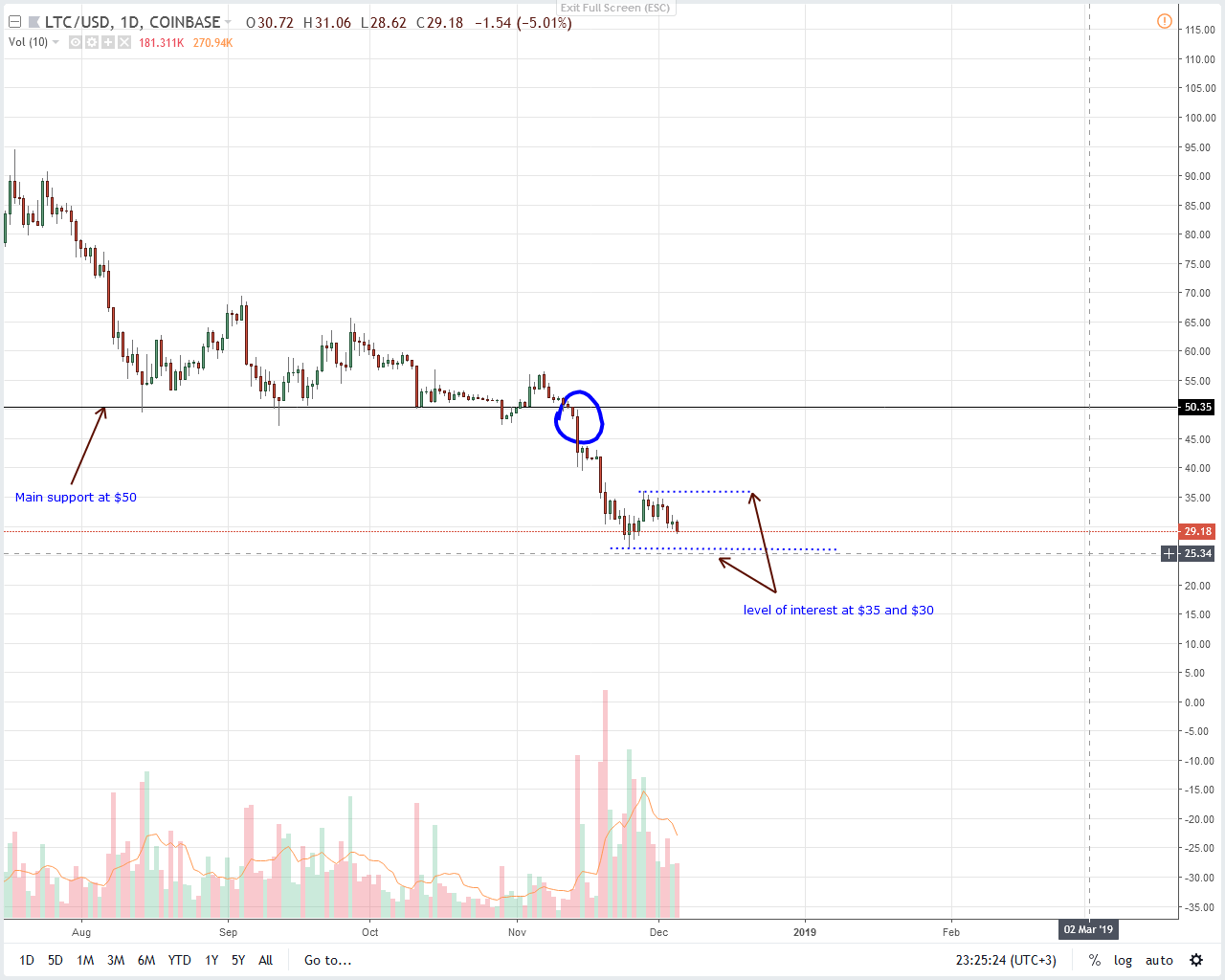 Unlike EOS, Litecoin losses are moderate and though they are down roughly five percent in the last day and week, LTC/USD is trading above Nov lows meaning our previous trade plan is valid. Surprisingly, prices are on the slide while fundamentals point to bulls.
This is a divergence and as long as prices trade above Nov 2018 lows at $25-$30 support zone, bulls have a chance.
If not and there is a high volume break and close below the bullish pin bar of Nov 25, then we might see panic sells that will drive LTC prices back to Q1 ball park levels of $5.
Stellar Lumens (XLM) Price Analysis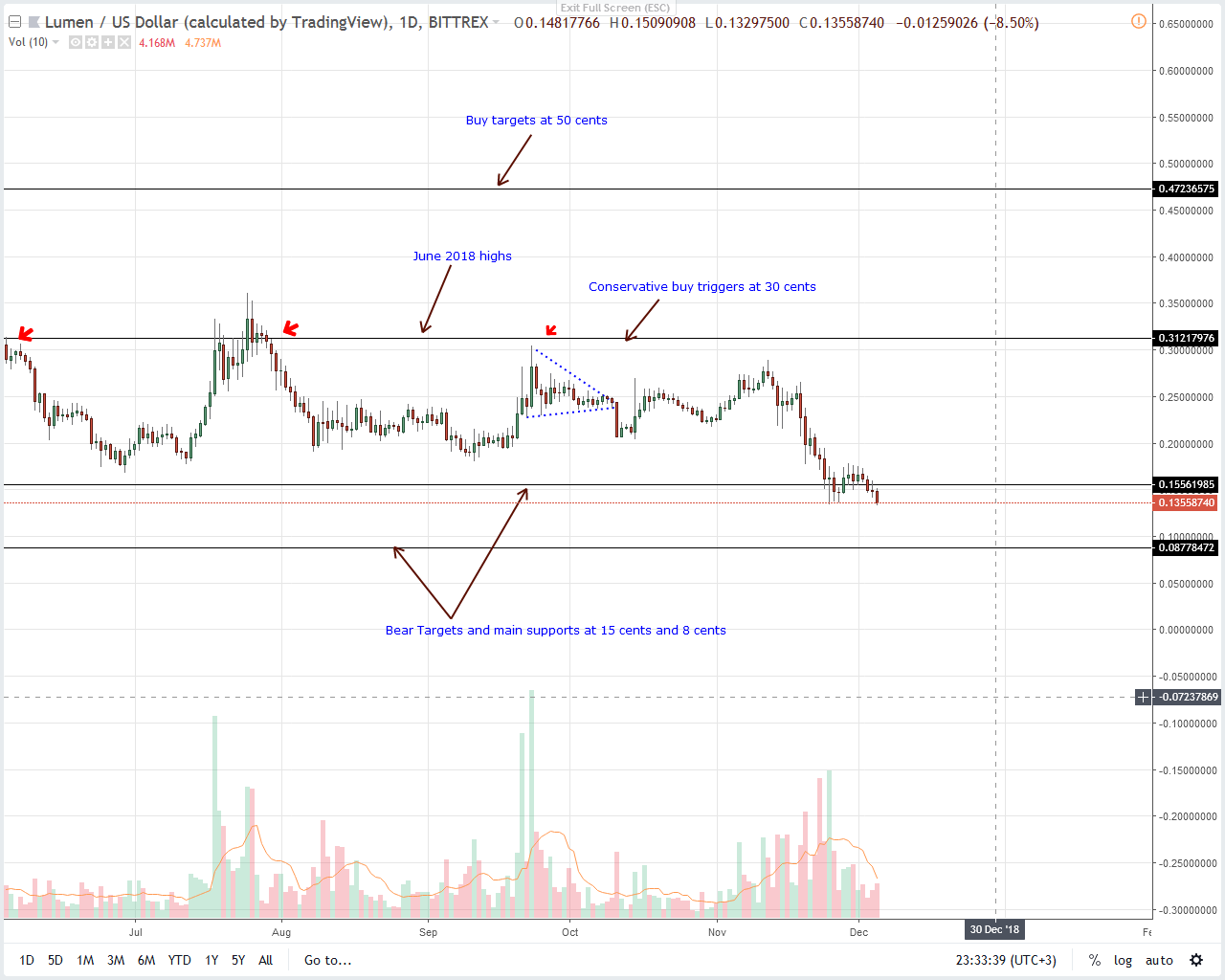 Despite our expectations of increasing Stellar Lumens bull momentum, sellers are back–and with a vengeance. Although XLM is still perched at fourth, it is down seven percent in the last day and with increasing volumes—4 million versus 4.2 million average, we expect yesterday's sell momentum to spill over.
In that case therefore we recommend aggressive traders to fade our previous XLM/USD trade plans, unload at spot and take a wait and see approach observing how prices will react at the 8 cents support.
If by then there would be signs of bulls, then they can load up with first target at previous support now resistance at 15 cents.
Tron (TRX) Price Analysis
On chain transactions is on the rise and while at it the Tron Foundation is on overdrive promoting use of the platform through several incentives as the Accelerator Program and availing different developer suites to fast-track creation and launch of different dApps.
Also Read: BitFinex Expands Stablecoin Listings to Provide 'Agnostic Platform'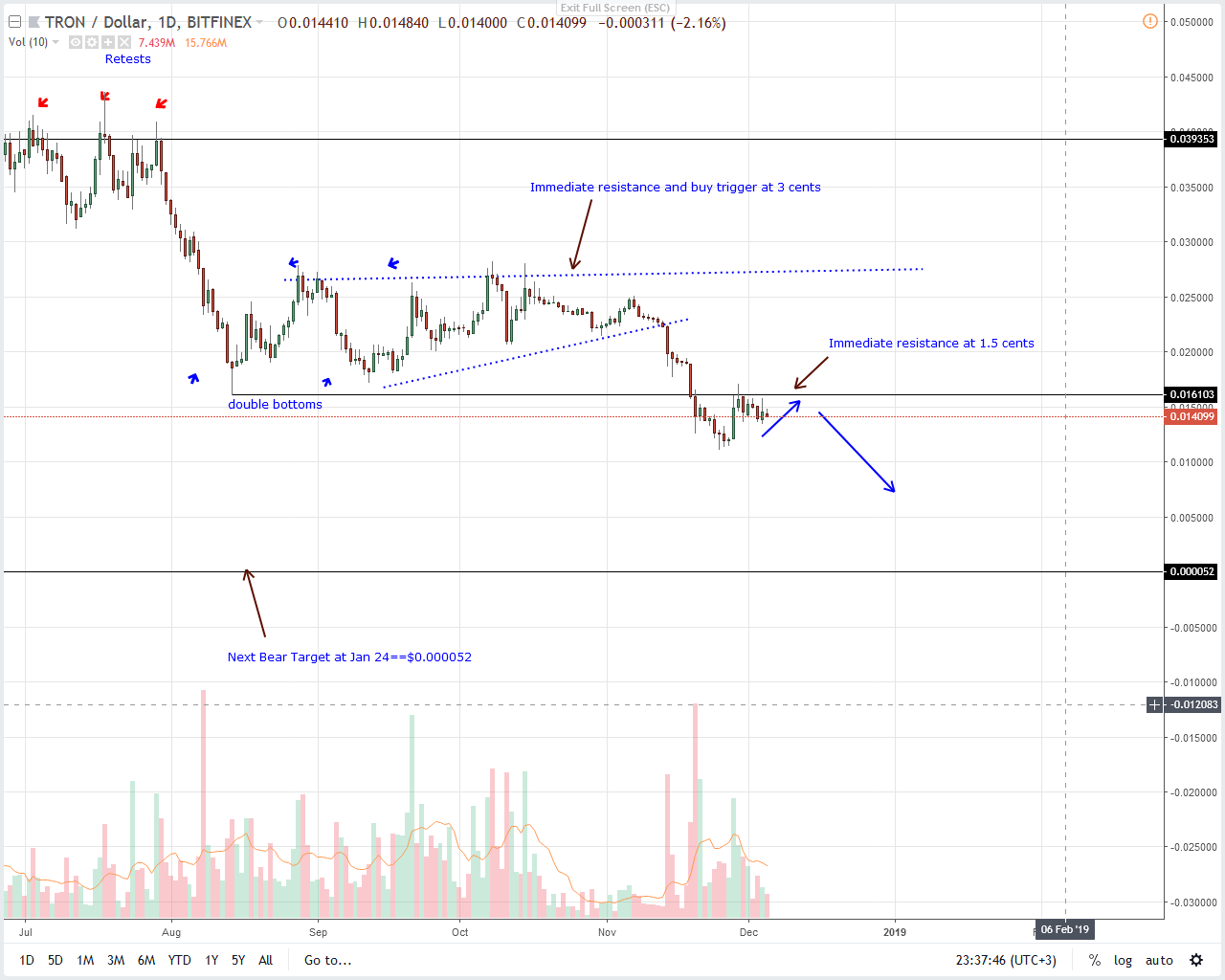 And it appears to be paying off. There is confidence on the coin and so far it is up 18 percent in the last week, stable in the last day and up one spot to 11th in the market cap rank. Even if sellers are in control and TRX/USD is no doubt trading within a bear breakout pattern as highlighted in previous TRX/USD trade plans, the rejection of lower lows and the failure of prices to print lower increases the odds of a bull breakout above 1.5 cents.
From our previous iterations, once this happens then we expect TRX prices to rally towards 3 cents lifting Tron back to the top 10. If not and bears step up reversing Nov 28 gains, then we might see TRX retesting the coin's all time lows at Jan 24 lows.
Monero (XMR) Price Analysis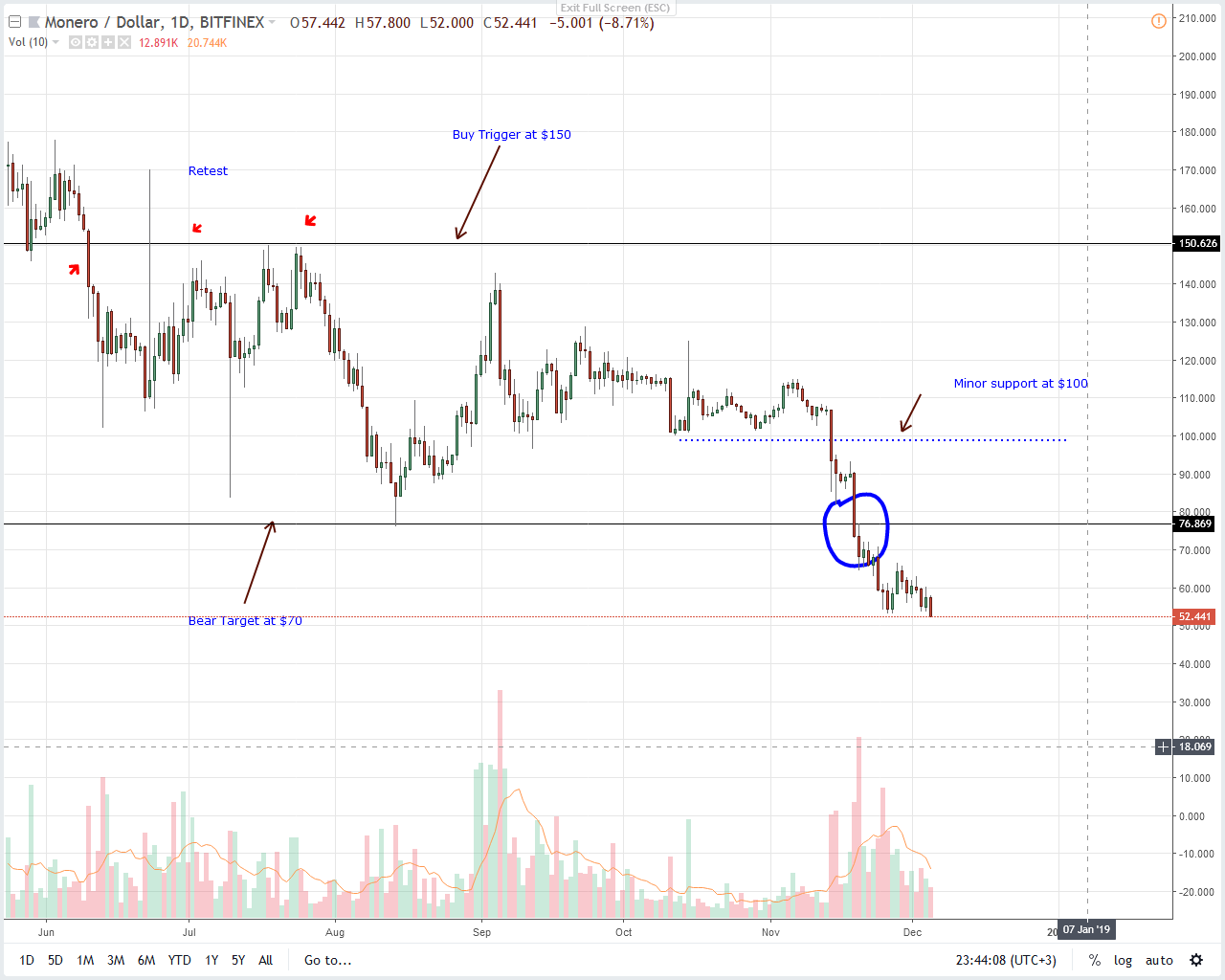 Like BTC and LTC, Monero is finding widespread support thanks to the privacy it tags along. Users can now withdraw the coin at several ATMs in Switzerland.
Bity has added #Monero to their crypto ATMs in Switzerland! https://t.co/jHKMGflyMg

— Monero || #xmr (@monero) December 5, 2018
But, while at it, XMR is under pressure and down two spots to 12th. From the chart, it's clear that XMR/USD is trading within a bear breakout pattern and with sharp declines below $70 on week ending Nov 25, bears were let loose.
The only time we recommend longs is when there will be convincing resurgence propelling prices above $70—our immediate resistance level. Before then, we expect prices to dive to $20 or lower more so if losses are maintained at the same pace.
All Charts Courtesy of Trading View
Disclaimer: Views and opinions expressed are those of the author and aren't investment advice. Trading of any form involves risk and so do your due diligence before making a trading decision.