Ethereum (ETH) add 2.8 percent
ProgPOW funding secure, Berlin's Least Authority to audit
Ethereum Price Analysis
Fundamentals
Ethereum (ETH) is superior and an upgrade of Bitcoin. Its native currency in ETH can operate within an ecosystem, powering smart contracting as a settlement coin. Besides, considering the infinite number of possibilities that the platform opens up for visionaries, it is understandable that the community reacts the way it did to a single one-word tweet by Elon Musk, the brains behind Tesla and Space X.
Ethereum

— Elon Musk (@elonmusk) April 30, 2019
Although there is nothing to conclude because Elon is yet to reply—they may have taken their conversation offline, interest from such a leader is possible.
https://twitter.com/VitalikButerin/status/1123039562186596359
In other positive news, an Ethereum developer, Hudson Jameson, did confirm the raising of $50k as funding for auditing ProgPOW.
"The ProgPOW audit is going to be funded. Everyone has confirmed their funding. It should be started this week or next week hopefully. There's just some logistics to work out, meaning people have to sign some paperwork and the funds have to be sent."
He said the funding would help in the audit of ProgPOW, a code change that seeks to improve the efficiency of Ethereum GPU miners. By improving efficiency, ProgPOW will narrow the gap caused by ASIC miners ensuring complete decentralization. Least Authority, a Berlin-based company, will audit the code.
Candlestick Arrangement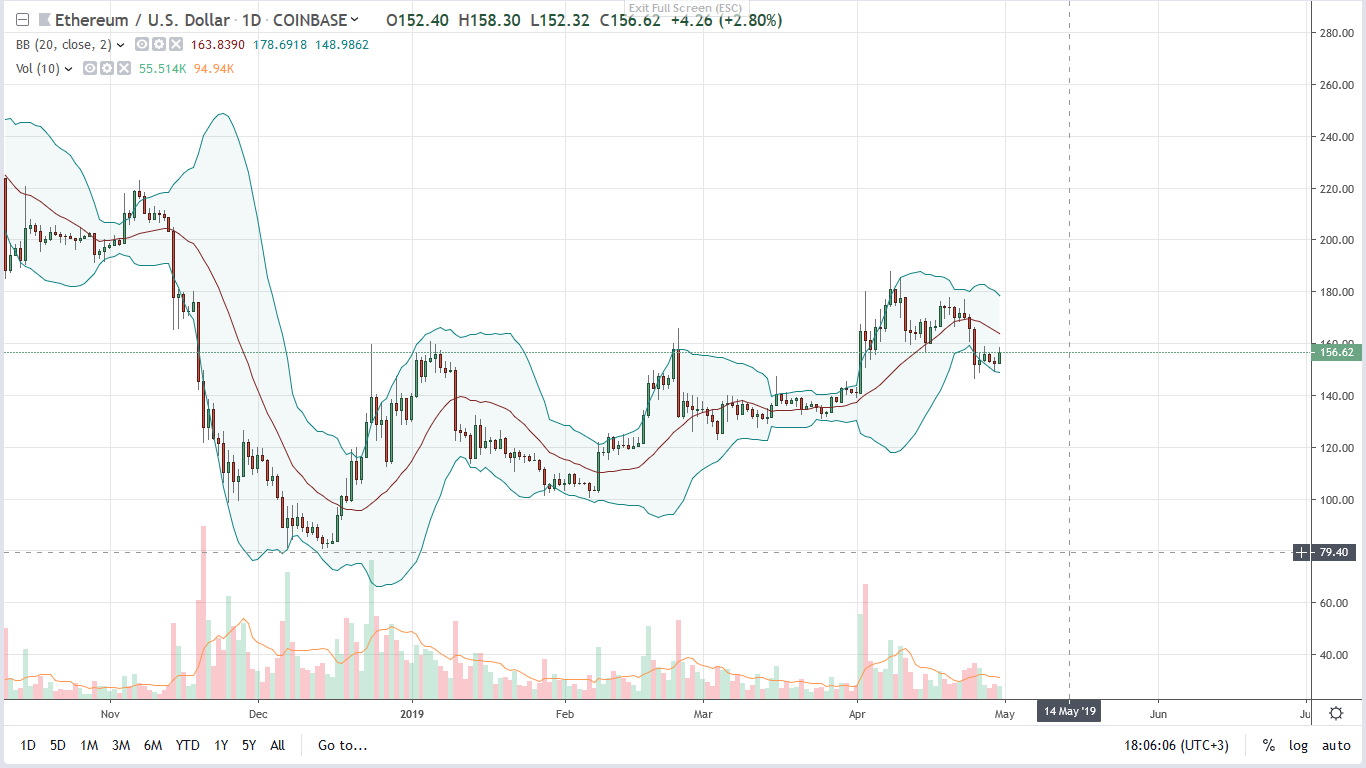 Price wise and Ethereum (ETH) like Bitcoin and Ripple (XRP) is bouncing off minor support as they snap to the primary trend. Although bears may have the upper hand because of bulls' inability to close above $170 in a bull breakout pattern satisfactorily, the asset's fundamental would likely spur demand, lifting prices.
Presently, there is a correction of Apr-25 losses. In a consolidation, prices are ranging inside Apr-25 bear bar. Technically, unless otherwise there is a surge above $180 and $190, sellers are in control from an effort versus result point of view.
Even so, immediate support lies at $145 or around Apr-2 lows. If bears flow back reversing Apr-2 losses with high volumes, then ETH may slide to $125 or lower in days ahead. That will confirm sellers of Q4 2018 and stir the next wave that may see ETH retest $100. On the flip side, a sharp spike blasting ETH above $190 will signal buyers of Apr-2 in a trend continuation phase towards $250.
Technical Indicators
In the short-term, Apr-25 bar anchors our trade plan. It has high volumes—160k, therefore any break above $190 or $145 must be with equally high volumes confirming or nullifying our ETH/USD trade plan.
Chart courtesy of Trading View