The accumulation in altcoins is bullish and shows the strength of underlying buy pressure. Therefore, with every decline in TRX, Litecoin, EOS and Stellar, savvy traders should find opportunity to buy with stops below immediate support.
Let's have a look at these charts:
EOS Price Analysis
Even with the widespread use of Bancor's PEG Network that allow third party developers to integrate and create in-app autonomous trading and liquidity of any tradable digital assets. Besides this simple integration, users can create custom asset peg tokens, EOS is yet to recover.
In fact, the accumulation of the last five days means our previous EOS trade plan stay the same unless there are sharp declines or revivals above $7. Needless to say, we expect the latter to be the case and that would be a breather for traders who have had to content with +80 percent drops of the EOS holdings.
The reasoning is simple: EOS is moving inside Oct 15 high low. Because the bar is bullish and has high trading volumes, it's likely that EOS bulls would have an upper hand.
Litecoin Price Analysis
That Litecoin stand a chance in the face of marauding bears is an understatement. Fundamentals as Litecoin core 0.17 and steadying of Bitcoin prices could contribute to resurgence but it's more than that.
From the chart it's clear that the correction has been deep and even with that bears didn't manage to break the $50 mark. In fact, it's up roughly one percent in the last day. This is where LTC bulls are jumping in and yesterday's rejection of lower lows attests to underlying bulls.
As it has been the case, we maintain a neutral to bullish stand until after there are gains above $60 and $70 on the upside. This could provide the necessary impetus for further gains towards $90 and $110. Conversely, losses below $50 is a trigger that precipitates further losses towards $30.
Stellar Lumens Price Analysis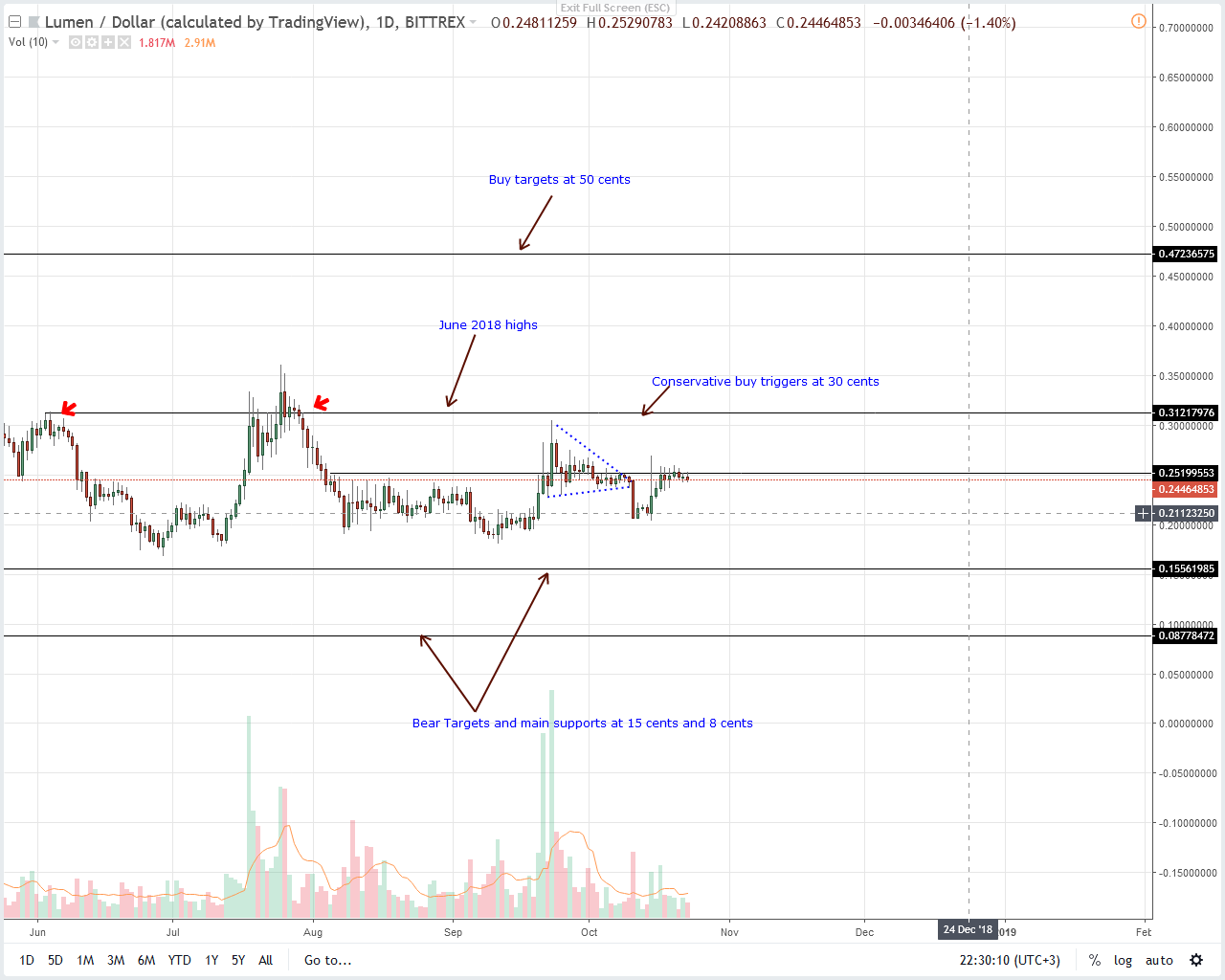 On a weekly basis, Stellar Lumens is up eight percent. Most notably though is the lack of momentum for prices to break and close above 25 cents, our minor resistance and bull trigger line.
Moving on, yesterday's doji means our last XLM trade plan is valid and until there are gains above 25 cents ushering in first catchers eyeing 30 cents, we shall retain a neutral to bullish outlook all thanks to Oct 15 price and market participation spikes.
Similarly, losses below Oct 15 lows or 20 cents could see XLM sink to 8 cents further disillusioning the market.
Tron Price Analysis
The launch of TronBet, an on-chain gambling dApp has see TRX daily volumes eclipse that of Ethereum's for the first time. As reported by NewsBTC, the game runs on top of the Tron blockchain and because of incessant demand, TRX related transactions stemming from the game topped 500,000 after being played over 10,000 times. What's encouraging is the simple fact that Tron didn't experience any down time because of its stellar throughput of 2,000 TPS.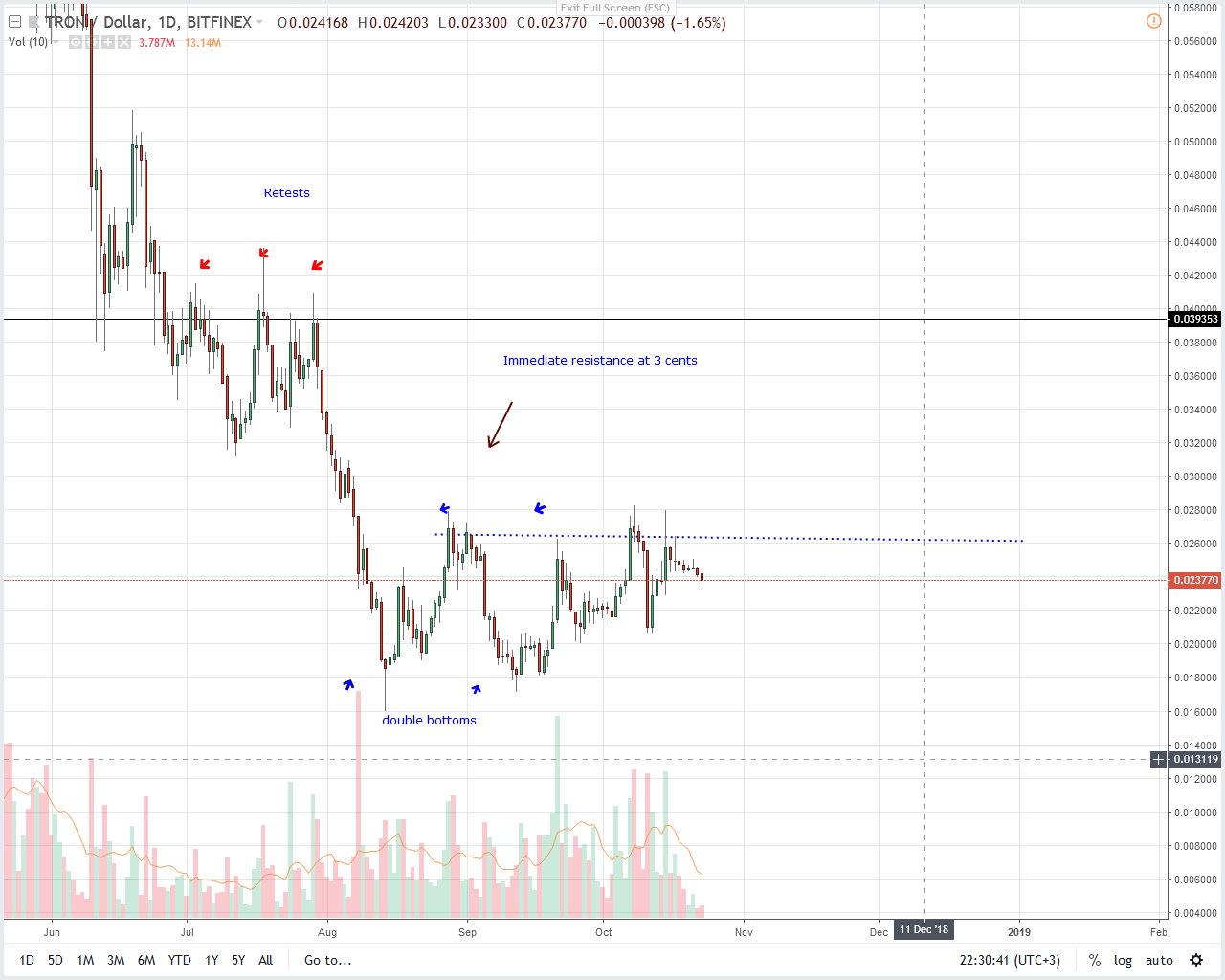 From the chart, we suggest risk-off traders to buy TRX at spot prices. This is so because of the long lower wick which signals demand in lower time frames. Then again, it's steadying and the failure of sellers completely reverse Oct 15 gains points to underlying bulls.
Alternatively, another loss risky route is to buy once there are gains above Sep highs or 3 cents as we align with previous TRX trade plans. First targets remain at 4 cents while drops below 2 cents bins this projection.
IOTA Price Analysis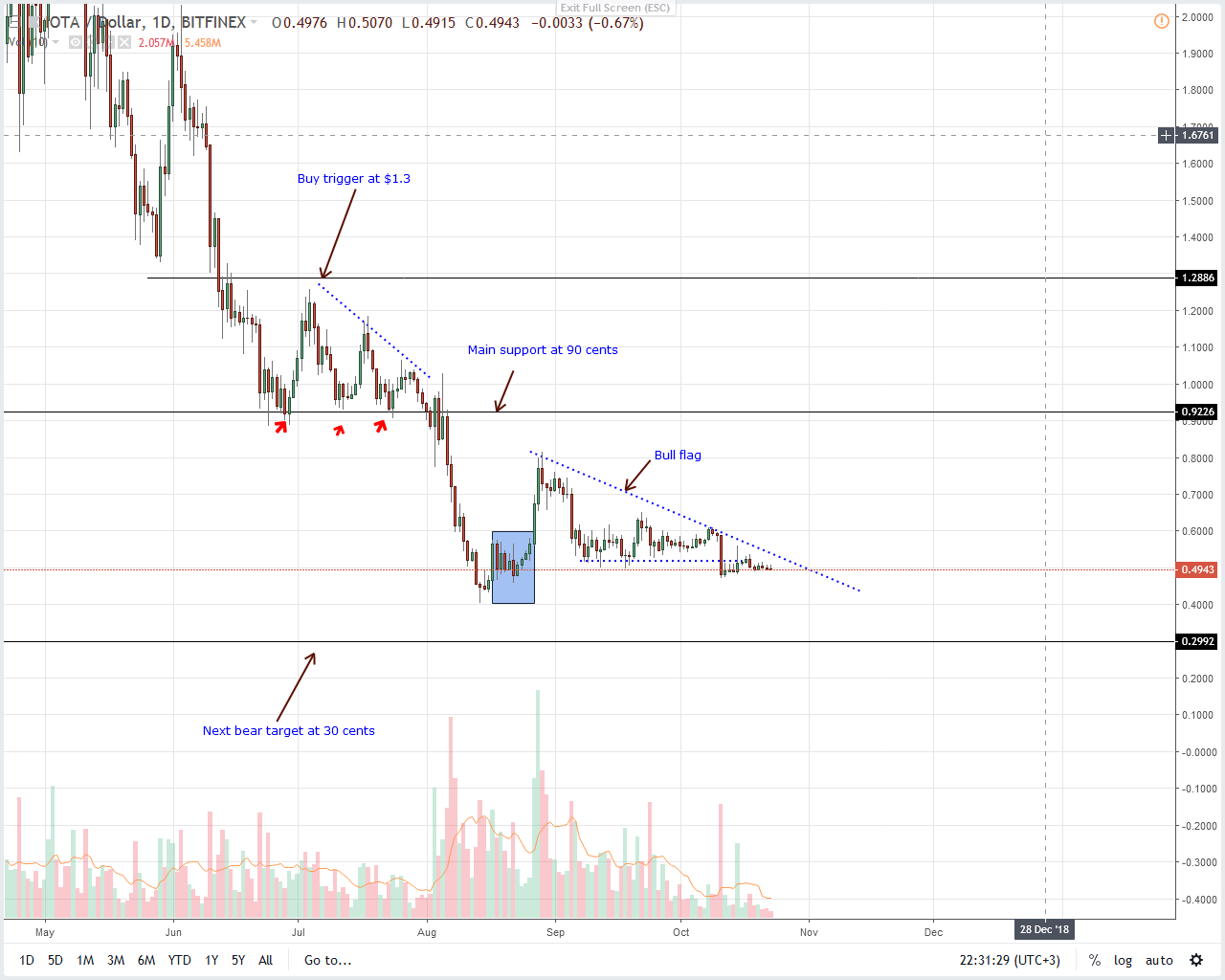 As long as prices are consolidating as it is with IOTA, we retain a bearish stand. Backing this stand is the lack of price movements with the most notable being the failure of bulls to build enough momentum and reverse Oct 11 losses.
Technically, this is bearish for IOTA but considering this year's losses, it could as well be an ecstatic moment marking the end of a bear trend. That's why we should stay neutral until there are gains above the minor resistance trend line and Oct 11 highs at 60 cents.
Thereafter, traders can load up on dips with first targets at 90 cents in line with our previous IOTA price analysis. Conversely, losses below 50 cents affirm bears leading to losses towards 40 cents and even 30 cents for a 99 percent reversal of 2017 super gains.
Disclaimer: Views and opinions expressed are those of the author and aren't investment advice. Trading of any form involves risk and so do your due diligence before making a trading decision.