We have been seeing a correction of most coins under our radar but with yesterday's events, odds are alt coins buyers would continue increasing their long holdings. IOTA, Litecoin, EOS and Tron are experiencing positive gains and should be our focus of the day.
Let's have a look at these charts:
EOS Technical Analysis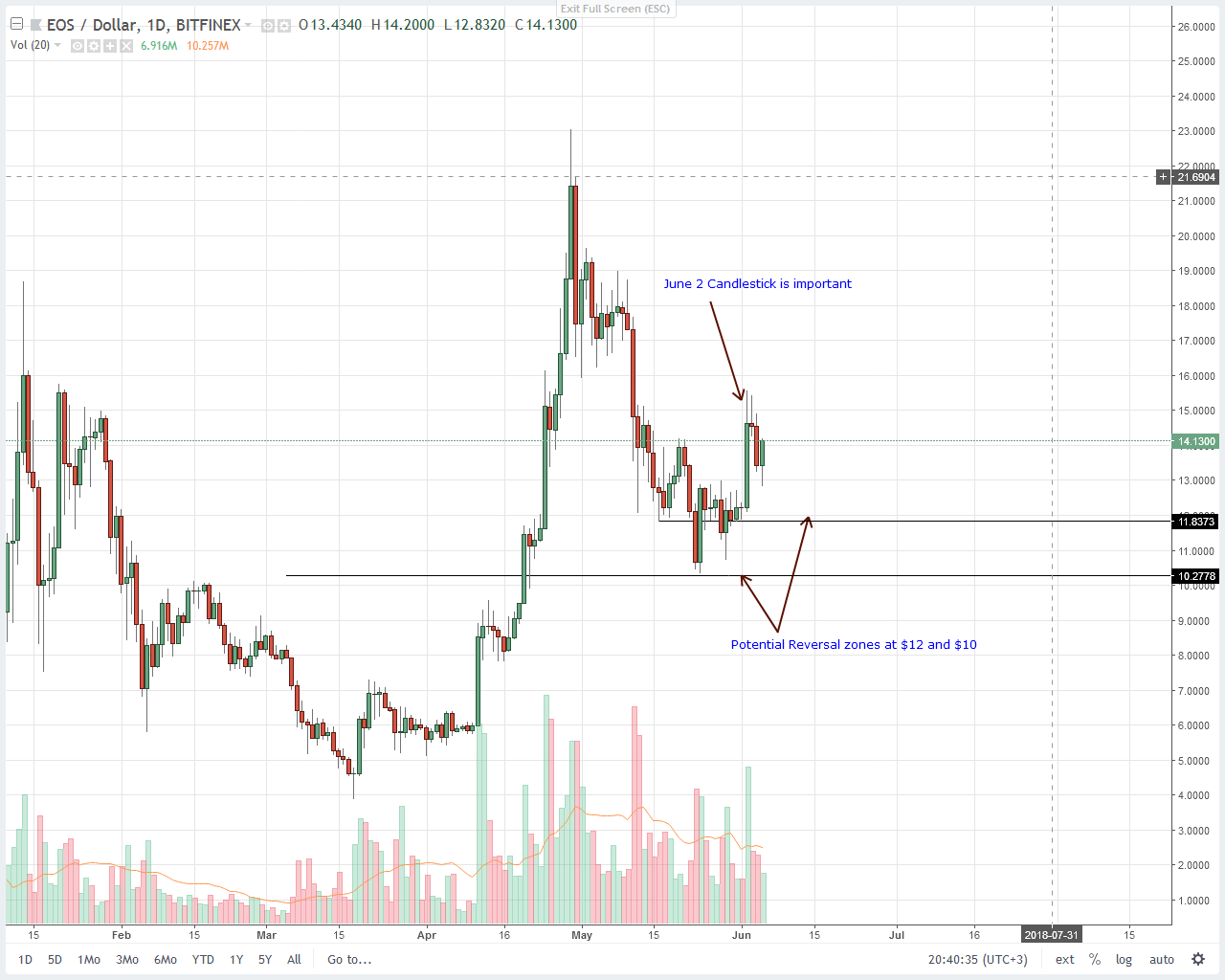 After their mainnet launch, those talking saying EOS don't have a working product should just keep it to themselves. EOSIO 1.0 is but a working product and with many stake holders showing their interest on it, expect many more DApp projects to be done on their platform.
As a matter of fact, Block one, the company behind EOSIO is pledging to sink in $1 billion towards the project while block producers advertise their services to EOS holders ahead of BP voting. All BP candidates are promising projects, support and maintaining the general vision of the project and that's why many see EOSIO as a long time project. What is important in the days to come is the direction the EOS community, Dan Larimer and other developers would steer the platform to. Investors expect nothing short of a platform that would compete with Ethereum.
On to the charts now and our trade plan is still valid. EOS Prices are still trending inside that strong engulfing candlestick. Most importantly after yesterday's candlestick, buyers are rejecting lower prices and we can see pockets of strong buys in the 4HR chart. Aggressive trades can take these early long opportunities. However, for us to be sure of buy pressure then we need to see strong surges above June 2 highs at $15. This plan applies to those who didn't enter till after the mainnet launch because initial triggers were at $14.
Litecoin (LTC) Technical Analysis
In line with our previous analysis, our trade plan is pretty simple. We remain buyers if and only if we see Litecoin prices closing above $130. Conversely, our bullish projection would be invalid if sellers break below $110.
Judging from yesterday's price action and possible long covering—prices might end up finding support today. Check out yesterday's long lower wicks at $115, our intermittent support. However, we shall remain cautious and wait for confirmation today because we are not in the business of picking out bottoms.
Stellar Lumens (XLM) Technical Analysis
Our mid-range support stood at 27 cents. These are approximation guys and from yesterday's price action, we may see Stellar Lumens bulls adding on to their longs today. Well, all price action seems to be taking place in the 4HR chart. Here we can see higher highs and rejection of sell pressure as than bullish pin bar shows.
That spike in volumes with prices ending up higher and that consequent confirmation of that shift of demand are pointers to Stellar Lumens bulls in action. Because of this, I recommend longs with tight stops at 27 cents. On the other hand, risk-on trades can wait for breaches above 30 cents to trade in line with yesterday's trade plan.
Tron (TRX) Technical Analysis
Undoubtedly, the FX market is one of the largest in the world and that's where Tron wants its coin to trend at. To do this, they are partnering with Shift Market, a platform that provides different front and back end solutions for entities seeking to open brokerage services. It has helped more than 100 new brokerage firms launch their services in different countries.
TRON Foundation Announces Partnership with Shift Marketshttps://t.co/JZ31qmGgDh#Crypto #TRON #TRX

— Shift Markets (@shiftmarkets) June 4, 2018
With this announcement, TRX shall be available in nine exchanges spread across the world. Indeed, after its actualization, this partnership will play a key role in bridging crypto and fiat trading making the former prominent.
On to the charts now and the bearish shadow of May 28 still plays a critical role in price action. Mind you, prices are still moving within a tight 2.5 cents consolidation whose lows is at 5.5 cents. Now, taking trades in lower time frames is risky and before we settle on buys—of which it is likely—we must see what market participants have in store. All we need is a break out and before that happens, we should remain neutral and just watch price action.
IOTA (IOT) Technical Analysis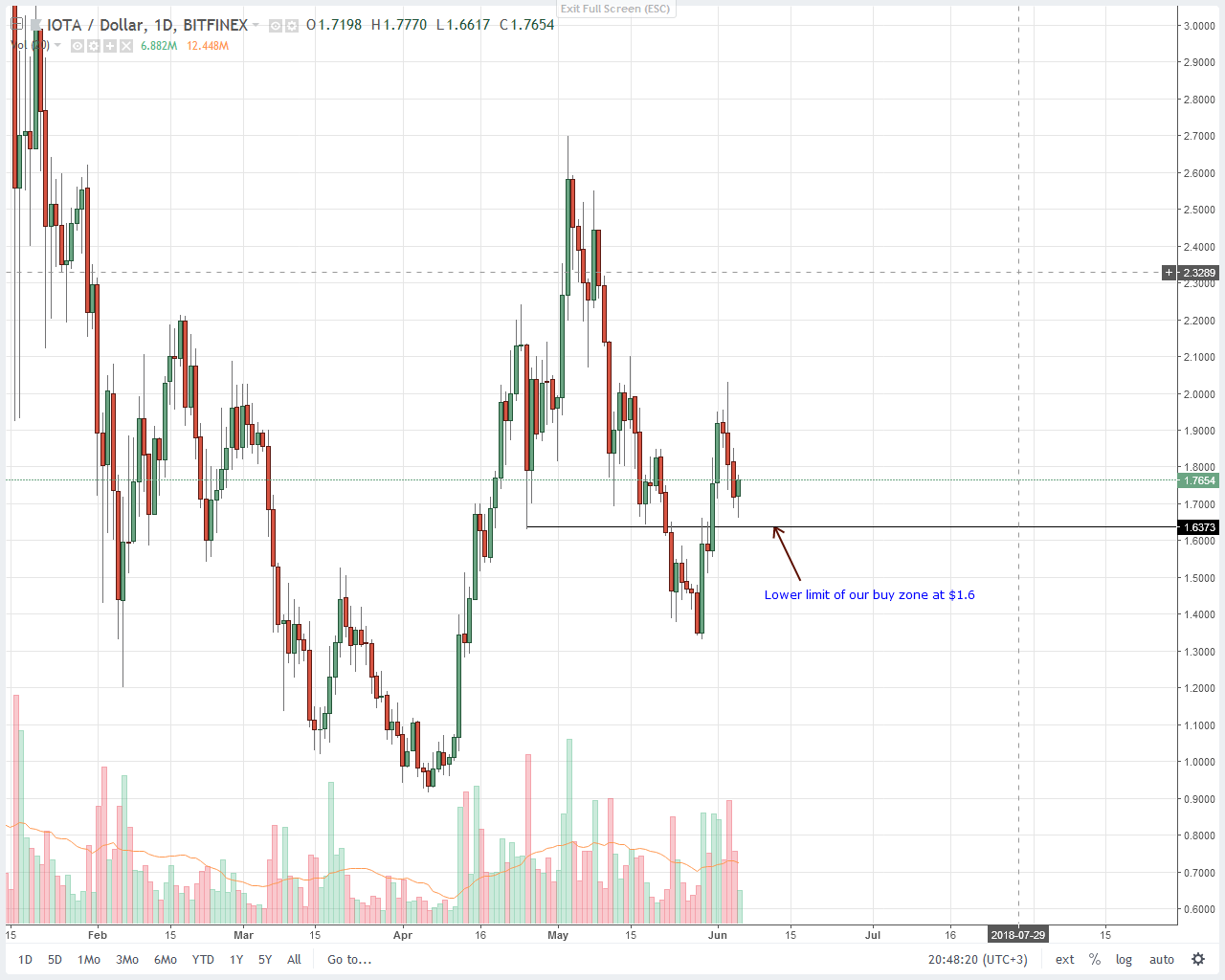 It's all about effort versus results in IOTA's daily chart. Evidently, prices are moving lower all this at the backdrop of Qubic announcement. It's exciting for IOTA supporters and that should translate to prices but that is not the case.
I remain bullish and for buyers to be in charge today then we must see a reaction at our minor support at $1.6 and higher highs in 4HR charts. We shall initiate longs only when there are buyers pushing prices above June 4 highs of $1.8. Before then we are neutral observing the depth of this long covering but risk off traders can begin accumulating at these low prices.