Regardless of our stand, Tron is making progress by not only marketing themselves but by placing themselves at strategic points as they aim to expose themselves to incoming capital injection. So far we have seen collaboration with exchanges but with Shift Market and BitForex, it's a different ball game. As this is happening, IOTA is low while EOS is struggling to print above June 2 highs.
EOS Technical Analysis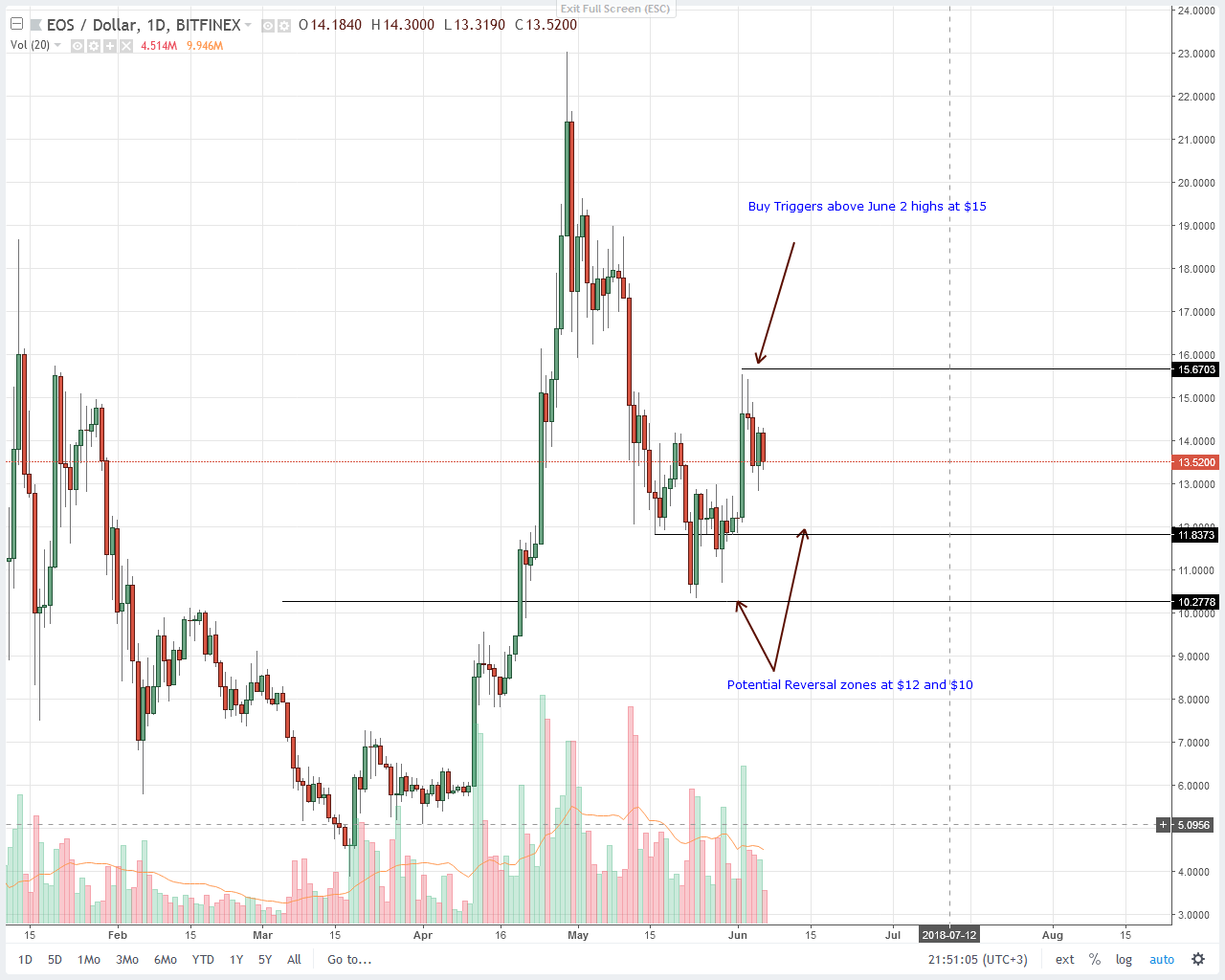 After mainnet launch, the scale and scope of the EOS project is becoming more apparent. By all accounts, it's genuinely massive. That's not only because it's a global project but because of the sheer level of participation not only from individual influencers but from block producers who want to man the EOS network. Yes, we have exchanges bidding and advertising their intentions to EOS holders but the real gem is those individual firms who want to take part in transaction validation. All of these BP candidates are technical adept and are would be a quality addition to the network should they get chosen. Before then, their drive is what will set them apart and that's what voters are monitoring.
On to the charts now and prices are still moving within the mainnet bar. As such, all we need is to stay put and trade according to yesterday's trade plan. And because we are bullish, we recommend buying on dips preferably in lower time frames with stops at $12. On the other hand patience can be more profitable because by then EOS bulls would have pushed prices above $15 or June 2 highs. Word of caution though, sustained sell pressure which causes price collapse below $12 would cancel our bullish skew.
Litecoin (LTC) Technical Analysis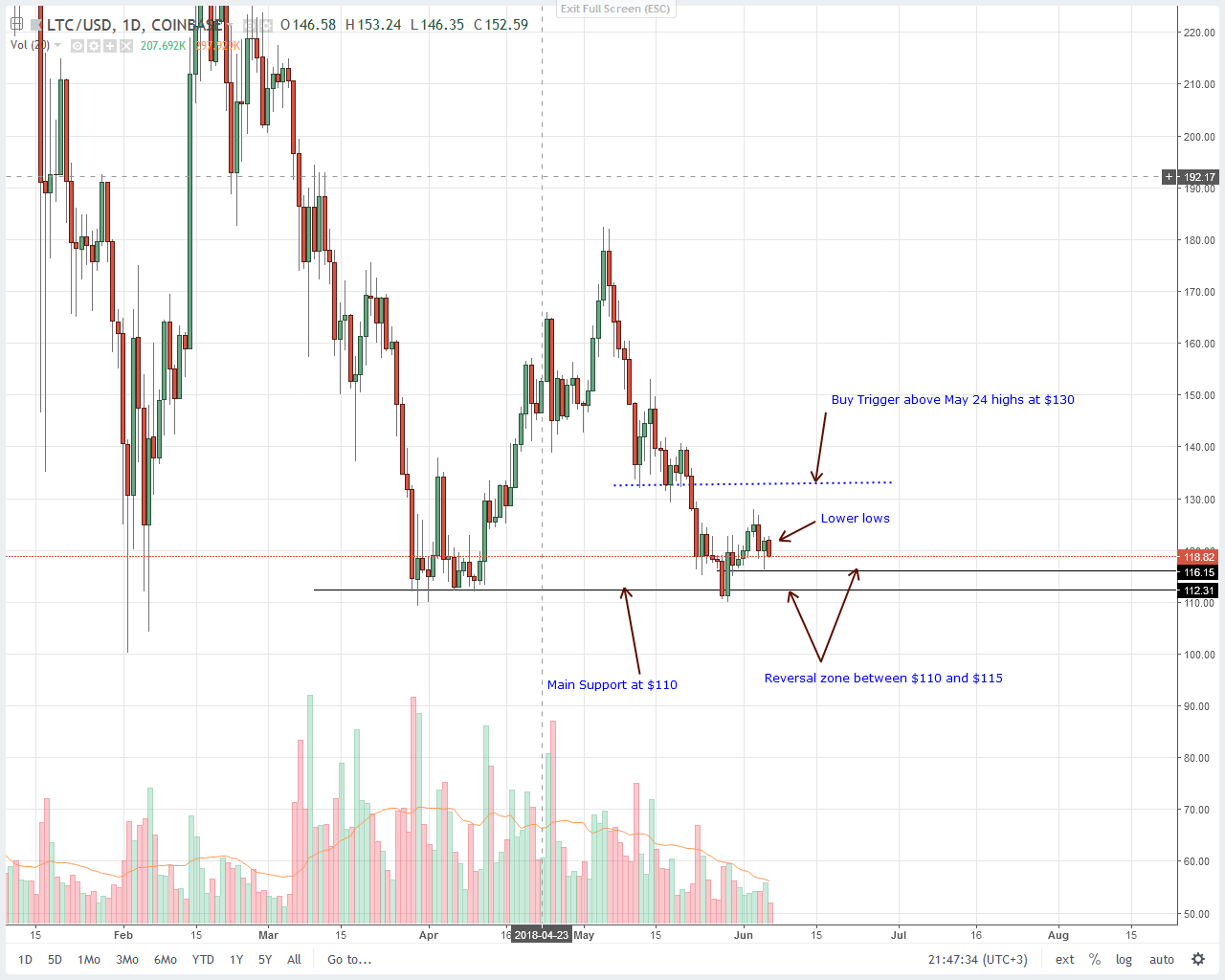 The cool thing about this coin is the sheer number of users and retailers using them. While we can attribute this to their online campaign, let's not refute the fact that its inherent design as a "silver of Bitcoin" gives it some weight. Solely because of that, I strongly believe that Litecoin's current price doesn't reflect its true value.
When it comes to the charts, buyers are beginning to jump in to this trade in line with yesterday's projection. Yes, ideally buyers should begin loading up once prices push above $130 but that doesn't mean buying at current prices is wrong. As a matter of fact zooming in to the 4HR chart and buying on every higher high would translate into better and safer entries with tighter stops at $115. It depends on how you would like to handle that but the trend is clear: buy on dips in lower time frames or wait for a break above June highs at $130.
Stellar Lumens (XLM) Technical Analysis
Some of Stellar's objectives as spelled out by the founder Jed McCaleb include using technology in the right manner to reduce inefficiencies while improving human conditions. This is why the seventh edition of Stellar Build Challenge shall be reflective of this drive.
https://twitter.com/StellarLumens/status/1004082763455258624
Part of the mission of this challenge-whose winner shall be made known by end of August is creating a peer to peer wallet, better explorer and Trade Bot and a useful social trading environment. That's besides adding new features submitted by developers to the Stellar Platform through their Open Source Contribution calls.
Now, on the chart we are seeing some tidbit of gains but not strong enough to reverse June 4-5 losses. As long as prices are inching higher, we shall stick with our previous trade plans as we wait for Stellar Lumens prices to close above 30 cents and 40 cents. If not, any realignment and bear pressure liquidating Lumens prices below 27 and 25 cents would effectively cancel out our bullish projections.
Tron (TRX) Technical Analysis
It's partnership after partnership and that's what many claim is the reason why Tron continues be a subject of discussion. Two days ago, Justin Sun announced that they shall be partnering with Shift Market and that by itself is a positive indication that could help TRX coins inch up. Shortly afterwards, their collaboration with BitForex would increase TRX trading pairs to more than 80. What this means is that traders would have more options to trade TRX and in the process increasing the overall liquidity.
Over 100 trading pairs for $TRX! #TRON never sleeps. ? pic.twitter.com/5uEILygkaq

— Justin Sun (@justinsuntron) June 6, 2018
Generally, there is nothing much to write about TRX's price action. Prices are moving within a tight one cent range. So, like yesterday, it's a waiting game aware that any break below 5.5 cents would cancel out our bullish projection.
IOTA (IOT) Technical Analysis
Undoubtedly, Qubic would change IOTA and how things are done but here's the caveat: since it's another layer on top of IOTA, implementation will take sometimes. Before then, IOTA Foundation and their lead developers like David Sønstebø will have to assure the community that their network is in fact secure and that Curl is but a reliable hashing function. In the meantime, user engagement like this could end up lifting prices and increasing IOTA's reach.
"Security researcher" makes claim about flaws in IOTA's security, but refuses to provide evidence due to "a lack of time" in Twitter spat with CFB https://t.co/MjScn4WFWz #IOTA #IOT #Tech #m2m

— /r/IOTA (@Reddit_IOTA) June 6, 2018
As it is, $1.6 remains as our key support line and before we draw conclusions and change our stand, we should understand that our bullish projection is still valid. Of course, following our previous recommendations, we need not to guess where the bottoms are but instead wait until when market participants prints those out. The only undoing is if we see IOTA sellers pressing forwards and closing below $1.5 with remarkably high volumes. If that happens, we change tact, liquidate IOTA and aim for $1.