With shifting sentiment and new-found bull momentum, XRP/USD is rising. It's up 20 percent in the last week and trading above 55 cents meaning following yesterday's spike in market participation. Because our trade conditions are now live, we suggest traders to buy at spot in line with week ending Sep 23 bull trend.
Latest Ripple News
It's that time of the year to fill your crypto bags. Double digit gains and rumors of SWIFT integration was enough to temporarily propel XRP market cap above that of Ethereum. But the writing has been on the wall for a while now and it is just a matter of time. After all, the difference in market cap is less than $100 million at the time of press. Though SWIFT quashed this rumor saying they won't make use of any of Ripple's solutions, the latter is quickly becoming a threat. Rumors of partnership spread after Ripple attendance of SWIFT's Sibos Conference late last month.
From fast execution to partnership acceleration, Ripple is quickly carving out market share in an area long dominated by SWIFT and other cross border remittance service providers as Western Union and MoneyGram.
We are yet to see what will happen because SWIFT will be updating their protocol this month of which member banks would have to upgrade to SWIFT GPI, a new global payment platform which was rumored to integrate with xRapid and RippleNet. The upgrade will allow banks plugged to the SWIFT network track transactions in real-time.
XRP/USD Price Analysis
Weekly Chart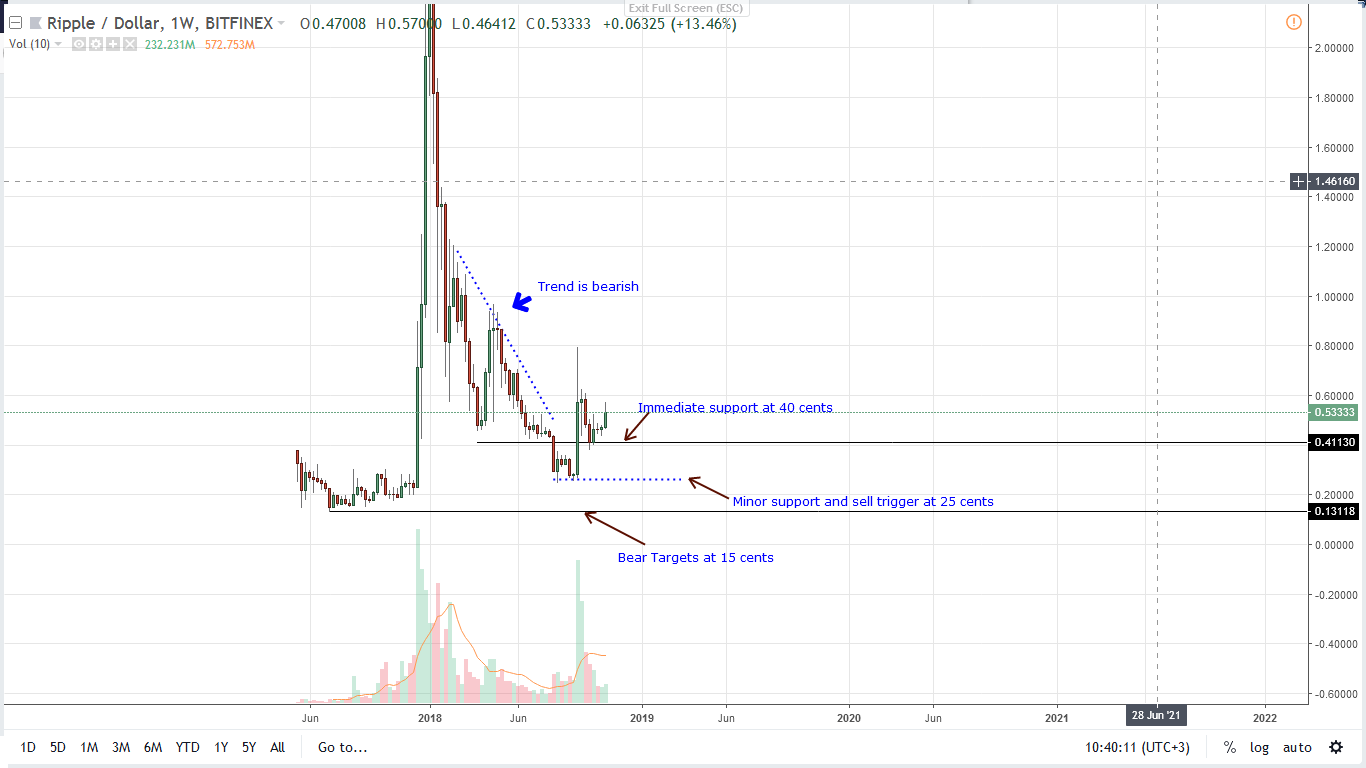 Clearly, XRP/USD is back on trend after two weeks of accumulation in lower time frames confirming our previous assertions. All things constant, we expect prices to race above 80 cents now that XRP/USD is above the 50 percent retracement mark anchoring on Sep 2018 high lows.
Though bulls are in charge, the 40 cents tag is important marking the upper limit of our support zone. As a previous resistance now support, the reaction at this level has been spectacular. Moving on, favorable sentiment and market wide expansion will strengthen bulls aiding them as they bottom out from the 2018 dredges.
Daily Chart
What we have in the daily chart is a bull break out and XRP/USD pair is now trading above 55 cents as bulls snap back to trend after a whole month of correction and horizontal consolidation. Even though we retain a bullish outlook on this pair, Nov 6 breakout did print with high trading volumes–doubling that of the last 40 days meaning these higher highs have the backing of strong hands. Therefore, if anything, we suggest traders to load up at spot prices with first targets at 80 cents marking the tops of week ending Sep 23 highs. Safe stops would be at Nov 6 lows at 50 cents.
All charts Courtesy of Trading View
Disclaimer: Views and opinions expressed are those of the author and aren't investment advice. Trading of any form involves risk and so do your due diligence before making a trading decision.