Besides Tron which is still struggling in the loss territory, all coins under our radar are in the green. We can begin with EOS which is up 22 percent all thanks to the pump during mainnet launch and to some degree Stellar Lumens which is up 12 percents for the week. Litecoin is also on the positive territory where risk off traders can add on to their gains with stops at around $115. Regardless of weekend's events, buying Tron at current prices can be a good bargain.
Let's look at the charts:
EOS Price Technical Analysis
So, if anything, I don't understand why EOS hack is not making headline news. It's investors who are said to have lost millions of dollars worth of EOS and ETH all through Zen Desk vulnerability. The latter provides email support for Block One, the parent company of the now independent EOSIO.
いくつのeosコミュニティにはフィッシングメールが届いた。

一部メールはblock one サポートシステムZendeskから送られたため、しばらくクローズ。

※https://t.co/0IpY5dy8DLはScammmmm siteだと判明#eos #blockone #Zendesk https://t.co/znS0fTaEDT

— [email protected]中国について (@Andreablockchai) May 27, 2018
It is said that hackers found another weakness at the email provider, sent messages to investors and used the same information to siphon out coins belonging to unsuspecting and genuine investors. At the moment of this reporting, EOS has temporarily suspended Zen Desk services because of this unfortunate situation. This is not the first time holes have been found in EOS. After 360 and a couple of other vulnerabilities, news that investors are now losing money in a network that Nick Szabo did criticize should raise high brows.
On the charts though, prices are picking up from that up-thrust on June 2. In my view, I expect prices to appreciate and feed off those strong buy volumes we saw on mainnet launch. Buyers who would wish to trade with the trend should wait for under-valuation in lower time frames and load with targets at EOS ATH's at $23.
Litecoin (LTC) Price Technical Analysis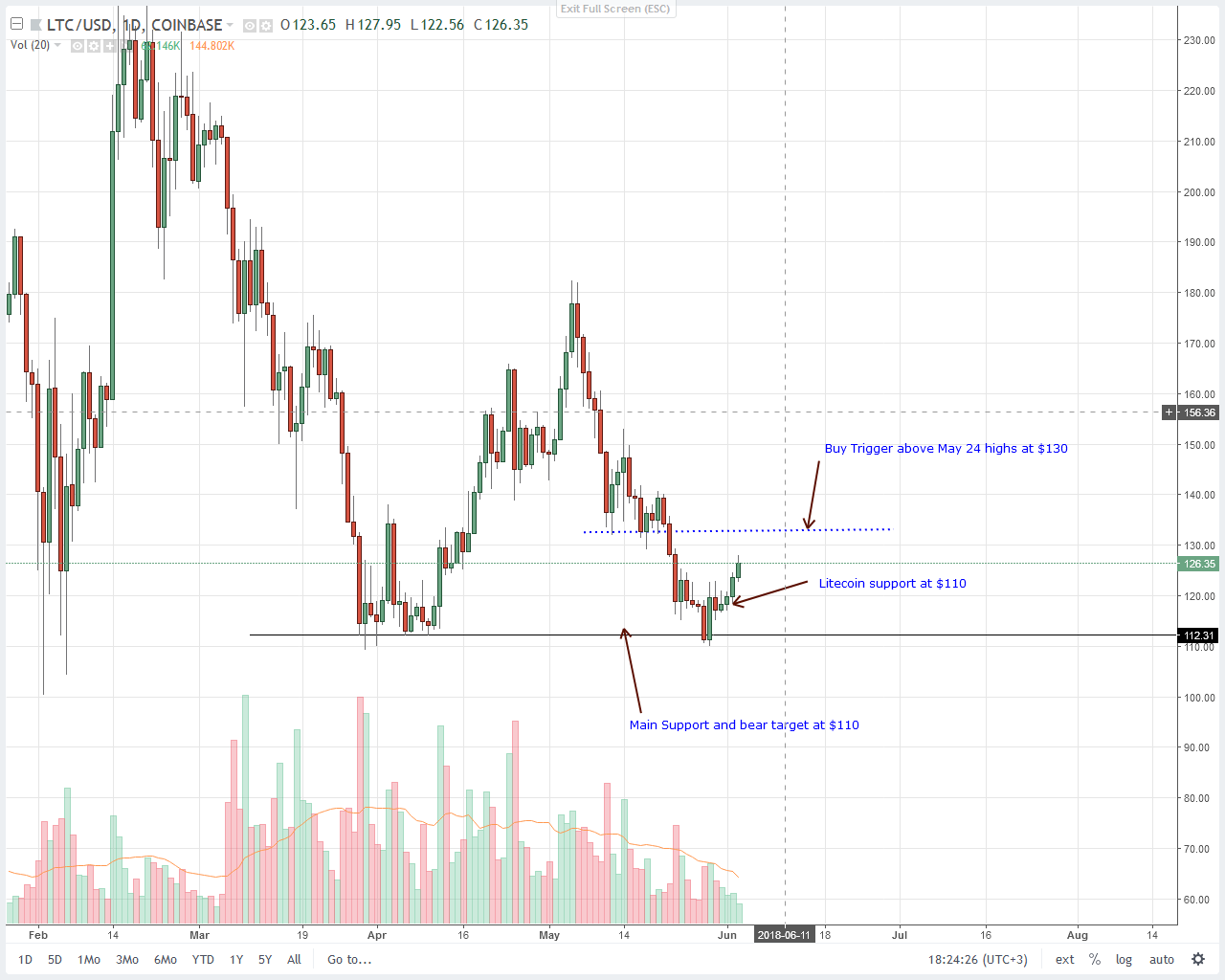 There is a new version of Litecoin, Litecoin v0.16.0 and the cool thing is that there is full support for Segwit wallets. Then again there are optimizations for SHA256 hash function that boosts its speed. Upon upgrade, miners would also run "Pruned Nodes" making their mining activities run on minimum storage and power.
Litecoin Core 0.16 has been released! Update ASAP.

Download from https://t.co/qjm8bQ5gOt or https://t.co/xd453WbnHg. https://t.co/Bnrq6dm16v

— litecoin (@litecoin) June 1, 2018
Price wise, Litecoin is appreciating as it bottoms out from recent $110 lows. As it is, buyers might add on to their gains this week and perhaps trigger our buys at $130. From the charts, that's likely to happen and is just in line with our previous projections. If that happens then as before we recommend reasonable long targets at $180 with stops at $115 in the mean time. On the other hand aggressive traders should look to buy on dips at around $115 to $120. Ideal stop losses in that case should be at or around May 24 lows and the lower limit of $115.
Stellar Lumens (XLM) Price Technical Analysis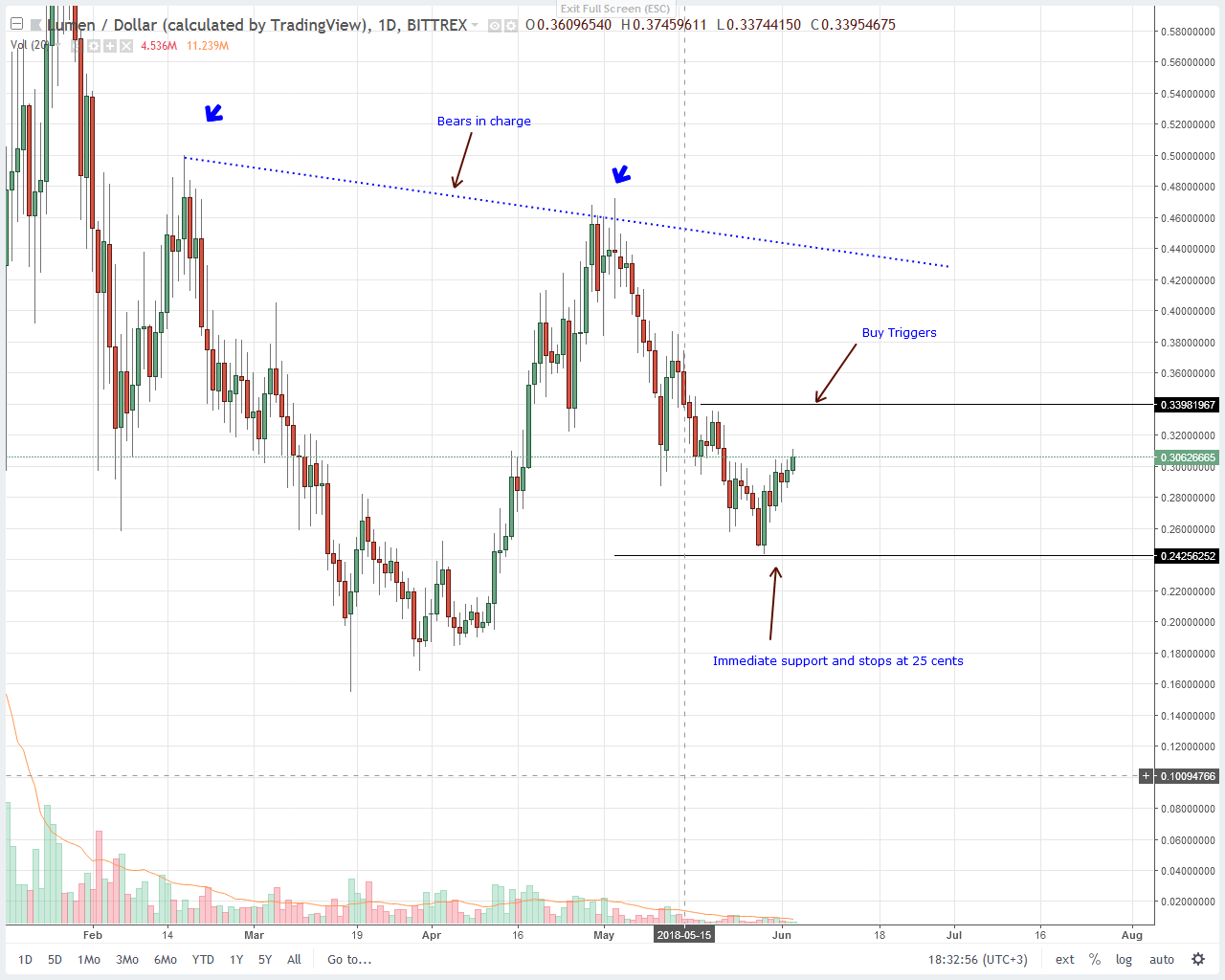 In the last week alone, Stellar Lumens prices are up 12 percent and that's an impressive feat considering that it's pure price action that is moving this coin. As it is, risk off traders can begin loading Stellar Lumens with stops at 27 cents now that buyers are adding on to their longs as May 31 candlestick dictates.
For conservatives, waiting for prices to cross the 35 cents mark would be enough indication of a convincing shift of trend. Overly and regardless of where you buy, our ultimate bull target lies at 50 cents just like our previous trade plan.
Tron (TRX) Price Technical Analysis
Shortly after initiating their mainnet, Tron said they shall be partnering with Indonesia's largest cryptocurrency exchange, Indodax and avail TRX/IDR pairs for their customers. This means natives would be in a position to purchase TRX coins using Indonesia's Rupiah anytime from June 5. Of course, as always, coin exposure is beneficial for the currency and the charts shows that. As it is, prices might appreciate and reverse losses we saw during last week's mainnet launch.
#TRON $TRX #TRX will be available to trade with $Rupiah at @IndodaxOfficial, deposit starts from June 4th 2018 at 8:00 WIB, trading starts from June 5th 2018 at 15:00 WIB.? pic.twitter.com/YXdHZsB8mo

— Justin Sun (@justinsuntron) June 3, 2018
I really think this is the best time to load up TRX. Our preview will anchor on June 2 bull candlestick and a rejection of lower prices despite remarkably high volumes. Evidently, this rejection is happening right at the 5.5 cent support line and with yesterday's confirmation, today might end up being important for TRX. Considering the turn of events, I recommend longs with stops at June 2 lows and targets at 10 cents.
IOTA (IOT) Price Technical Analysis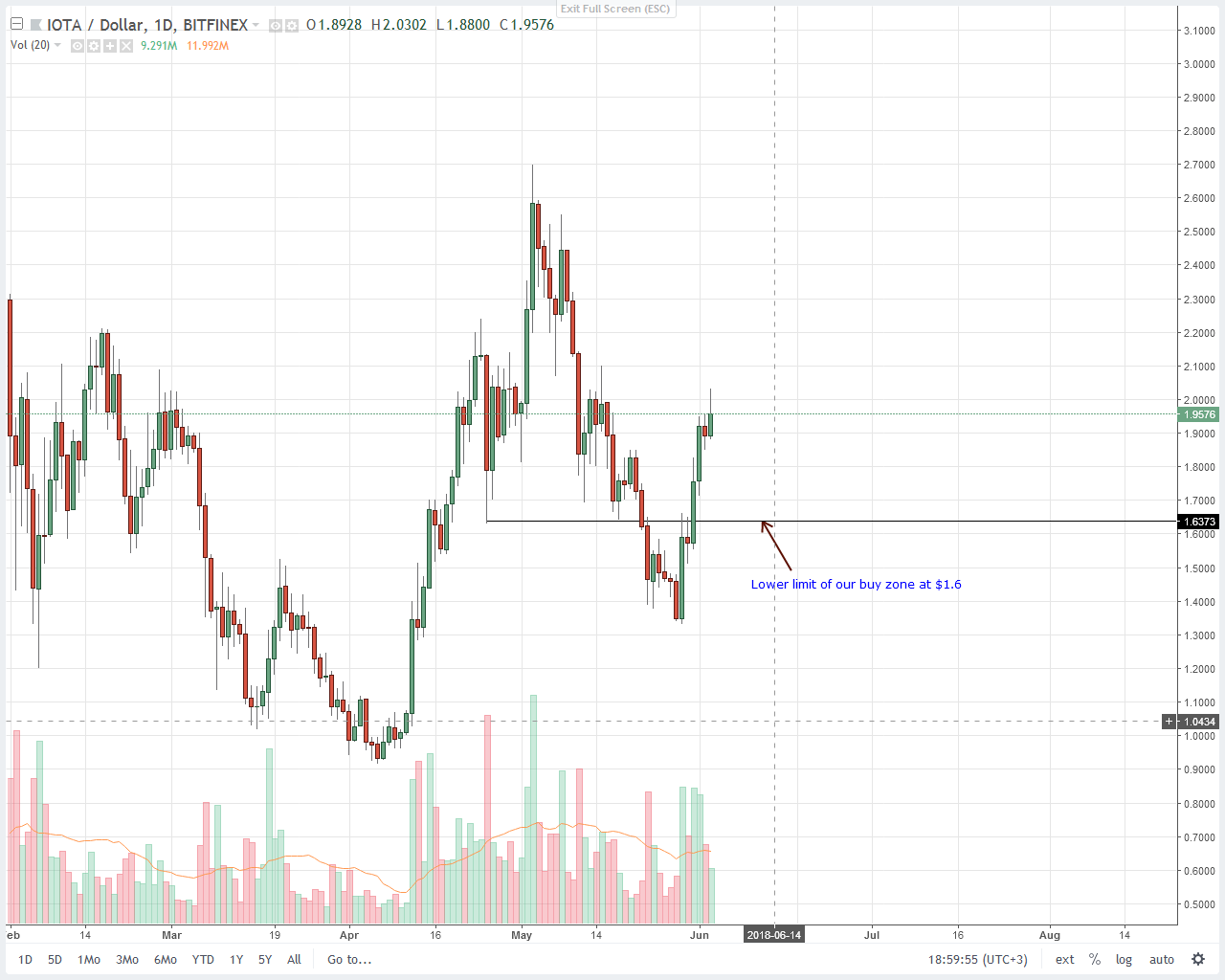 Slowly but surely IOTA is evolving as a standard for the machine to machine economy and not only as a communication protocol. We can easily judge this from the high level tech partnership and IoT hardware heavy weights backing Tangle technology. Sooner, we can begin seeing application of blockless technology in supply chains besides them acting as solid backbones in ID verification and in immutable systems.
In the charts, buyers are in charge but the idea here is not to buy on peaks. Zoom out to the weekly chart and notice that last week's candlestick is extremely bullish. As such, expect a pull back and in that regard, minor supports at $1.6 and $1.8 are potential reversal points where buy signals might print. That's where you should buy with stops at $1.5.