Tron Price Key Highlights
Tron is still hovering at the bottom of its long-term descending triangle, still deciding whether to bounce or to break.
A bounce could take it back up to the triangle top while a break could set off a steep drop.
Technical indicators are giving mixed signals at the moment but a small reversal pattern can be seen.
Tron is still testing the bottom of its long-term triangle and a small reversal pattern has been sighted.
Technical Indicators Signals
The 100 SMA is below the longer-term 200 SMA to signal that the path of least resistance is to the downside. In other words, this means that a downside break is more likely to occur than a bounce back to the resistance.
The 200 SMA also lines up with the top of the triangle around 0.07000 to add to its strength as a ceiling. The 100 SMA might also hold as dynamic resistance, but the gap between the two is narrowing to signal a potential upward crossover.
RSI is heading up so Tron could follow suit while buyers stay in control. Similarly stochastic is heading up to show that there's some bullish momentum left.
A triple bottom can be seen with the neckline at 0.06500. The chart pattern would be around 0.0050 in height so an upside break could lead to a rally of the same size.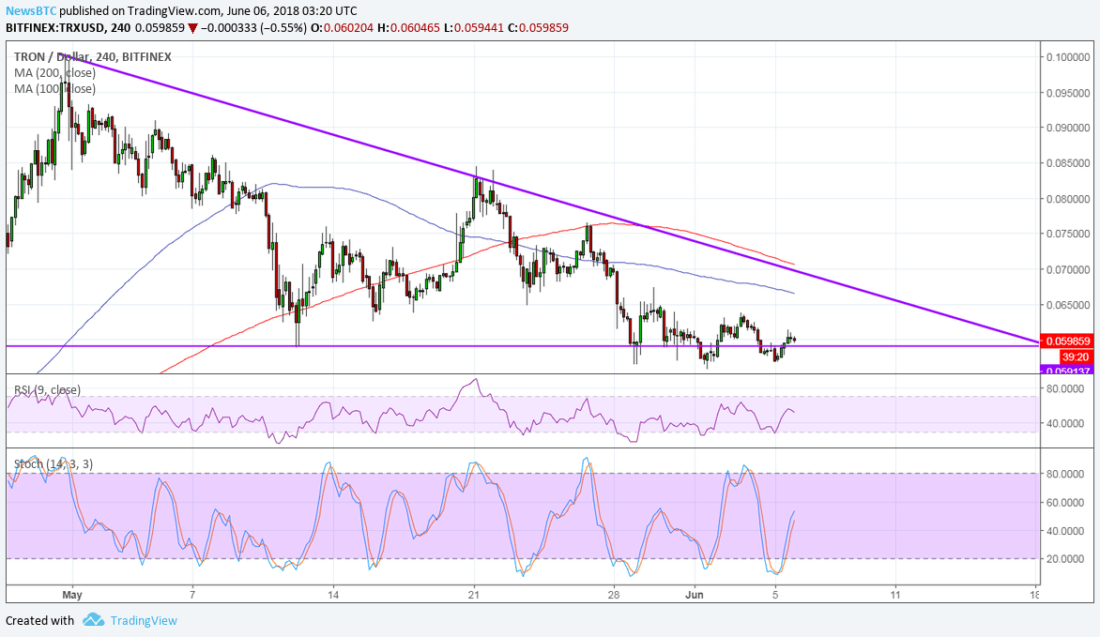 Market Factors
Tron remains in limbo while investors await further updates on the mainnet launch. Meanwhile, the company continues to forge partnerships that could enable this altcoin to tap into more applications.
For instance, Tron announced a partnership with crypto exchange builder Shift Markets to bring the altcoin to an increased number of global currency markets. The company announced that this enables them to have Tron traded via nine different brokers in nine different countries, with a few more brokers to be added in the coming weeks.