Binance, the world's largest crypto exchange, revealed on Wednesday that the ninth initial exchange offering on the Binance Launchpad will be TROY TRADE,  a global brokerage platform. The upcoming launch was announced by Binance on 25th November, It marks another significant milestone and the apogee of the team's many accomplishments achieved with the team's hard work over the past years since the project's inception.
What is TROY TRADE
Founded in 2018, Troy Trade is a global brokerage platform that specializes in cryptocurrency and asset management. Instead of opening a new Crypto exchange, Troy Trade just focused on professional traders. It is designed for professional traders and large money managers.
Troy Trade was known as the first true crypto prime brokerage in the world. Unlike Centralized Exchanges which takes your assets and offer an ability to trade based on that deposit, Prime brokerage may or may not act as custodian of its clients' funds, and will be able to guarantee its clients that they know who is the custodian of their digital assets.
Why TROY Trade?
Furthermore, Troy Trade just completed a $10 million USD fundraising which saw investments by BlockVC, NGC Ventures, Signum Capital, Consensus Labs, Bixin Invest, etc. It also offers never-ending advantages including:
Master-level trading platform, One account with a single interface enables full access to the aggregated liquidity of all crypto exchanges. Some key functions include smart order routing, flexible account management, settlement service, and automatic risk control.

Sophisticated Data Analytics Empower customer's decision making with a sophisticated framework of data matrix including blockchain data, trading data, market data, social data, and media data optimized by AI and quantitative models.

Diversified Brokerage Service Competitive fee rate and superior order execution speed. Real-time fund transfer and settlement service. Provide margin trading and OTC services with advanced convenience.

Full-stack quantitative solutions: Users experience co-location services that improve the performance of high-frequency trading algorithms and other services.
The service will be fueled by it's Troy native Token (TROY) which can be used for trading fees as well as to quickly link up two assets that do not otherwise have active or liquid markets. Also, token holders will be able to act as a broker, and these users are rewarded with extra TROY from the mining pool. TROY is a utility token that helps facilitate investment services for today's crypto products as demonstrated by Binance's BNB or Huobi's HT tokens.
TROY ON Binance Launchpad
The news was announced officially by Binance. The Token sale will follow a lottery & airdrop format, with the recording of user BNB balances already having started at 2019/11/03 00:00 AM (UTC). The exchange will record the user's BNB Balances for 30days starts from the 3rd of November. Read the Full details here. TROY will initially be issued as a BEP2 asset on Binance Chain.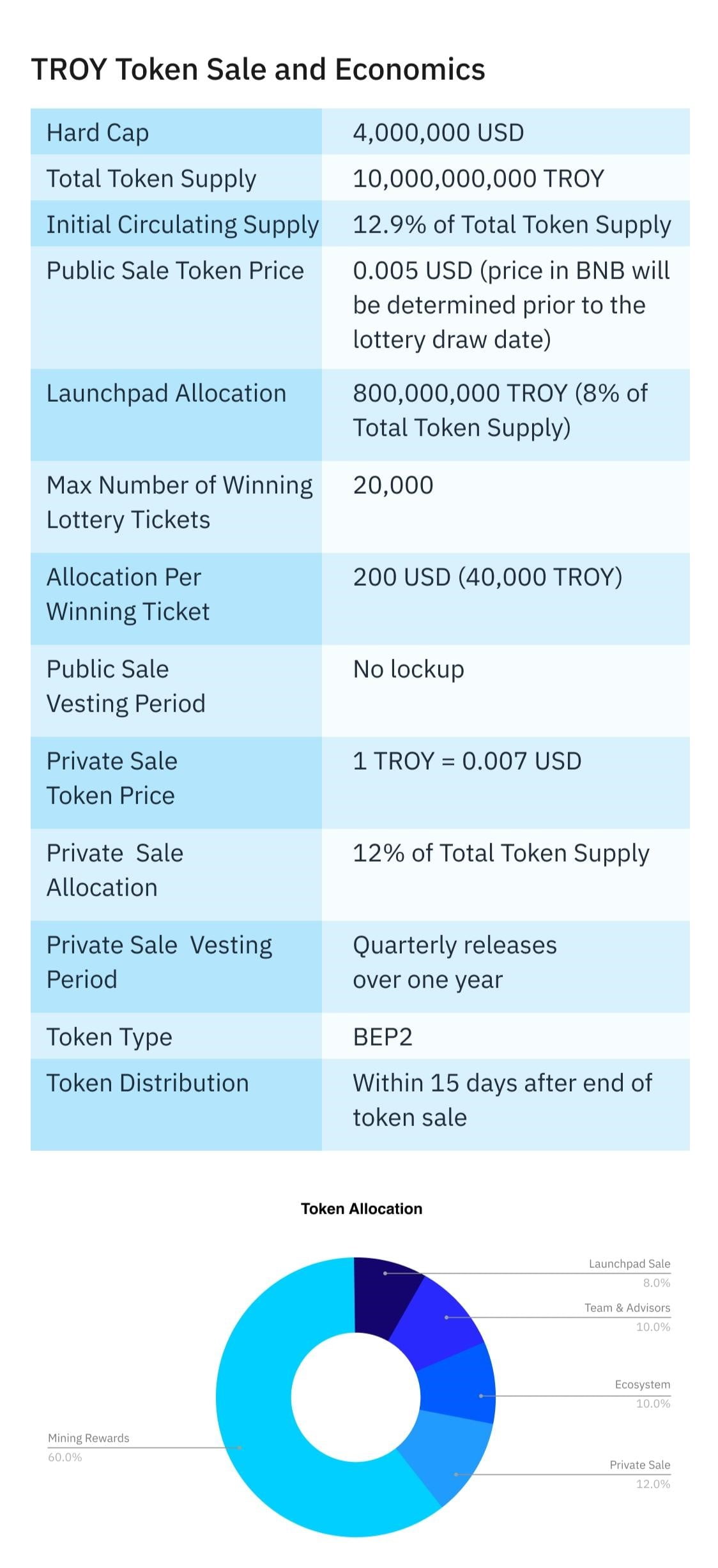 TROY Airdrop
Tokens available for the airdrop: 30,000,000 TROY tokens (approx 150,000 USD) split and airdropped to all launchpad participants that do not have a winning ticket.
In addition, a pool of 10,000,000 TROY tokens with approx 50,000 USD  split and airdropped to users with account verification from an eligible country or region who did not claim tickets, withheld at least 50 BNB at 2019/12/03 00:00 AM (UTC). 
Total Airdrop Pool: 40,000,000 TROY
Website: https://www.troytrade.com/