Ripple (XRP) is down 23.4 percent
Like Libra, proper regulation will see XRP soar
Steven Mnuchin presser highlights the significance of oversight. Appropriate controls would either destroy or boost Ripple's ambitions of building a sustainable web, the Internet of Value, where XRP plays a significant role. Currently, sellers are at the lead as prices tumble 23.4 percent from last week's close.
Ripple Price Analysis
Fundamentals
To flourish and positively impact livelihoods, Ripple's expansion largely depends on how regulators perceive their products. Of the three core solutions, xCurrent is the most adopted. At the same time, xVia is on the periphery while the use of xRapid is drawing unwanted attention.
Often, critics slam Ripple not because of their speedy and efficient options or their drive to replace legacy platforms, but on their view of centralization. Since the San Francisco based startup owns a majority of XRP, there are concerns that prices are prone to market manipulation.
It's all because XRP is a liquidity tool, a medium of exchange which facilitate near instantaneous conversion of fiat. Already, Ripple has forged partnerships with leading exchanges like Bitstamp, Bittrex, and Bitso opening up corridors to Mexico and the Philippines.
However, if there is clarification on what XRP is-whether it is a utility or security, then payment providers as Ramessa Online, for example, will quickly jump in, upgrade to version 4 of xCurrent incorporating xRapid in their operations.
Because of this need, the US Secretary of Treasury, Steven Mnuchin, in a recent presser addressing regulations said:
"With regard to Facebook's Libra, our overriding goal is to maintain the integrity of our financial system and protect it from abuse. We'll make sure the general public and investors understand what they're investing in and whether it's the SEC or other regulators there [will be] proper disclosures."
Candlestick Arrangements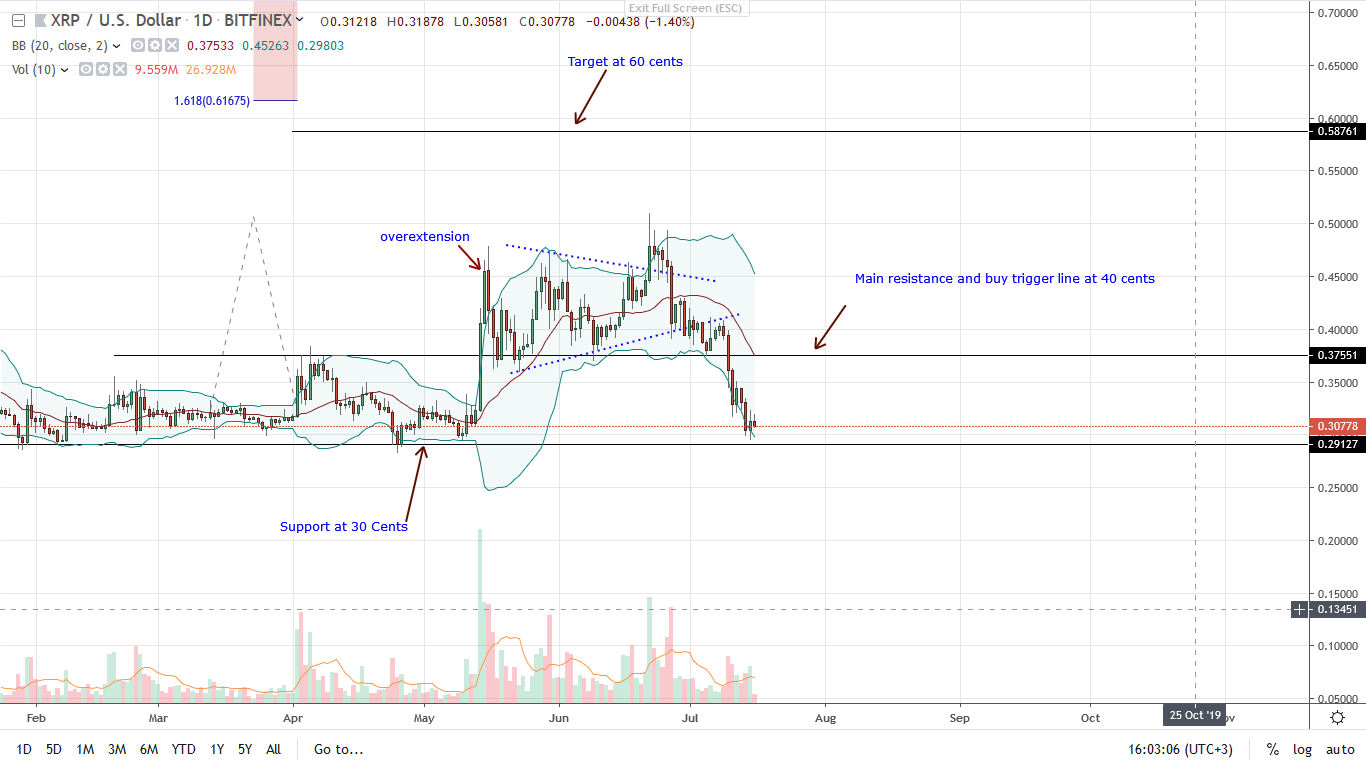 At the time of writing, XRP is down 23.4 percent week-to-date. Retesting the main support line of 30 cents, bears are in control. To reiterate, the short-to-medium term price trajectory of XRP depends on reaction at Q1 2019 support.
If the latter is the case, buyers stand a chance. As a result, aggressive traders would buy the dips. After that, first target will be at 34 cents and later 40 cents.
Not only will this confirm an extended continuation, but the positive reaction will set in motion a possibility of a strong surge past 40 cents and even 50 cents to Sep 2018 high of 80 cents validating this trade plan's stance.
Technical Indicators
In that case, a trend defining or nullifying candlestick must have high trading volumes exceeding 187 million of May 14. The bar, in this case, must either lead prices above 40 cents or close below 30 cents triggering panic sells with targets at 17 cents or lower.
Chart courtesy of Trading View. Image Courtesy of Shutterstock