Ripple the company and XRP the native coin within the RTXP protocol is having it rough from both planes—fundamentally and technically. Week over week, it is down 40 percent and shedding more than 85 percent from Dec 2017 peaks. If it continues this way—and specifically if the SEC says the coin is a security–then we might see XRP printing 2 cents in days to come. This is regardless of the near decentralization strategy in place that has since reduced Ripple control to 48 percent in their UNL list.
From the News
There is this thorn call centralization that Ripple the company is trying hard to lodge out. Every Tom and Dick always pulls the centralization card when cornered but with the company's decentralization strategy in place, XRP is on course of becoming the most decentralized coin in the crypto space.
Remember, even decentralization poster coins as Bitcoin and Ethereum are centralized-talk of mining pools. In fact the centralization in Bitcoin is so bad that ordinary investors who would otherwise want to mine the coin don't stand a chance because of Bitmain's influence. There is even rumor that the ASIC manufacturer can actually attack the network now that they own less than 6,500 BTCs.
https://twitter.com/RabbitKickClub/status/1029133118941405184
On their part Ripple have been on a decentralization path and now controls and operate just 10 validator nodes from the 21 in the RTXP unique node list. Over time, Ripple have been removing their node for every two third party nodes that is joins the UNL.
So, as it stands 11 nodes are under the control of third parties meaning Ripple the company controls a mere 48 percent of the total network and can't make decision without consulting other node operators. Furthermore, node operators can decide which of the 21 nodes can process their transaction meaning there is decentralization by choice.
XRP Technical Analysis
Weekly Chart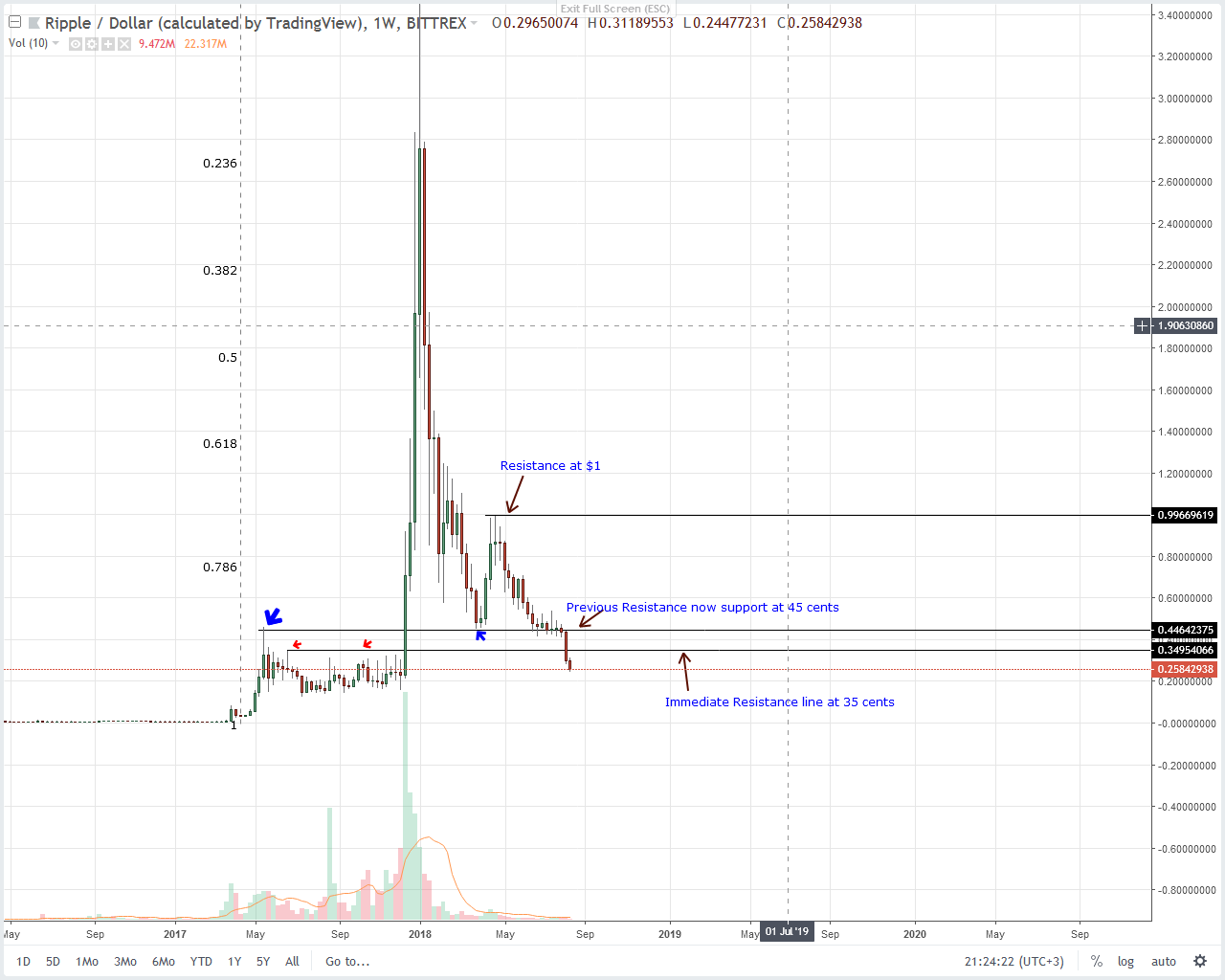 At current prices, XRP is just 10 cents away from testing Q3 and 4 2017 lows. It's also down in the excess of 85 percent from Dec 2017 peaks showing how strong bears have been. In line with our previous XRP trade plan, we expect a follow through and XRP prices to be clipped mostly by unfavorable fundamentals around XRP.
As we can see from the chart, last week's bear engulfing candlestick was actually a confirming bar breaking off that late June-July 10 cent consolidation with floors at 40 cents. Now, since our trade plan is right on course, we recommend selling at current spot prices with targets at 15 cents as before.
However, if risk reward ratios don't allow, then I suggest holding off until after prices hit 15 cents a key support line. Should there be a break below, then we shall short XRP with second targets at 2 cents or there about.
Daily Chart
Over a 24 hour period, XRP is down eight percent and poised for more since the trend is bearish. In light of the general altcoins sentiment and SEC failure to spell out their decision on whether the coin is a security or not, chances are the coin might not find support gifting sellers another opportunity to add on to their shorts. As long as the stalemate continues, we recommend shorts with first targets at 15 cents and later 2 cents as our last XRP technical analysis dictates.
Disclaimer: Views and opinions expressed are those of the author and aren't investment advice. Trading of any form involves risk and so do your due diligence before making a trading decision.