Action in the bitcoin price today has been relatively lackluster, once again, but it looks as though things might heat up this evening. We managed to get in a little earlier on a breakout scalp trade, but apart from that, things have been pretty flat. We're heading into this evening's session with some degree of optimism, however, based on an expectation of a volume boost come the late US session.
Without dwelling too much on the action seen during the day, then, and as ever, let's close out the European session with a look at how things played out today, and where we are looking to get in and out of the markets on any volatility as action in the bitcoin price matures this evening.
Before we get things moving, take a look at the chart below to get an idea of the levels in focus. It's a five minute candlestick chart showing the last six or seven hours' worth of action in the bitcoin price, and it's got our key levels highlighted in green.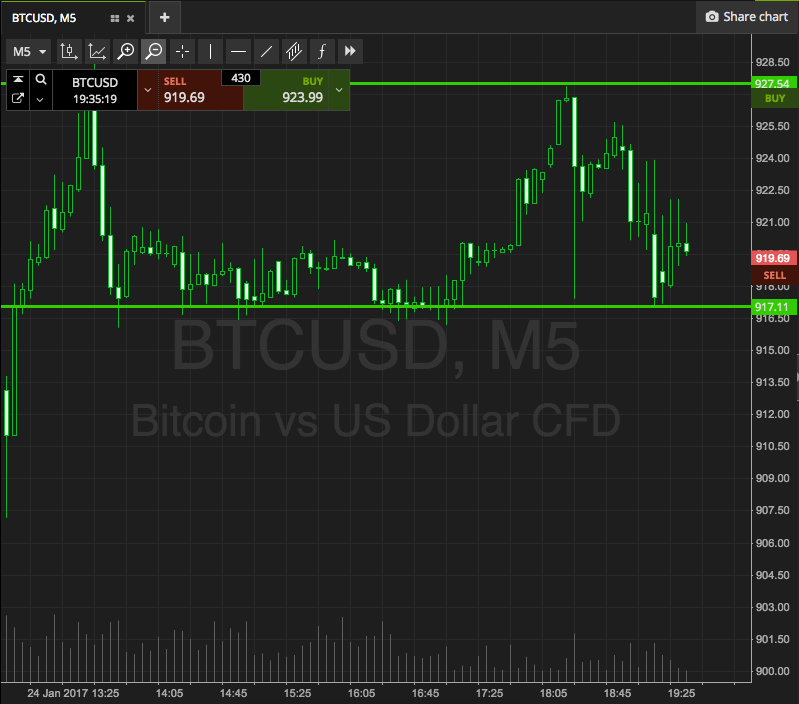 As the chart shows, then, we are looking at a range defined by in term support to the downside at 926 and in term resistance to the upside at 934. There is only around eight dollars' worth of range available on this one, so we've not really got enough room to go at price with an intrarange approach. As such, we'll be moving forward with a breakout approach only.
So, for our breakout entries, we will look for a close above resistance to give us an excuse to get in long, and we'll go after an upside target of 944. A stop on this one at 930 works well to define our risk
Conversely, a close below support will signal short towards 915 and we'll use a stop loss around 928 to ensure we are taken out of the trade in the event of a bias reversal.
Charts courtesy of SimpleFX