It appears that decentralized finance (DeFi) bulls have finally returned. Aave (AAVE), one of the leading crypto-assets in the DeFi space, has surged 25% in the past 24 hours alone.
This $AAVE reversal is legendary 🙌

— Spencer Noon (@spencernoon) November 8, 2020
This performance makes the coin the best-performing cryptocurrency in the top 100 by market capitalization. For further context, Bitcoin has gained five percent in the past 24 hours, as has Ethereum. The two leading cryptocurrencies have surged rapidly since the weekend lows.
Aave is set to continue higher, analysts say, as a result of trends in the market.
Aave Could Continue Higher Amid Short Squeeze
Analysts think that AAVE will continue its descent as the futures markets for the cryptocurrency indicate that a short squeeze may be taking place. One crypto-asset analyst shared this chart below amid the move higher, noting how the funding rate is seriously negative as open interest in these markets has begun to tick higher. This suggests an increase in short activity.
The issue is that at the same time, AAVE has pushed higher, putting short positions in a situation where they will need to close their positions to preserve their capital or wait until they are potentially short squeezed.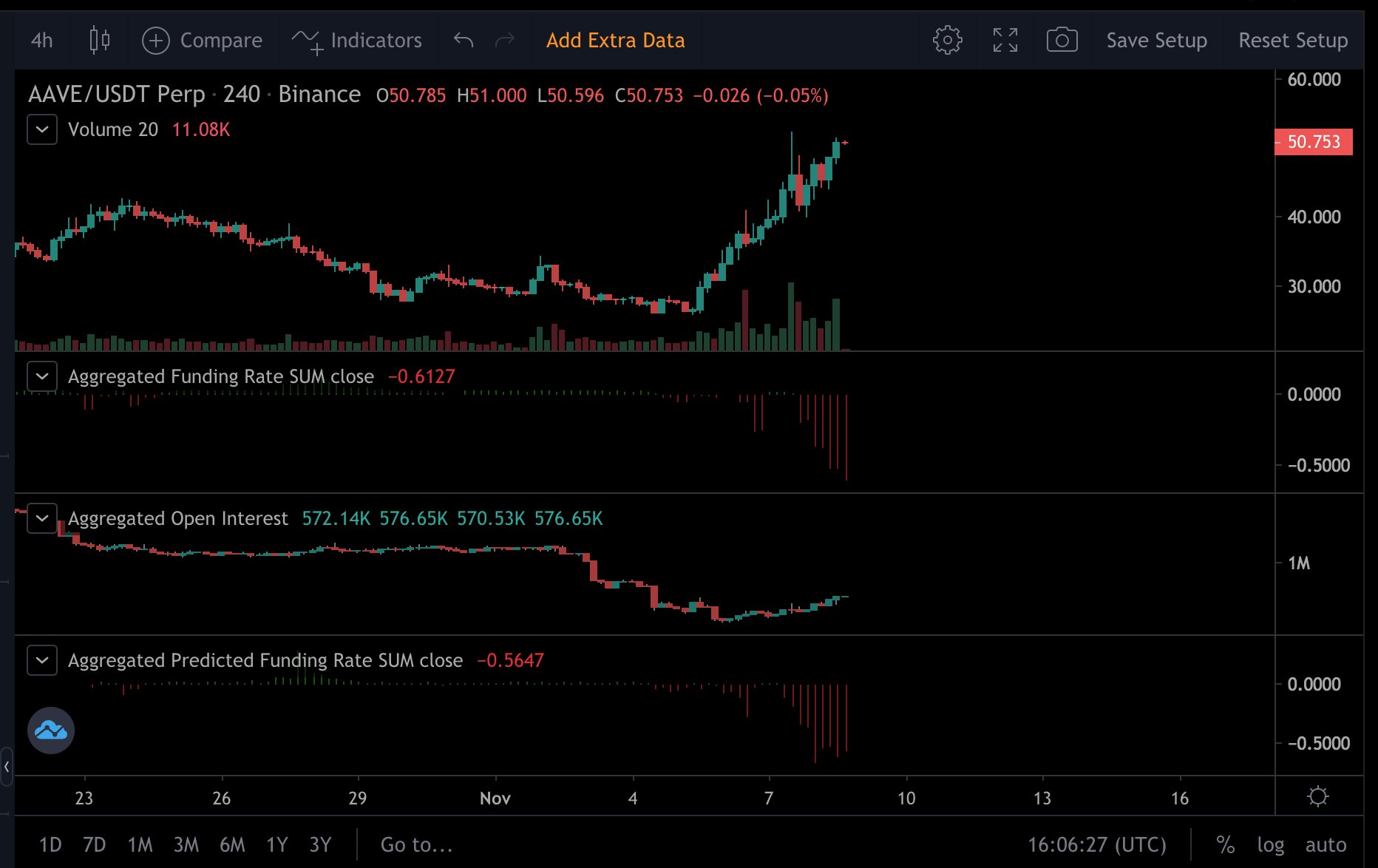 Chart of AAVE's price action over the past few weeks with an analysis of the futures market by crypto trader Mac (@MacnBTC on Twitter).
Source; AAVEUSD from TradingView.com
Institutional Accumulators
It appears that this correction to the upside is being triggered by institutional capital coming into the DeFi market.
Multiple fund managers and notable traders in the space have noted that they have been purchasing the cryptocurrency. The negative funding rate despite the increased price also suggests a spot-led rally.
Even still, some aren't convinced that the bottom is in for the DeFi market. One analyst commented:
"I constantly update my views and unfortunately it looks like there's going to be more pain in DeFi. Originally I thought we won't see a 80-90% crash which is typical of alts because of the level of sophistication of DeFi investors but that thesis is being invalidated."
Ari Paul, CIO and CEO of BlockTower Capital, also noted previously that even though an asset class has dropped 85%, it could drop even further. He did not explicitly say that it would drop further, but noted that this space has an entirely feasible chance of dropping an extra 60% to the macro lows.
Featured Image from Shutterstock
Price tags: aaveusd, aavebtc, aaveeth
Charts from TradingView.com
Aave Surges 25% as DeFi-Wide Short Squeeze Seems to Have Begun