It's been an extremely poor month for the Ethereum decentralized finance (DeFi) space. Leading coins pertaining to this fledgling space have shed dozens of percent from their all-time highs, set either in August or in early September.
Take the example of Yearn.finance (YFI), which has dropped from its all-time high of $44,000 to $14,000 as of this article's writing. Surprisingly, it actually isn't the worst-performing DeFi: Curve DAO Token has dropped over 95% from its all-time high.
While it fears that the worst is yet to come for some holders, certain segments of the market are coming to a realization that a bottom is likely near for this space. This positive sentiment is somewhat predicated on the fact that the fundamentals of the DeFi space are stronger than ever.
Ethereum DeFi Likely Nearing a Bottom, Analysts Say
The Ethereum DeFi market is likely nearing a bottom after most popular tokens have dropped by upwards of 60-70%, analysts say.
Alex Krüger, an economist and market analyst closely following Bitcoin and DeFi, recently noted that DeFi coins have emulated the 2018 ICO market. This is relevant because he notes that unlike ICOs, these decentralized finance coins have positive fundamentals that should mean they're likely long-term undervalued at current levels:
"In 2018 many ICO tokens experienced a 95% crash in the span of a year. In 2020 some DeFi tokens expeienced a 95% crash in the span of a month. Most 2018 ICOs were scams. Many of these 2020 DeFi tokens are actually good projects that unfortunately were bought up too fast in a rabid frenzy. Market is likely close to its bottom and should experience a bull run in 2021, along with bitcoin."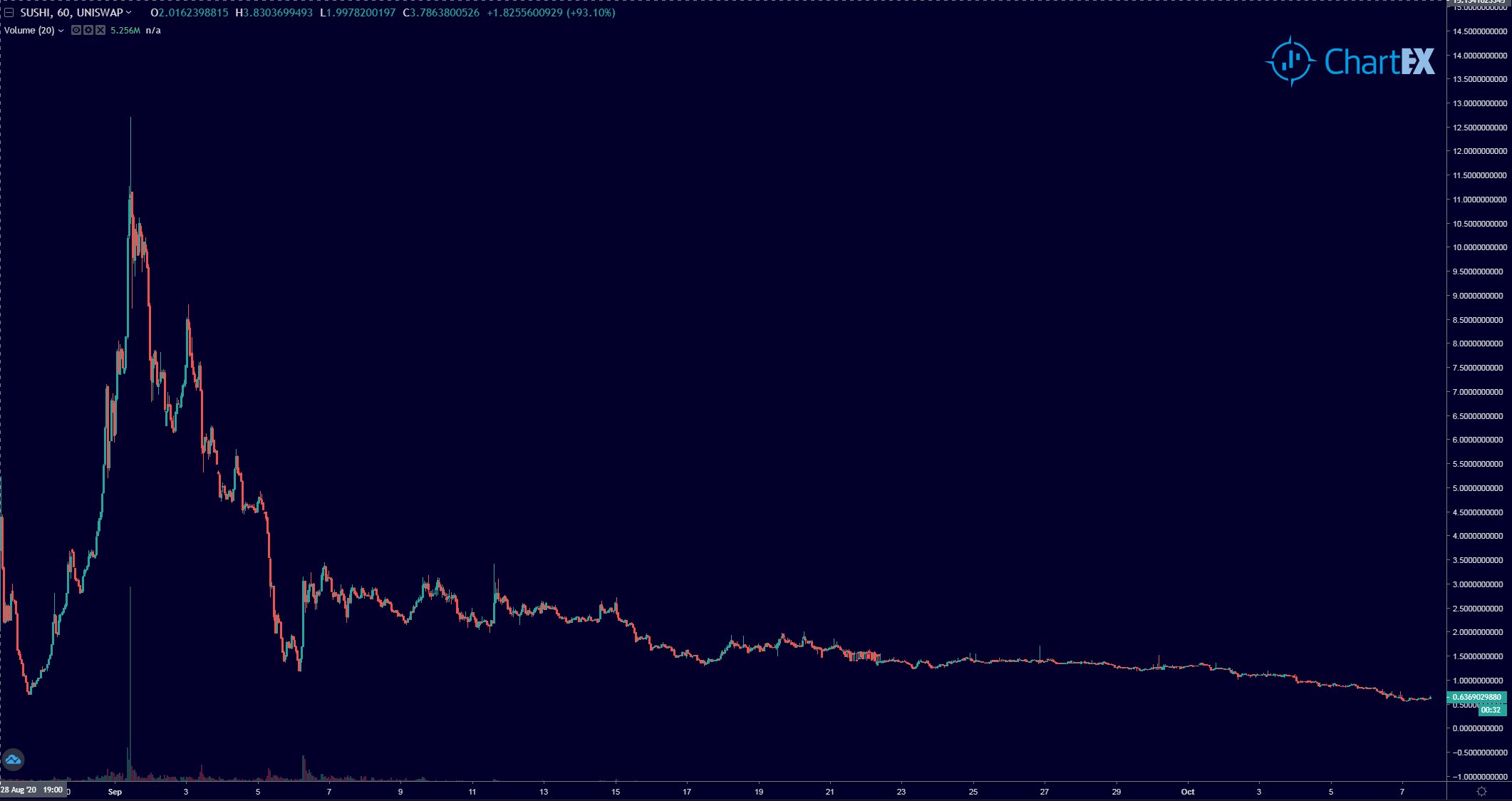 Chart of SUSHI's price action since the start of September with analysis by Alex Kruger. Chart from TradingView.com
Related Reading: Critical On-Chain Signal Predicts That Bitcoin's Next Move Will Be Upward
Strong Fundamental Trends To Drive Further Growth
Showing that DeFi is still fundamentally bullish, MetaMask, a leading Ethereum-focused wallet, announced that it has surpassed one million monthly active users. This is 300 higher than seen a year ago:
"Additionally, over the last twelve months, significant growth in the adoption of DAOs, Web3 games and the rapid consumer uptake of DeFi products and services has further accelerated our growth curve. It's not just the ability to buy and store Eth that's powering our new phase of growth. When you think about it, people don't really want a wallet. They want to invest, sell, lend, borrow. They want to use sites like Uniswap, Yearn, Curve, Maker and Aave to get that job done. MetaMask is simply the connective tissue."
Santiago R Santos, a partner at crypto fund ParaFi Capital, recently mentioned this fact along with others to suggest that Ethereum's DeFi space will see further growth.
Other factors he mentioned include the strong uptick in U.S. dollar stablecoin supply and the rapid development of layer-two scaling solutions.
Photo by Jonny Caspari on Unsplash
Price tags: ethusd, ethbtc
Charts from TradingView.com
Here's Why Ethereum's DeFi Market May Be Near A Bottom