Relative to Lumens-whose prices are "calm", the depreciation in LTC, NEO, Monero and EOS has been astounding.
While we expected this to be the norm especially after prices broke below the middle BB and $200 in LTC daily chart, it is NEO that is turning out to be interesting.
Over the past 2-3 days, NEO FUDs were being spread and while at it we had ONT air drop and that might have dragged down prices a little bit. At the moment, $85 remains a key support line while $4.2 is the next bear target line for EOS sellers.
Let's have a look at these charts:
XLM/USD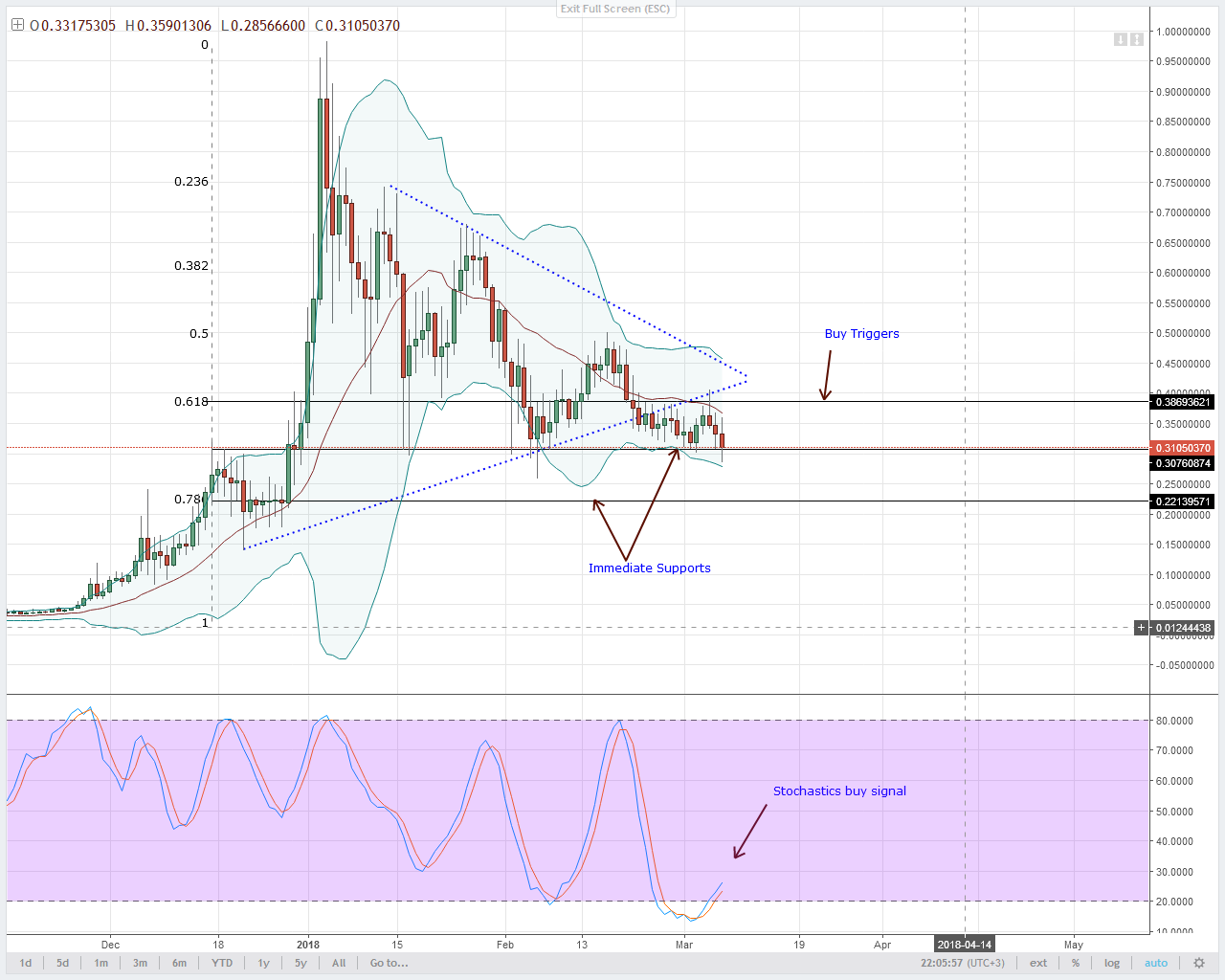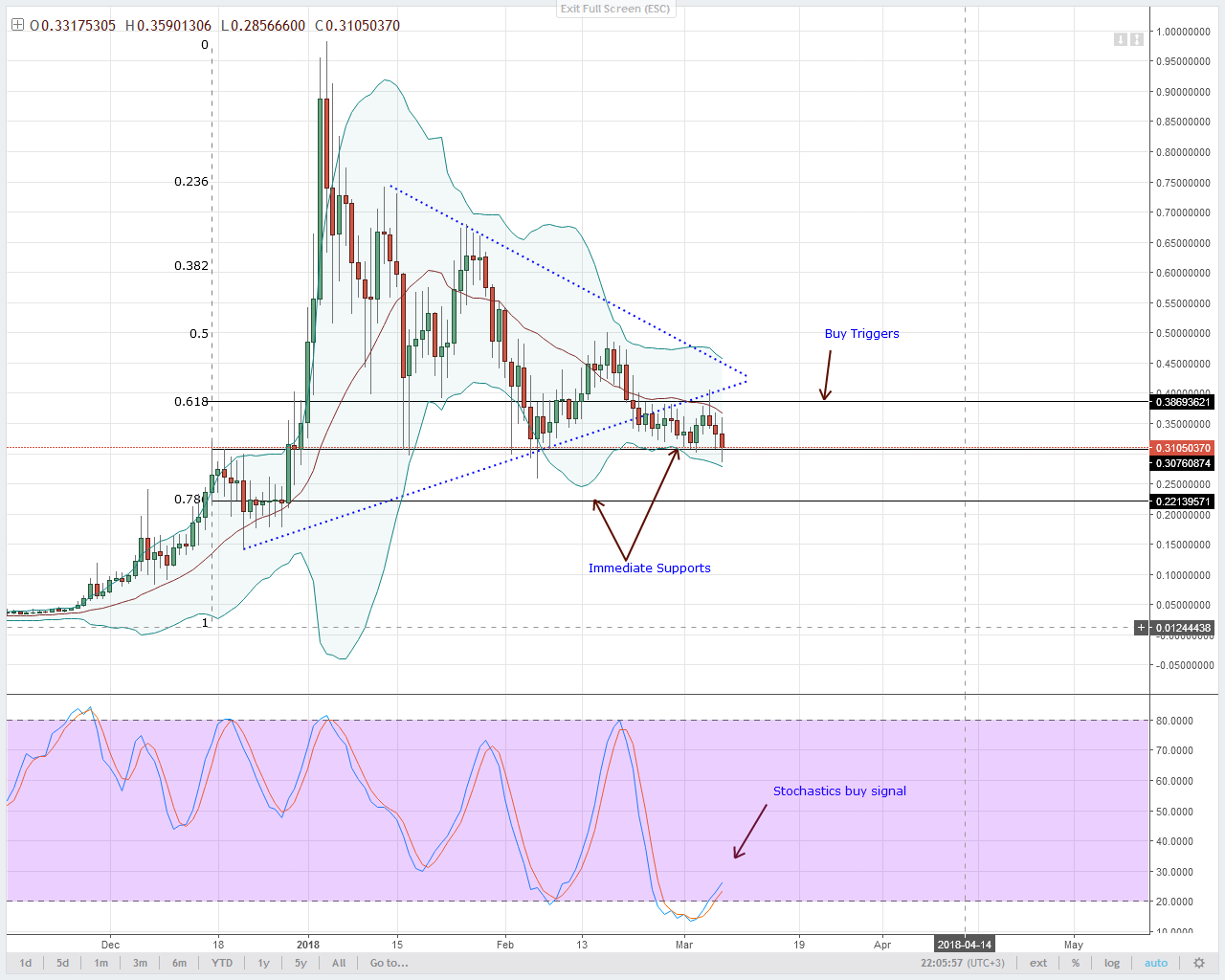 The last couple of hours have been volatile for Lumens and it continues to be especially if there is a breach of $0.30 main support-clear in the daily chart.
At the moment, we expect the same reaction as it is in the 4HR chart-that of rejection of lower lows as the stochastics shows.
Both the daily and 4HR stochastics are turning from deep the over-sold territory and the fact that both have buy signals means there is momentum building up from the bottom up.
In my opinion, if a bullish candlestick prints anywhere between $0.28-March 7 lows and $0.30 then we can have a reason to buy. Otherwise, any further depreciation might see prices hit the 78.2% Fibonacci retracement level at $0.22.
XMR/USD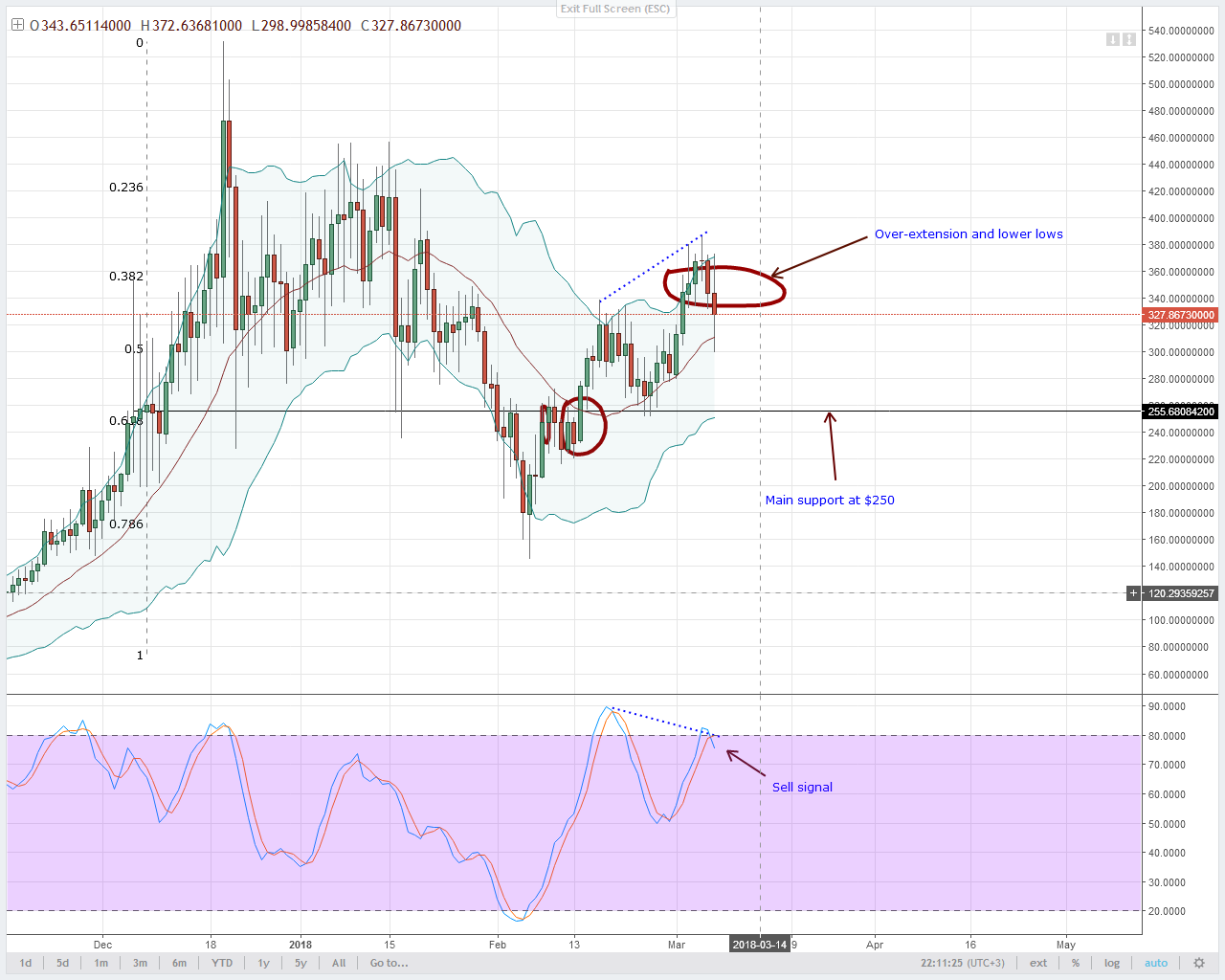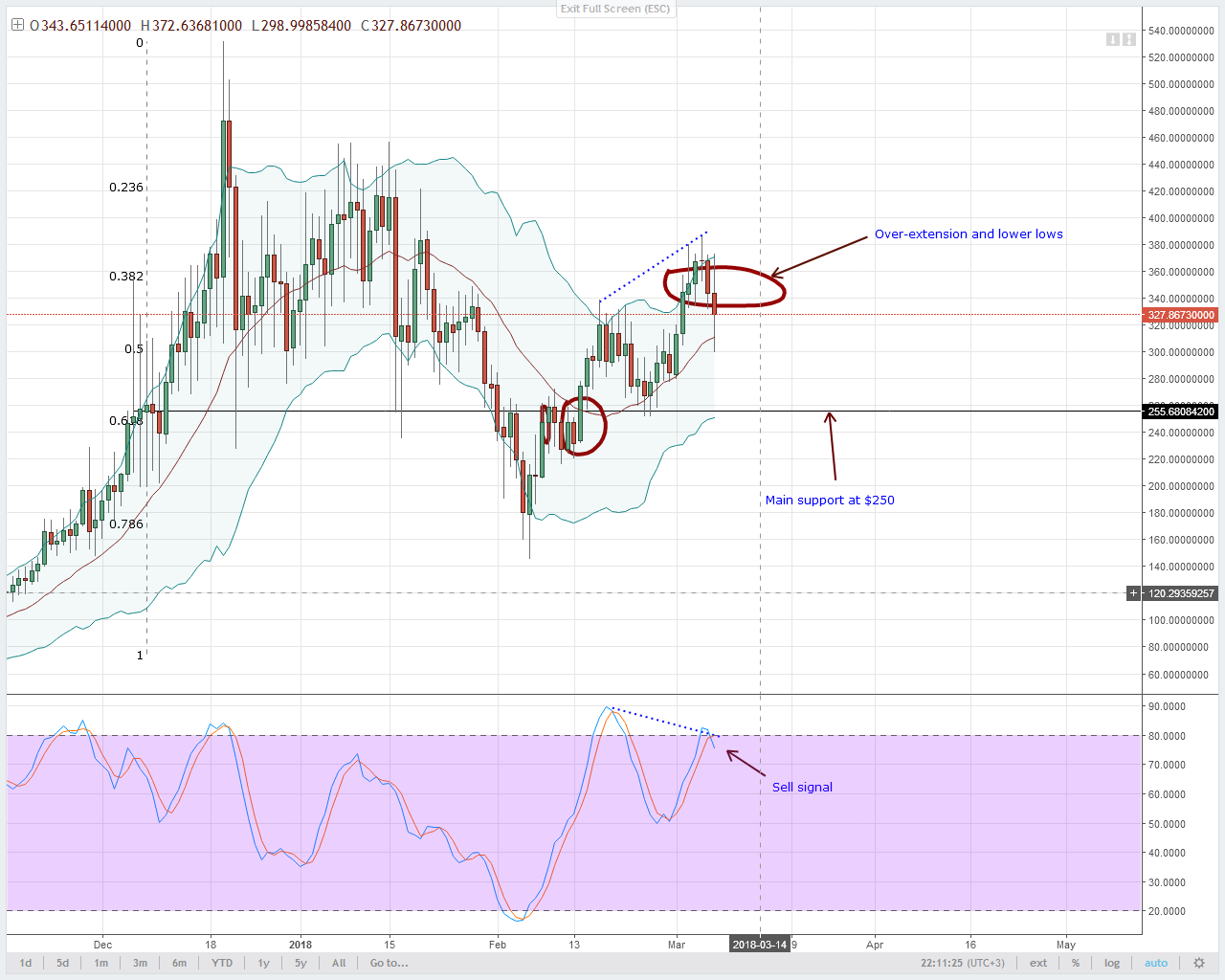 Besides the bear divergence pattern between price action and stochastics, sellers can remain positive now that there is a clear sell pressure confirmation after yesterday's bear candlestick.
If we extract some details from our previous analysis then we notice that not only is the middle BB at around $300 our first support line but any strong collapse of Monero valuation below it will open the door for a retest of $250.
From price action, that's likely to happen and as such bears should in selling opportunities in lower time frames to sell this coin ahead of their MoneroV hard fork and Air Drop.
EOS/USD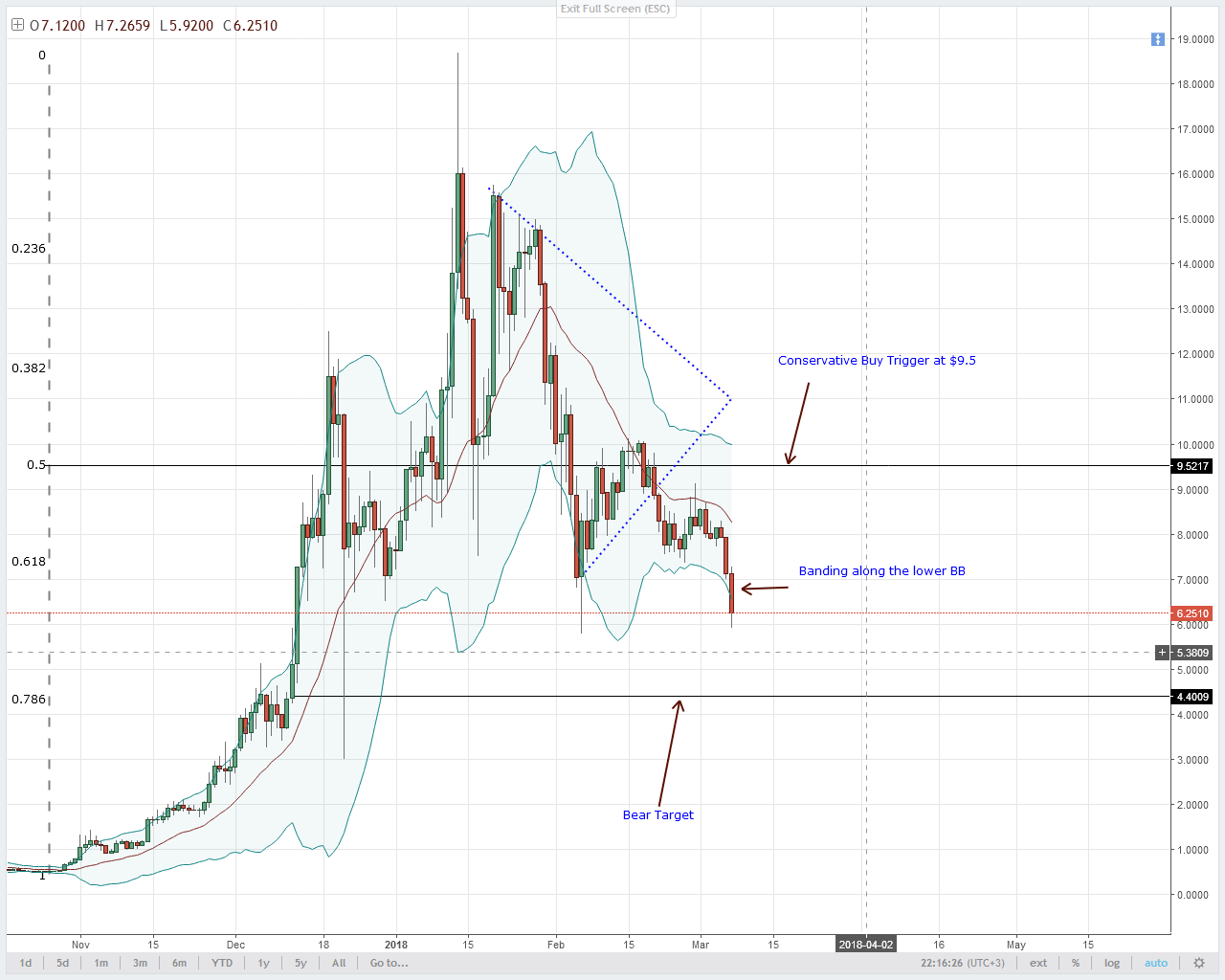 It's evident that sellers are in charge and while we maintain our short term support at $5.8, price erosion has been strong.
In this regard, we shall move our 2nd level of support and bear target to $4.2, the 78.6% Fibonacci retracement level.
Chances of this happening is also high and we should borrow from the way EOS prices are diverging away from the middle BB and the fact that candlesticks are actually banding along the lower BB. This means bear momentum is high.
LTC/USD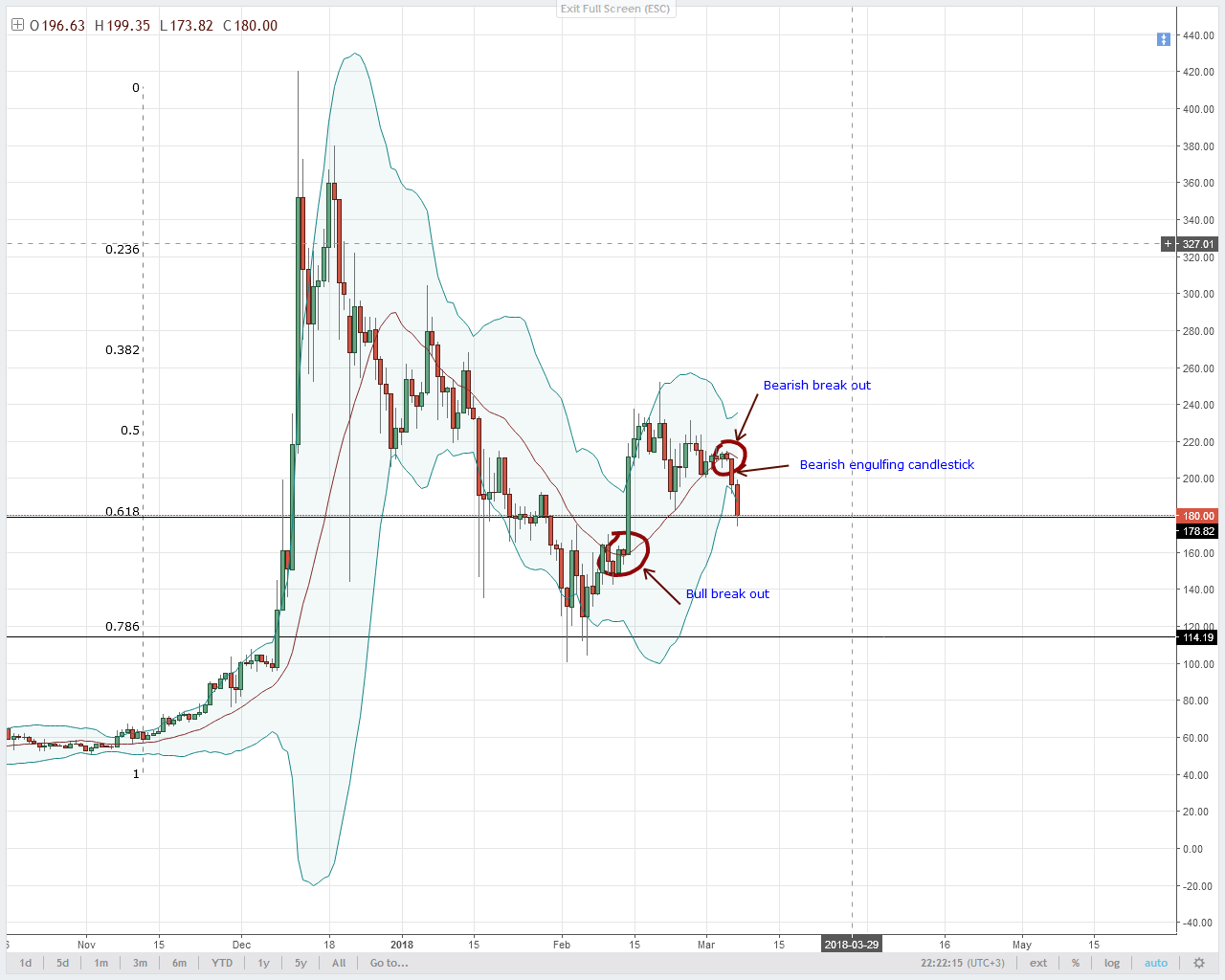 Referring to yesterday's forecast, we can see that LTC is actually trending at around the 1st Take Profit level and the 68.2% Fibonacci retracement level.
Because of yesterday's bearish confirmation, LTC sellers can move their stops to break even while those who didn't get in earlier can wait for stochastics sell signals in lower time frames. Then again, LTC bear candlesticks are now banding along the lower BB meaning sell momentum is high.
Even if there is an appreciation of prices, our immediate resistance is March 7 highs of $200. Otherwise, yesterday's forecast remains pretty much the same.
NEO/USD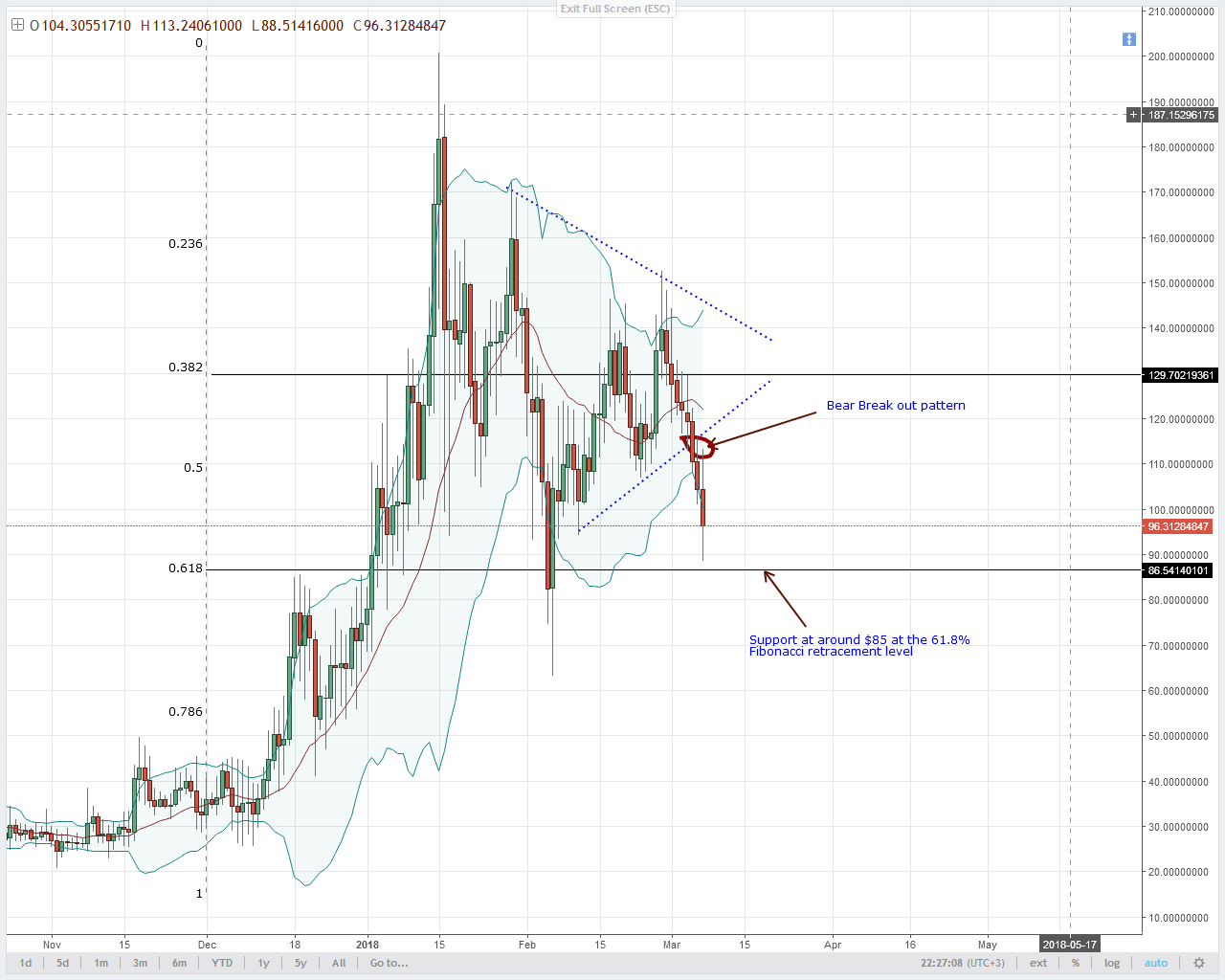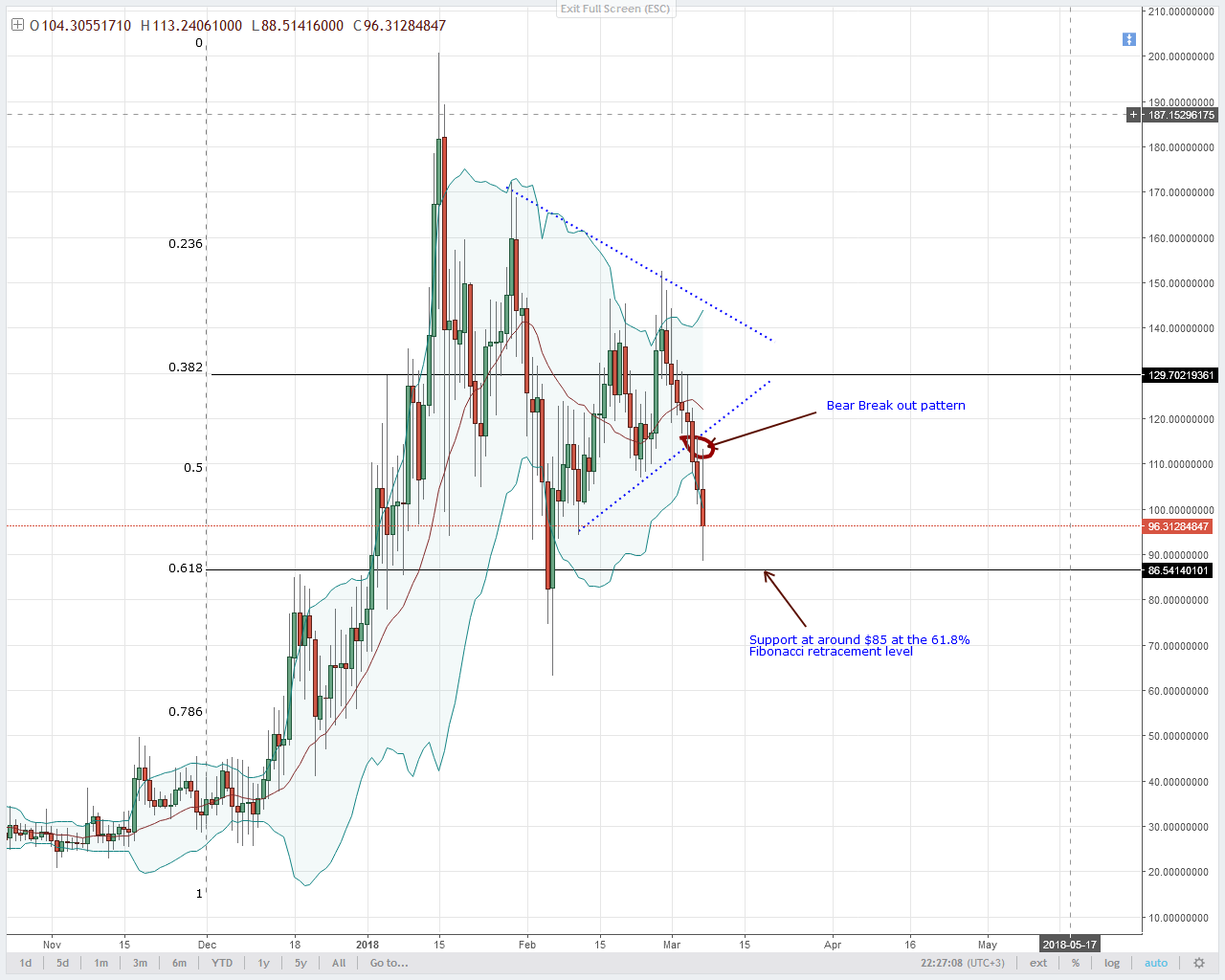 Sell momentum is high and according to our earlier trade plan, it's better to take NEO sells only and aim for $60.
For that to be applicable, traders can actually zoom in and check the 4HR chart or less for stochastics sells and ride with the wave.
Today, I will watch what happens at the 61.8% Fibonacci retracement line at around $85. Any bull candlesticks say in the 4HR chart might dilute this sell pressure.
All BitFinex, Bittrex and CoinBase charts courtesy of Trading View