The total crypto market cap is currently trading in a range below the $290.0B resistance.
Bitcoin price is also consolidating above the $10,500 support and is preparing for the next move.
BCH price broke the $320 resistance, but it is struggling to gain momentum.
EOS price is up around 2% and it recently traded above the $4.100 and $4.200 resistances
Stellar (XLM) price is slowly moving higher towards the $0.0950 and $0.1000 resistance levels.
Tron (TRX) price is likely to continue higher and it might soon break the $0.0300 resistance area.
The crypto market cap and bitcoin (BTC) are preparing for the next break. Ethereum (ETH), BCH, stellar (XLM), ADA, EOS, ripple, and tron (TRX) are currently showing positive signs.
Bitcoin Cash Price Analysis
After struggling for a few sessions, bitcoin cash price successfully broke the $300 resistance against the US Dollar. The BCH/USD pair even broke the key $320 resistance level and it is currently consolidating gains. An immediate resistance is near the $328 and $330 levels.
If there is an upside break above $330, the price could accelerate higher towards the $350 level. On the downside, an immediate support is at $320, below which it could revisit the $305 support area.
Stellar (XLM), EOS and Tron (TRX) Price Analysis
EOS price started a solid recovery after forming a support base above $3.600. The price broke the key $4.000 resistance level to move into a positive zone. Moreover, the price broke the $4.200 resistance and it might continue to rise towards the $4.400 and $4.500 resistance levels.
Stellar price slowly recovered above the $0.0850 resistance level. XLM price even broke the $0.0900 resistance level and it is currently consolidating. It seems like the price could rise towards the $0.0980 and $0.1000 resistance levels in the coming sessions. On the downside, the key supports are $0.0900 and $0.0880.
Tron price is showing a lot of positive signs above the $0.0250 and $0.0280 resistance levels. TRX price is about to break the $0.0300 resistance level and it might continue to rise. The next major resistance is near $0.0320, above which it could test the $0.0350 resistance.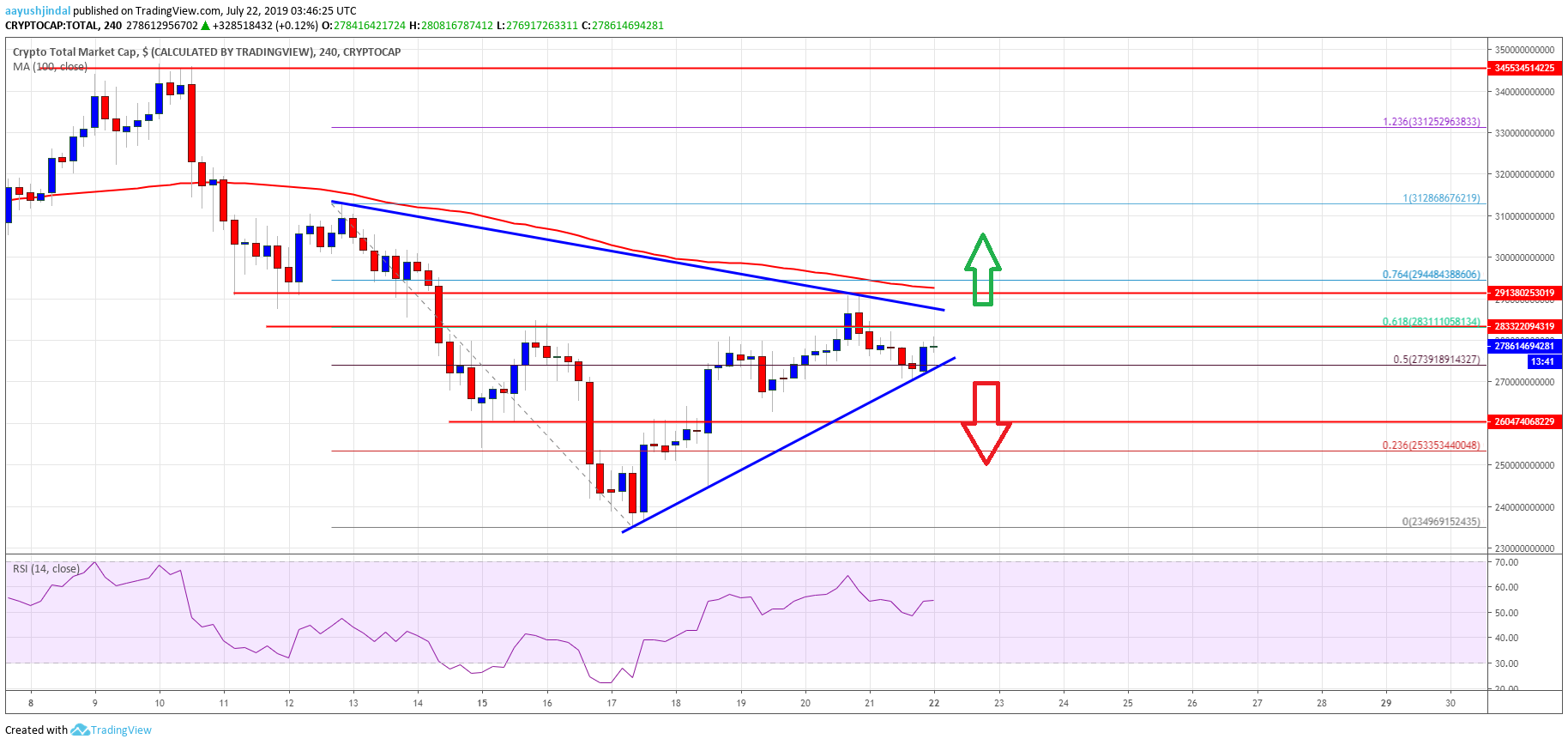 Looking at the total cryptocurrency market cap 4-hours chart, there was an upside extension above the $280.0B resistance level. However, the market cap struggled near the $290.0B level and remained below the 100 SMA. At the moment, the market cap is consolidating in a range, with resistance near $290.0B and support at $272.0B. If there is a downside break below $272.0B and $270.0B, there could be more losses towards $250.0B. On the upside, a close above $290.0B might spark sharp gains in bitcoin, Ethereum, EOS, ripple, litecoin, bitcoin cash, XLM, TRX, BNB, WAN, WTC, ICX, and other altcoins in the near term.