The total crypto market cap is holding an important support area near the $185.0B level.
Bitcoin price is struggling to continue higher and trading close to the $7,200 support.
EOS price is down 2% and it is now trading near the $2.600 support area.
Binance Coin (BNB) is down 3% and it failed to stay above the key $14.00 support.
BCH price is declining towards the $205 and $200 support levels.
Tron (TRX) price is facing a strong resistance near the $0.0136 and $0.0138 levels.
The crypto market cap and bitcoin (BTC) are holding important supports. Ethereum (ETH), binance coin (BNB), ripple, BCH, tron (TRX), litecoin and EOS are struggling to continue higher.
Bitcoin Cash Price Analysis
After a fresh increase above the $205 resistance, bitcoin cash price found resistance near $215 against the US Dollar. The BCH/USD pair failed to continue higher and started a downside correction below $210.
It is now moving closer towards the $205 support area, below which it might test the $200 support. Any further losses could restart downtrend and the price might slide towards the $185 support level.
Binance Coin (BNB), EOS, Tron (TRX) Price Analysis
EOS price climbed higher recently above $2.600, but it faced resistance near the $2.700 level. A high was formed near $2.700 and the price started a downside correction. The price is now trading near the $2.600 support, below which it may perhaps test the $2.500 support area.
Tron price is struggling to gain momentum above the $0.0136 and $0.0138 resistance levels. The main resistance is still near $0.0140, above which the price might continue to rise in the near term. On the downside, the key support is near $0.0130, below which the price could decline heavily.
Binance coin (BNB) struggled to climb above the $14.40 area. As a result, BNB price started a fresh decline and broke the $14.20 and $14.00 support levels. The price is now approaching the $13.75 support level, below which it might even test the $13.50 area.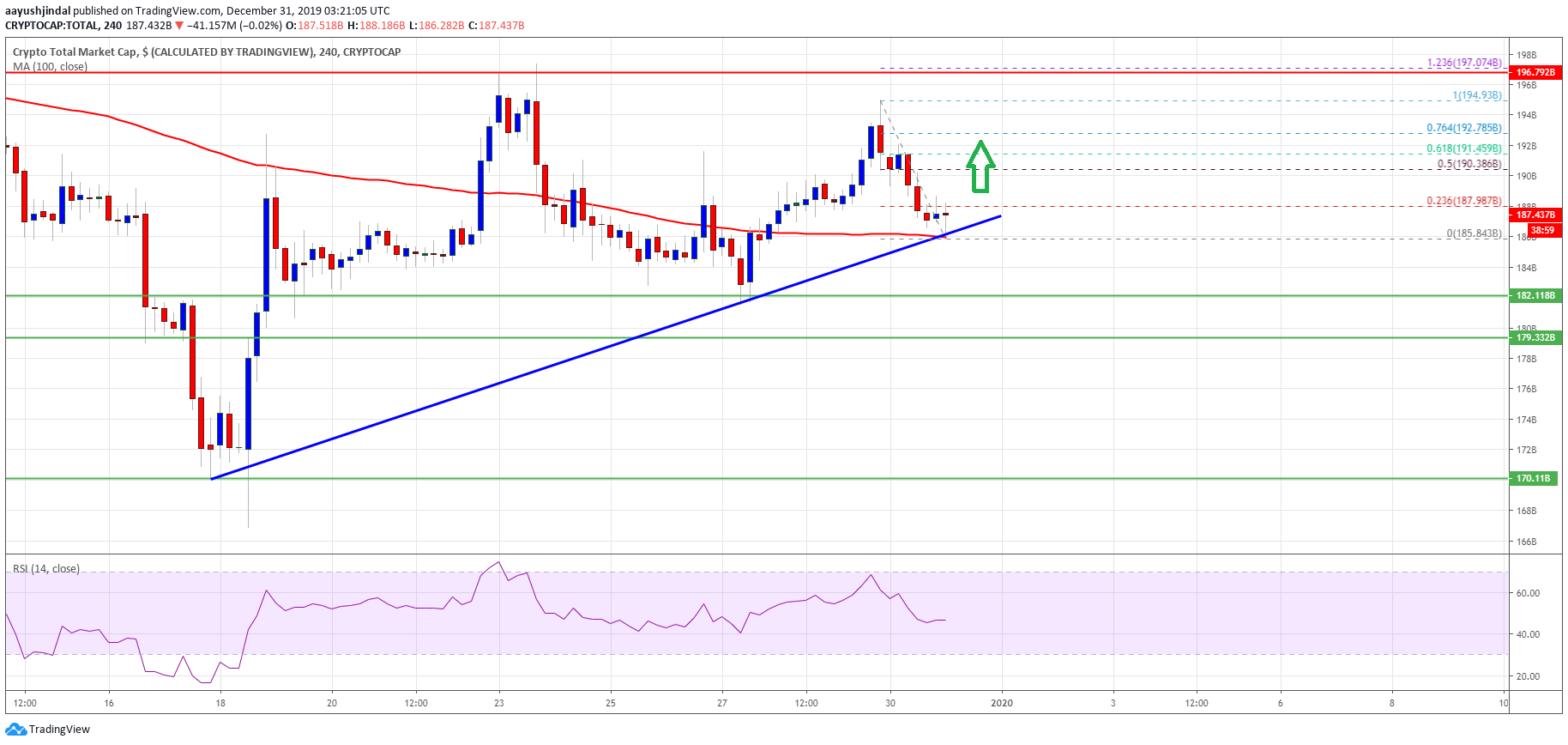 Looking at the total cryptocurrency market cap 4-hours chart, there was a downside correction from the $195.0B resistance area. The crypto market cap declined below the $190.0B support. However, the $185.0B level and a connecting bullish trend line are providing support.
Therefore, there are chances of a fresh increase in bitcoin, Ethereum, TRX, LTC, EOS, ripple, ADA, XLM, WTC, BCH, and ICX in the near term unless the market cap slides below $180.0B.