The total crypto market cap started an upside correction after tagging $171.8B.
Bitcoin price is up close to 10% and it is now trading above the $7,000 resistance.
Litecoin (LTC) price is gaining momentum and it could test the $48.50 resistance area.
Bitcoin cash price is climbing higher towards the main $220 and $225 resistance levels.
EOS price rallied 10% and it even broke the $2.500 resistance area.
Stellar (XLM) price is slowly rising towards the $0.0600 resistance area.
Bitcoin (BTC) and the crypto market cap closing towards key resistances. Ethereum (ETH), LTC, ripple, bitcoin cash, EOS, TRX, and stellar are showing short-term positive signs.
Bitcoin Cash Price Analysis
Recently, there was a sharp decline in bitcoin cash price below the $220 and $200 support levels against the US Dollar. BCH price even tagged the $185 support area and it is currently correcting higher. There was nice recovery above the $200 resistance level.
The price is now trading above $210, but there is a strong resistance waiting on the upside near the $220 and $225 levels. On the downside, the $200 level might provide support.
Litecoin (LTC), EOS and Stellar (XLM) Price Analysis
Litecoin price declined heavily after it broke the $50.00 support area. LTC price even traded below the $45.00 level and tested the $42.00 level. It is currently correcting higher and trading above $45.00. It seems like the price is aiming the main $48.50 and $50.00 resistance levels, where the bulls are likely to struggle.
EOS price tested the $2.320 support area and recently started a sharp recovery. The price is up more than 10% and it broke the $2.500 resistance area. An initial resistance is near $2.650, above which there are chances of a run towards the $3.000 resistance area.
Stellar price found support near the $0.0530 level and it is currently correcting higher. XLM price is trading above the $0.0570 level and it could soon test the $0.0585 resistance. The main hurdle for a nice rally is near the $0.0600 and $0.0605 resistance levels.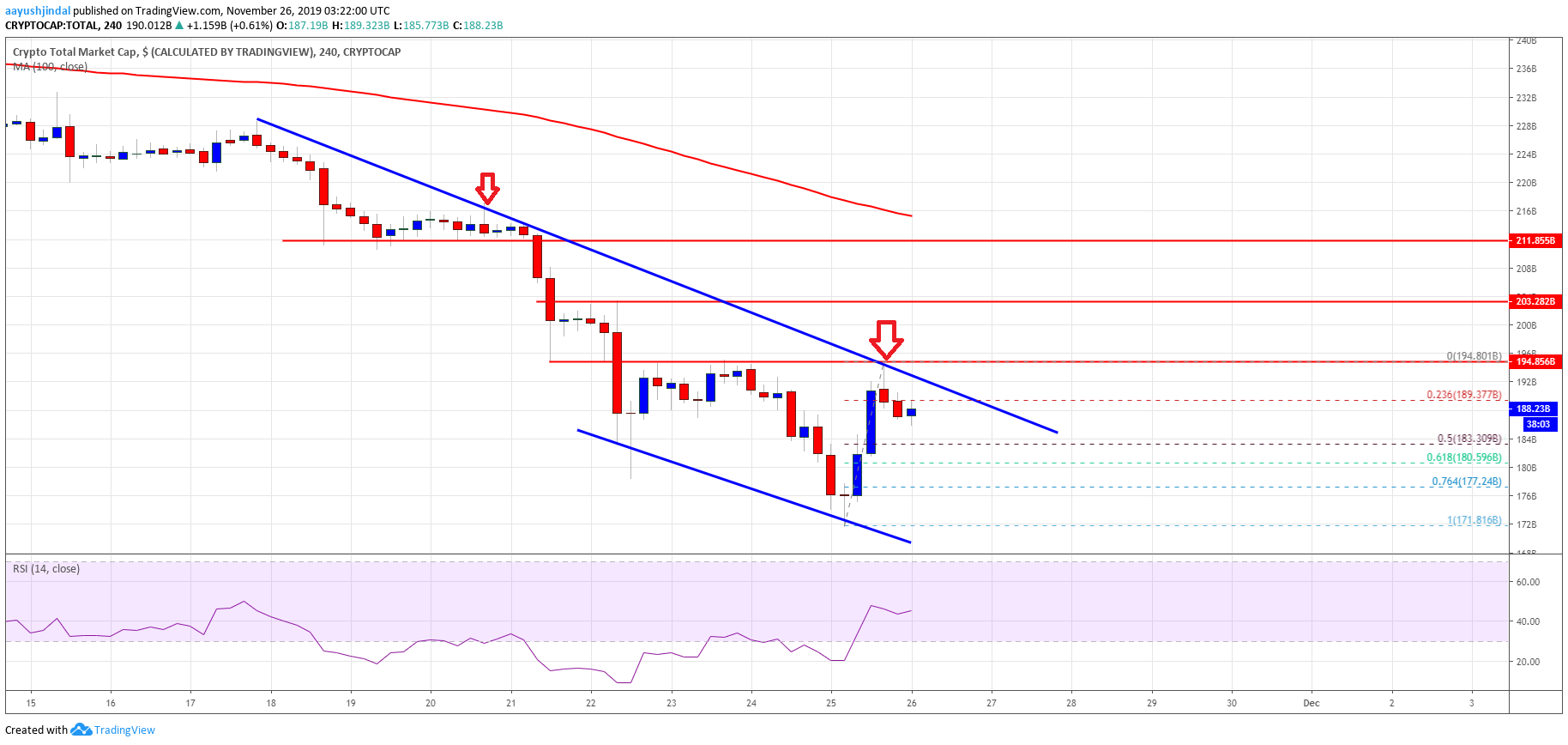 Looking at the total cryptocurrency market cap 4-hours chart, there is a strong decline below the $200.0B support area. The crypto market cap tested the $172.0B area and recently started an upside correction. It climbed more than $15.0B and tested the $195.0B resistance area.
However, there are many resistances near the $195.0B and $200.0B levels. Therefore, only a close above the $200.0B floor resistance could trigger more upsides in bitcoin, Ethereum, EOS, litecoin, ripple, XLM, BCH, ADA, BNB, TRX, ICX, and other altcoins in the near term.