The total crypto market cap is approaching the next break either above $305.0B or below $292.0B.
Bitcoin price is facing a strong resistance near the $12,000 level.
Binance coin (BNB) price extended gains above the $30.50 and $31.00 resistance levels.
Litecoin (LTC) price is slowly declining towards the key $86.00 support area.
BCH price is trading near the $330 support level, below which it could test $310.
Tron (TRX) price is currently consolidating losses below the $0.0220 resistance area.
The crypto market cap and bitcoin (BTC) are currently facing a lot of hurdles. Ethereum (ETH), litecoin, ripple, BCH, TRX, XLM and EOS are currently under pressure, while BNB climbed higher.
Bitcoin Cash Price Analysis
After BCH price failed near the $350 resistance, there was a steady decline against the US Dollar. The BCH/USD pair broke the key $340 support level and it is currently trading near the $330 support level. If there are more downsides, the price could accelerate losses towards the $310 support level.
On the upside, the previous support near the $340 level might act as a strong resistance. The next key resistance is near the $350 and $355 levels.
Binance Coin (BNB), Litecoin (LTC) and Tron (TRX) Price Analysis
Binance coin (BNB) price started a strong upward move recently above the $28.50 and $30.00 resistance levels. BNB price is up around 5% today and it broke the $31.00 resistance as well. The next key resistances are near the $31.20 and $31.45 levels. If there is a downside correction, the previous resistance near the $30.20 level might act as a decent support.
Litecoin price failed to continue above the $100.00 resistance and recently declined below the key $95.00 support. LTC price even broke the $92.00 support and it seems like the price is heading towards the $86.00 and $85.00 support levels in the near term. On the upside, the $92.00 and $95.00 levels are likely to act as hurdles.
Tron price settled below the key $0.0220 level and it is currently consolidating losses. TRX price must climb back above $0.0220 and $0.0225 to start an upside correction. On the downside, the main supports are near the $0.0212 and $0.0210 levels.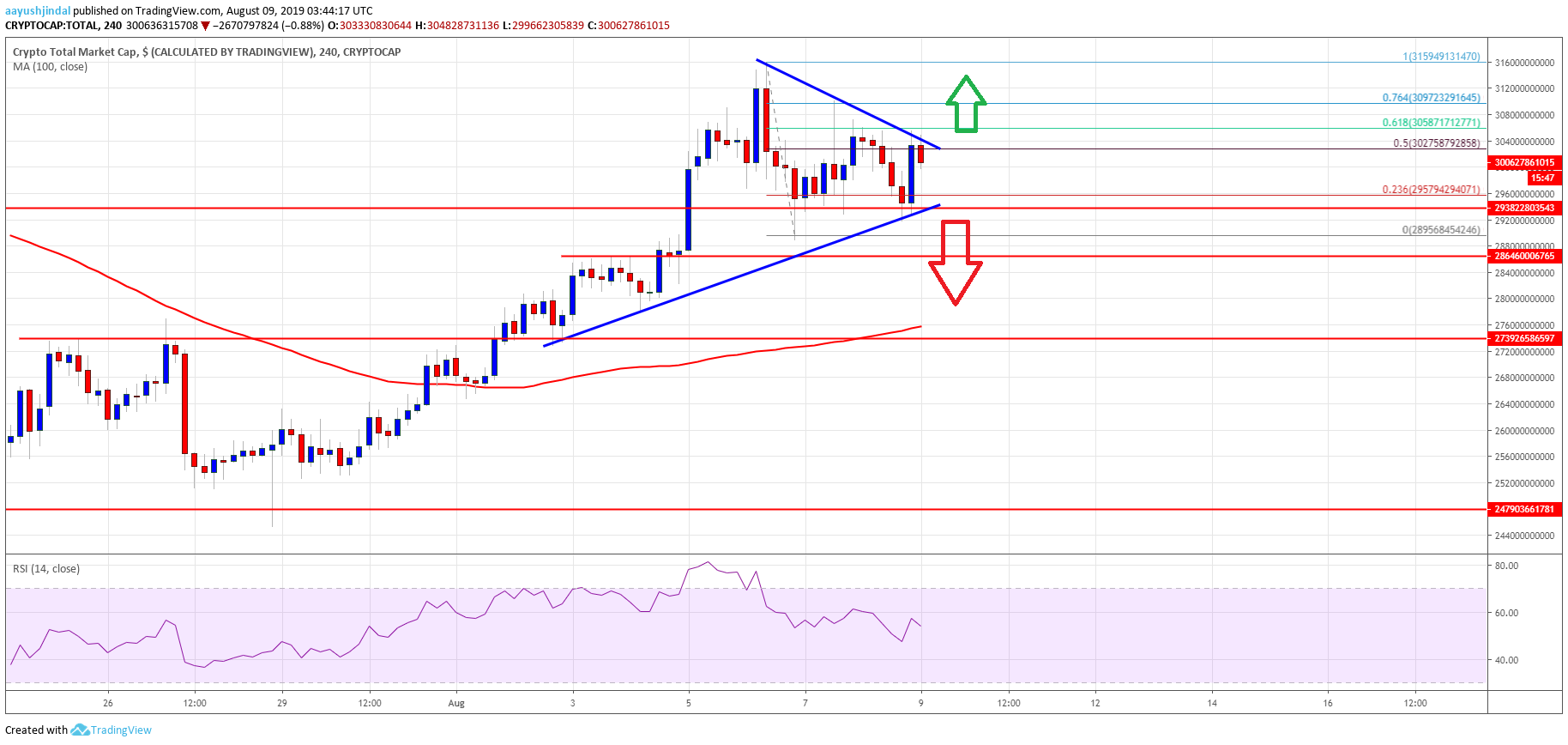 Looking at the total cryptocurrency market cap 4-hours chart, there was a rejection pattern formed near the $315.0B level, resulting in a downside correction. The market cap is now forming a breakout pattern with resistance near $305.0B and support at $292.0B. If there is an upside break, there could be solid gains in bitcoin, Ethereum, EOS, litecoin, ripple, binance coin, BCH, TRX, XMR, XLM and other altcoins in the coming sessions. If not, the market cap might decline heavily below $292.0B and $285.0B.