Bitcoin is at the risk of crashing below $3,000 as a historically accurate bearish indicator screams 'sell' for the first time since July 2018.
The benchmark cryptocurrency's 50-weekly moving indicator slipped below its 20-weekly moving indicator on Thursday, leading to the formation of a Death Cross. Popular market analyst CryptoHamster noted that its formation in 2018 prompted bitcoin to fall by 53 percent. In another instance from July 2014, traders had crashed the price by circa 67 percent.
"Only twice in the whole history of bitcoin, there were bearish crossovers," CryptoHamster said. "[The] first time after that there was a drop by ~67% and the second time – by ~53%. The third crossover has been printed [Thursday]."
Floors and Ceilings
The statements came at the time when bitcoin is undergoing a lengthy bearish retracement from its overarching uptrend. As of 1139 UTC Friday, the cryptocurrency was down by 18.5 percent from its year-to-date high of circa $10,522. Most analysts agree that it fell in tandem with global stock markets – against the fast-spreading Coronavirus panic.
The downside sentiment, meanwhile, received backlash from bulls who believe bitcoin could grow as it sets to undergo a 50 percent supply rate cut this May. So it appears, the cryptocurrency – indeed – was trading near its important support levels while waiting for traders to "buy the dip."
NewsBTC covered one of such key floors in an analysis. As shown in the chart below, the risk of bitcoin falling below $4,000 is higher if it breaks below the 50 WMA. Again, what's supporting the prediction are fractals from the past.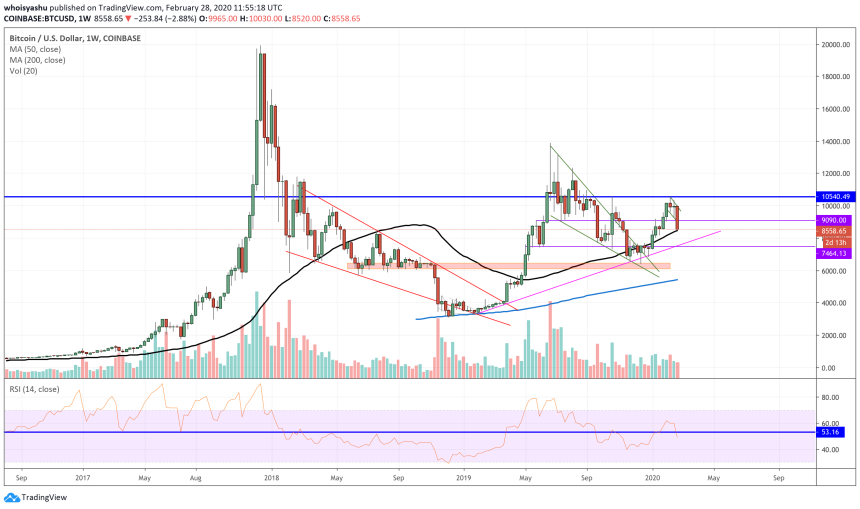 Meanwhile, Bitcoin's Relative Strength Indicator (RSI) broke below a key support level as well. As the chart shows, traders' bearish bias remains higher if the RSI stays below 53. Conversely, a jump above 53 shows a likelihood of improving upside sentiment.
A pullback accompanied by higher volume from here could mean bitcoin is attempting to evade the bearish sentiment. That could overall negate CryptoHamster's brutal crash prediction.
Bitcoin 2020 Scenario
Investors will be hoping that central banks introduce cushion policies to offset the impact of Coronavirus on global stock markets. That would mean more cash injection, cheaper loans, and intensive repo programs. Such moves could allow traders to use the new money to enter the bitcoin market.
As of now, traders need higher liquidity. It explains why even a globally perceived safe-haven Gold is falling this week. Hedge funds and other big players are merely balancing out their portfolios after facing extreme losses in the stock market. Bitcoin does not stand a chance against such a gloomy environment.
The cryptocurrency is still up by 23.57 percent on a year-to-date timeframe.