A bullish technical indicator in the bitcoin market flashed for the first time since December 2019.
The tool studies the behavior of bitcoin producers – the miners – to identify potential price tops and bottoms.
It now indicates that bitcoin price has bottomed out near $3,800 in March 2020.
A black swan event in March 2020 saw the bitcoin price crashing from circa $8,000 to near $3,800 in just two days. But that has not deterred the cryptocurrency from pursuing an extended bull run.
That is according to Bitcoin's Hash Ribbon readings, a tool that identifies when miners are capitulating/accumulating their crypto rewards. When moving averages of bitcoin's hash rate and difficulty crosses over, it indicates that miners are dumping their holdings.
Meanwhile, when the one-m0nth MA moves above two-month MA, it indicates a buy signal. Earlier this April, bitcoin logged a similar pattern, indicating a new accumulation phase has already begun, as shown in the weekly chart below.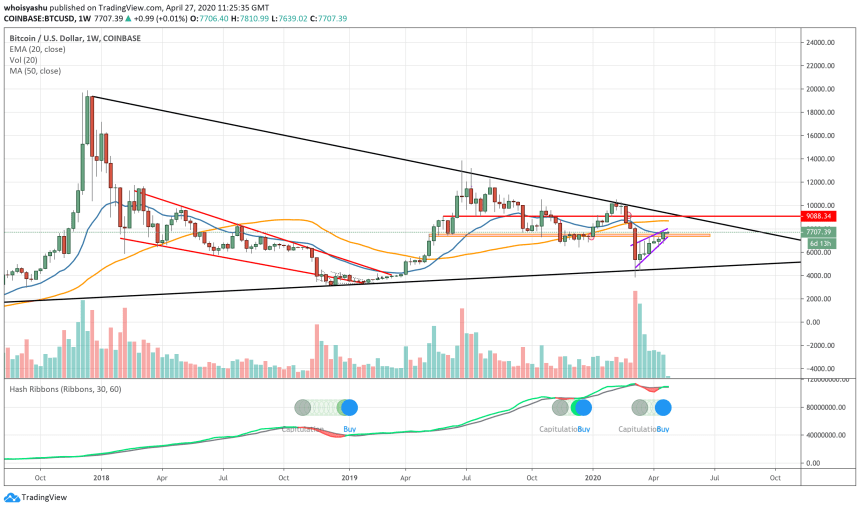 The Best Bitcoin Bull So Far
A Hash Ribbons signal has occurred only nine times in history.
Each formation has sent prices upward exponentially with limited downside corrections. All and all, bitcoin logged an average gain of more than 5,000 percent across the nine Hash Ribbons confirmations.
In its tenth outing this month, the indicator has outlined another upside scenario for bitcoin, as believed by some top traders in the crypto sector. One of them – a pseudonymous analyst – said the latest Hash Ribbons behaves as a massive buy signal. Nevertheless, the prominent trader did not share any concrete upside targets for bitcoin.
"BULLISH for 2020," he emphasized.
Miner Capitulation
The two previous bitcoin halvings saw Hash Ribbons crossovers giving buy signals only after the events. But the latest crossover occurred almost a month before the third halving – a pre-programmed event that would slash the cryptocurrency's daily mining reward from 1,800 BTC to 900 BTC.
That further indicates that miners have already capitulated their share of holdings. That is partly due to the Black Swan event as mentioned above. The bitcoin price crash reduced miners' rewards in dollar-terms, forcing some of them to sell the holdings to cover their operational costs.
A miner capitulation – Miners having to shut off is determined by their margins. Halving is a catalyst for shut off. This may not immediately effect price but will have positive ramifications – Sell Pressure from miners will become more favorable – best positioning BTC to advance

— Matt D'Souza, CPA (@mjdsouza2) April 22, 2020
Therefore, there is a huge possibility of minimal capitulation after the next halving in May 2020. It could prompt Bitcoin to continue its uptrend after the event.
"Miner Capitulation doesn't happen often, on average just once a year," noted Charles Edwards, the creator of Hash Ribbons model, in his blog last year. "But it has occurred following each of the last two halvenings. Suggesting we may see yet another wonderful buying opportunity again in mid-2020."
Looks like the buy signal has come earlier than usual.
Photo by Zoltan Tasi on Unsplash
---
Since you're here… Take advantage of the trading opportunities with Plus500
Risk disclaimer: 76.4% of retail CFD accounts lose money.