Late yesterday evening, we published our twice-daily bitcoin price watch analysis piece. In the piece, we highlighted a few of the key levels we would be watching throughout Thursday evening, and suggested some of the potential entry points and target points in the bitcoin price overnight. Now action has matured throughout Thursday evening, we are about to enter a fresh European session. With this said, what are the levels that we are watching during this European session, and how can we take advantage of any volatility in the bitcoin price over the weekend? Take a quick look at the chart.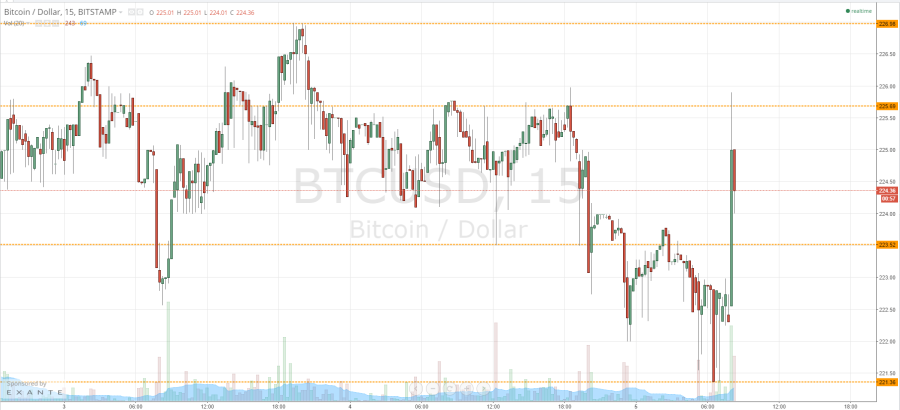 As the chart shows, we saw quite a lot of volatility overnight, with price falling from 225.69 shortly after the markets closed in the US to reach floors of 221.36 earlier this morning in the UK. However, from these floors, we saw a pop upwards towards what now serves as in term resistance at 225.69. This, alongside with 223.52 (in term support) is the level that we are going to be watching during today's session.
We will look for two potential entries. If we get a break back below 223.52, it would put us short towards a relatively tight short-term scalp target of 221.36 initially. A stop loss somewhere around 224.50 will ensure we are taken out of the trade in the event of a bias reversal.
Looking the other way, a break above 225.69 (and a close above this level on an intraday basis) would put us long towards another extremely tight scalp trade target of 226.98. An equally tight stop is warranted here, so somewhere around 225 flat will keep our risk reward profile positive. As we often mention, sometimes we trade a intra-range strategy if our range is wide enough to warrant it. In this instance however, there is not enough room to go long at support and short at resistance without the risk of being chopped out to the up or downside. So, with this said, we will stick to a breakout strategy today.
Charts courtesy of Trading View