Bitcoin investors are ready to call $3,100-area a bottom as the cryptocurrency continues its upward trend.
The Rythm Trader noted that bitcoin had gone 123 days without posting fresher lows, which brought up its total gains since December close to 65 percent. The famous market analyst considered it as a sign of steady bullish momentum, believing that it would extend further soon.
https://twitter.com/Rhythmtrader/status/1118472113327886336
The November's crypto crash, which wiped $120 billion off the market in a month, took down bitcoin's valuation alongside. The dominant crypto asset lost circa $75 billion in a series of massive sell-offs, prompting mainstream financial analysts to declare bitcoin's short targets towards $1,000-1,500 range. However, the coin saw reasonable accumulation near its newfound lows as it attempted one rally after another.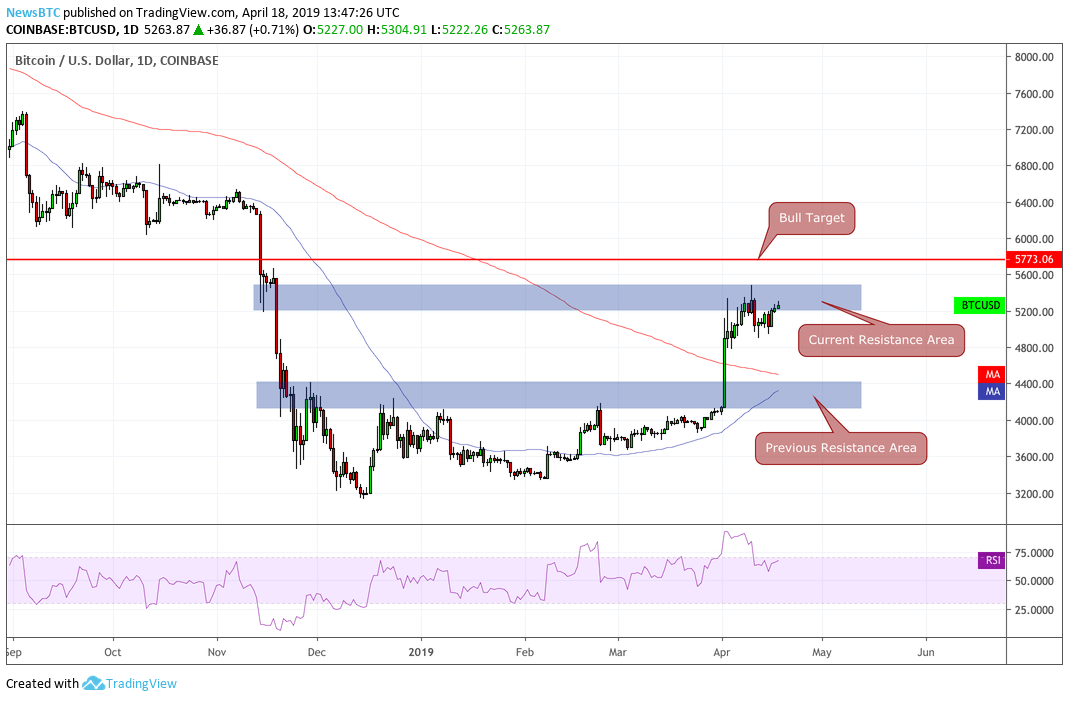 On April 2, the bitcoin price finally broke above a strict resistance area defined by $4,182 and $4,431. The unexpected surge brought bitcoin above $5,000, a level that is still providing the coin ample support to continue its uptrend. Meanwhile, the price is attempting to invalidate the active resistance area above $5,200 to signal a new upside move. As the Rhythm Trader hinted, the range between $5,000 and $5,200 is offering ample opportunities for traders "picking up a penny." But what they should be doing right now is accumulating for the big game.
Watching the Golden Cross Happen
In the chart above, one can see two moving averages: one red and the other blue. The red MA signifies the 200 days and the blue one, 100 days period. So when the blue curve crosses above the red one, it is called a Golden Cross, which is an extremely bullish indicator. Have a look: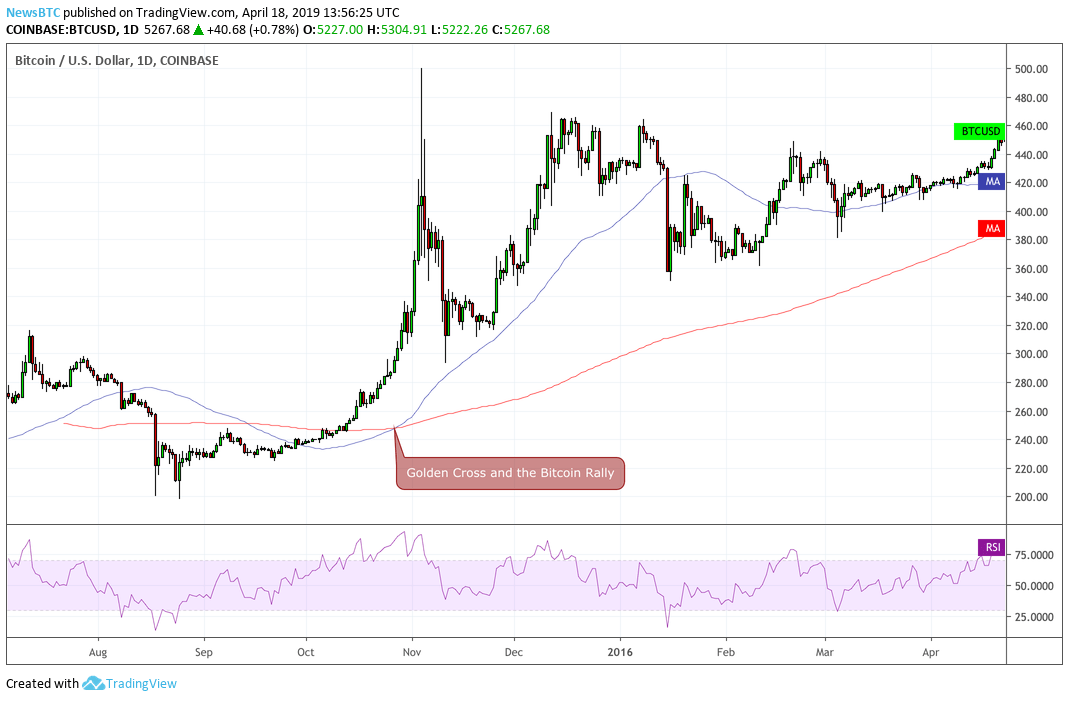 A golden cross phenomenon is typically bullish for the underlying asset. The chart above shows a similar event taking place in 2015 – the blue curve crossing above the red one – that eventually signals an uptrend move. Bitcoin surged from $282 to $500 right after the chart formed a golden cross. And as long as the blue curve remained above the red one, the bitcoin price kept rising. For the first time since 2015, the bitcoin price moving averages are hinting to repeat the golden cross scenario.
The current chart shows such a scenario has not taken place yet. The bitcoin price would need to break above its resistance area to enable its 50-daily MA to cross above 200-daily MA. If it does, bitcoin will establish a strong bullish bias for the rest of 2019 – and perhaps, beyond.
The Pullback Scenario
If the bitcoin price pulls back upon testing the resistance area, its likelihood of continuing the uptrend will remain high until the 50-daily MA offers its support. A crash below it would reduce the bullish sentiment, meaning the price would have a higher probability to break below the previous resistance area – as mentioned in the first chart above.