Bitcoin Price Key Highlights
Bitcoin price has formed higher lows and higher highs, but it is consolidating inside a rising wedge formation.
Price is approaching the peak of the pattern, so a breakout could be due anytime soon.
Technical indicators are showing mixed signals but it looks like an upside move might be more likely to happen.
Bitcoin price is consolidating inside a rising wedge formation but could be ready for a breakout in either direction soon.
Technical Indicators Signals
Volatility has taken a considerable dip since the shutdown of bitcoin exchanges in China but there is no shortage of catalysts that might spark a big move either way. The 100 SMA is above the longer-term 200 SMA so the path of least resistance is to the upside, which means that a move higher is more likely to happen than a breakdown.
The 100 SMA dynamic inflection point is also close to the bottom of the wedge around $4200-4300, adding another layer of support. A larger selloff could still find support at the 200 SMA near $4000. The wedge is approximately $1400 tall so the resulting breakout could be of the same size.
Stochastic is already pulling higher to indicate that bullish momentum is back, even without hitting oversold conditions. RSI appears to be on the move down but is stalling at the middle and starting to turn higher as well. Bitcoin price could also hit resistance at the record highs around $5000 on its move higher.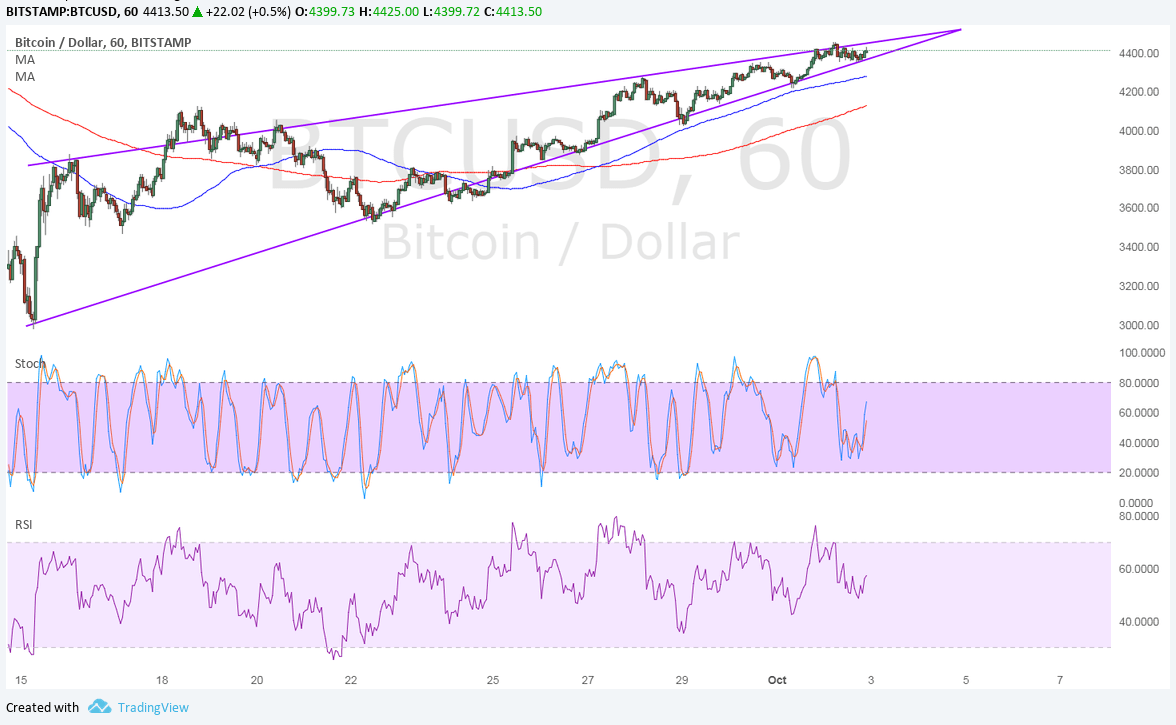 Market Factors
Risk-off flows are in play so far this week, owing to geopolitical risks all over the world. First off, there's the attack in Las Vegas that is keeping traders on edge. There's also the looming risk of a strike from North Korea, although their recent rhetoric seems to favor a less hostile approach. Then there's the uncertainty stemming from German politics, Catalonia's independence vote, and Brexit.
The dollar, on the other hand, is putting up a good fight and is staying supported by positive fundamentals, strengthening December hike odds, and tax reform prospects. With that, it's understandable that bitcoin price and the dollar are in a standoff at the moment but something's got to give at some point.