Bitcoin Price Key Highlights
Bitcoin price has successfully broken to new highs and is setting its sights on the full extension of the latest move.
Price has also surged past the 76.4% extension and a couple of technical indicators show that the climb could go on.
The full extension is located at $12,689.54 at which profit-taking could happen.
Bitcoin price seems unstoppable in its climb yet again, paving the way for a potential rally to the next major resistance level.
Technical Indicators Signals
The 100 SMA is safely above the longer-term 200 SMA, so the path of least resistance is to the upside. This means that the uptrend is more likely to persist than to reverse. The gap between the moving averages is also widening to reflect stronger bullish momentum.
Stochastic, however, has been indicating overbought conditions for quite some time. The oscillator also looks ready to turn lower to reflect a return in selling pressure.
RSI, on the other hand, is still pointing up to signal that there is enough bullish momentum left for more gains. This is also near overbought levels, though, so profit-taking is likely to happen sooner or later.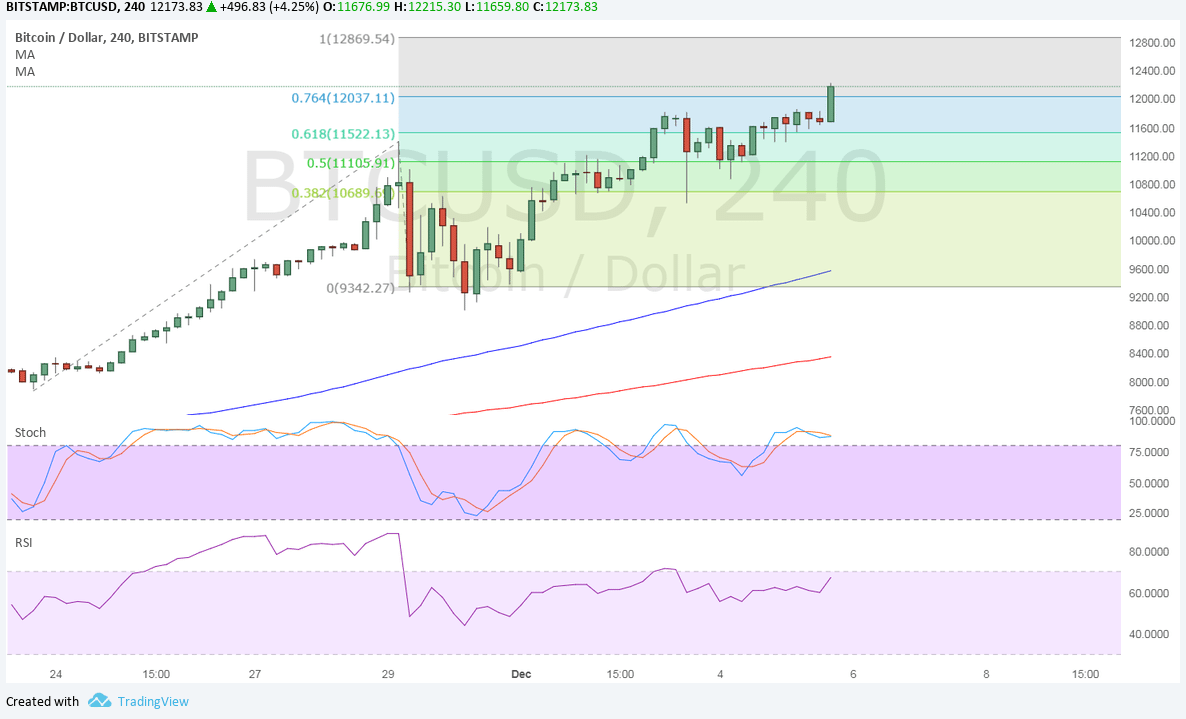 Market Factors
Excitement is running high on the launch of CBOE bitcoin futures, which would come ahead of the CME launch and that of Nasdaq. This would give more investors access to bitcoin on the retail level, thereby pushing activity and volumes higher.
Recall that the addition of 100,000 accounts on Coinbase leading up to the Thanksgiving weekend was enough to buoy bitcoin price higher for a few days, which signals that this influx of investor interest could lead to the same result. Traders are likely positioning ahead of the actual event but any setbacks could still lead to a large dip.
A bit of risk aversion is also proving positive for bitcoin price, as Brexit-related risks are weighing on the global outlook. The dollar remains supported, however, on continued progress in tax reform.